Paphos Old Town in 2018
Published 3rd of May, 2018
Last year we chronicled the redevelopment of Paphos Old Town over a number of blogs. Now that the glitz and glamour of Pafos2017 has finished, and the camera crews have departed, how have the final stages of the redevelopment progressed? Let's find out...
Kennedy Square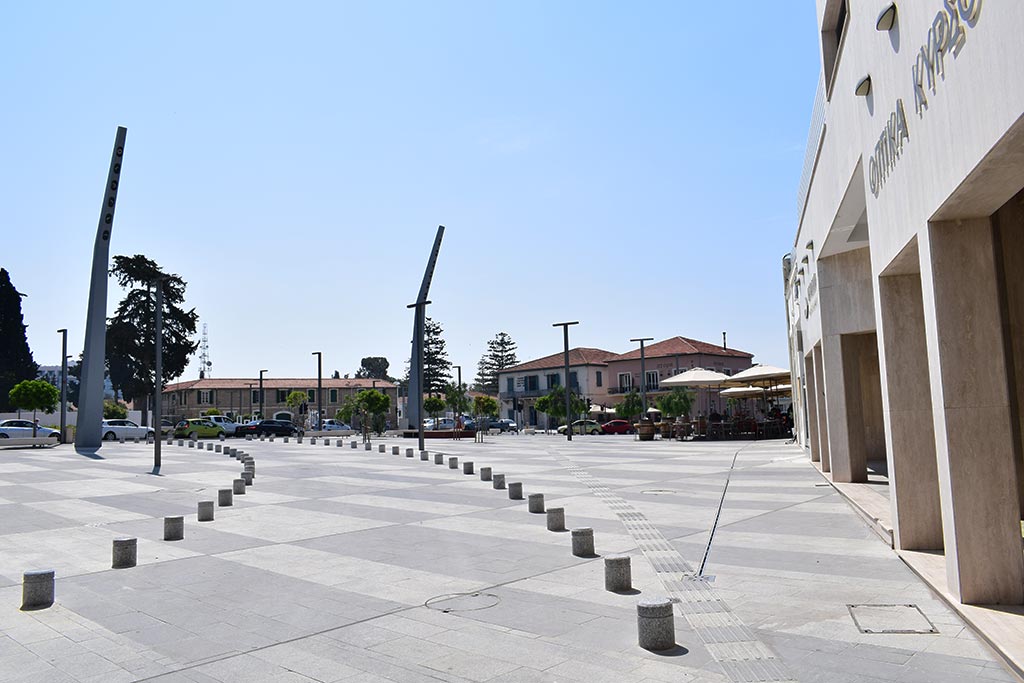 I decided to write this blog now because somebody asked on our Facebook Chat Group whether Old Town was suitable for wheelchairs. What better way to find out than to take my camera for a walk through the shiny new streets?
First, let's set some landmarks. It is useful to have a few, because the Old Town is a maze of twisting streets and it is easy to lose yourself in it's charms. Kennedy Square is our first landmark. There are many eateries and coffee shops here plus parking on the other side of the busy main road.

Markideio Theatre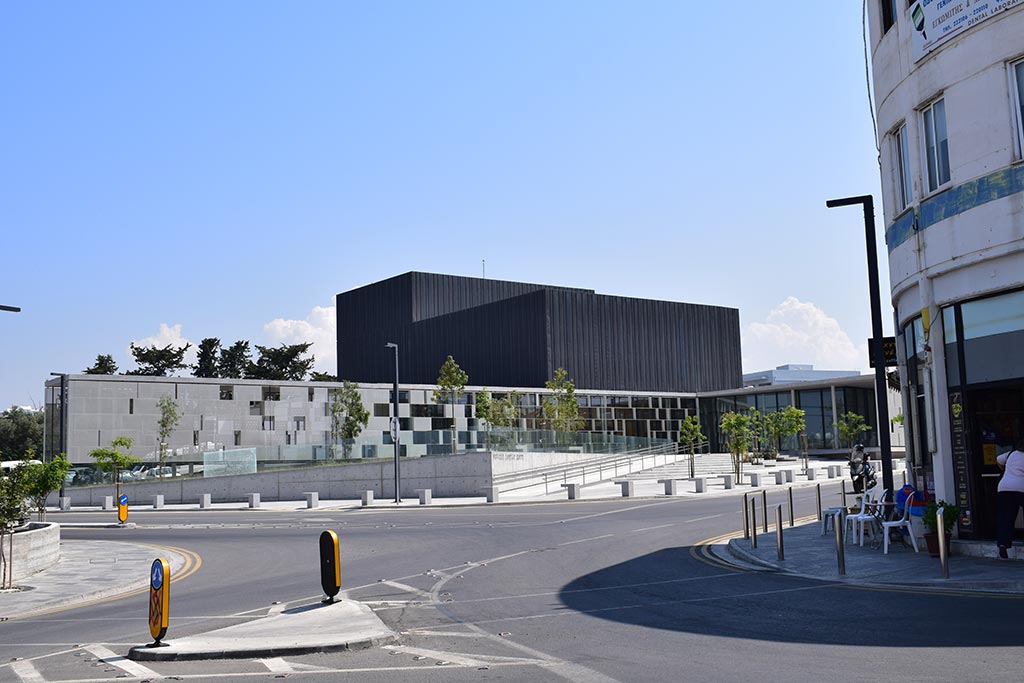 North of Kennedy Square, and to the west of the main road, you will find Markideio Theatre. We covered this in the blogs you will find at the foot of the page.
Car Park and Loos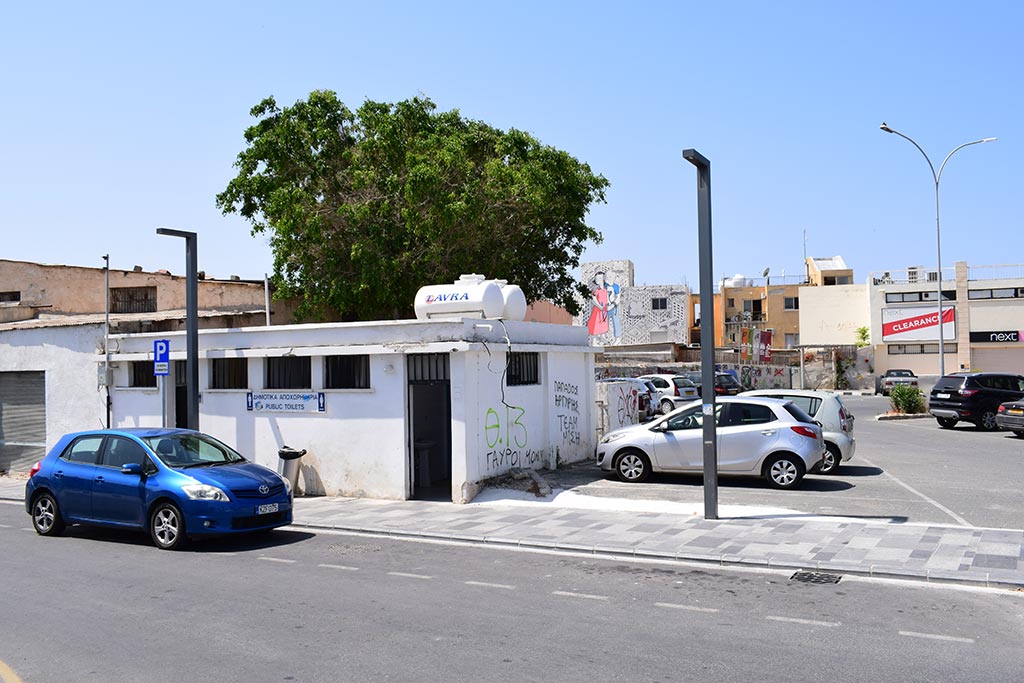 West and slightly north of the theatre is the Pervola car park. This is your best bet for a public loo, from what I could see. I mention this because the question of disabled toilets was also asked. There were no disabled facilities here, from what I could make out, but there was quite a lot of space. As to their condition, they were not horrendous. If anybody has more - current - information on the disabled loo front, please let us know.
Moutallos Mosque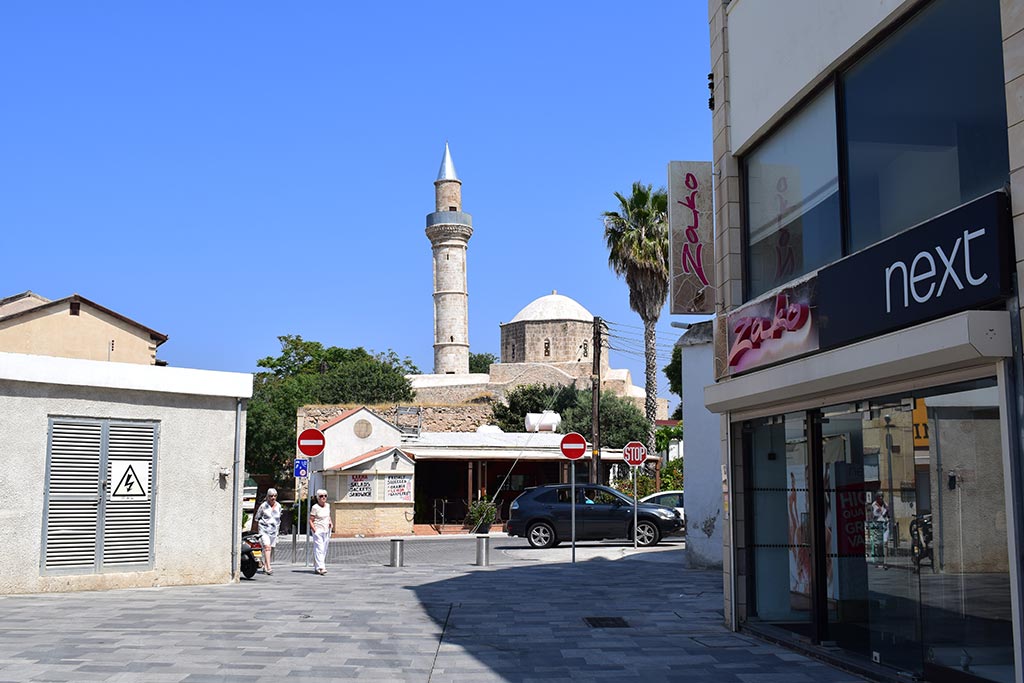 This is a very useful landmark. You will not mistake that minaret.
If you explore Old Town and don't go beyond these landmarks, you shouldn't get too lost for long.
Now that we have established some boundaries, let's talk about wheelchair access. There is good news on that front. I saw lots of ramps and wide pavements on my travels.
Wheelchair-Friendly Curbs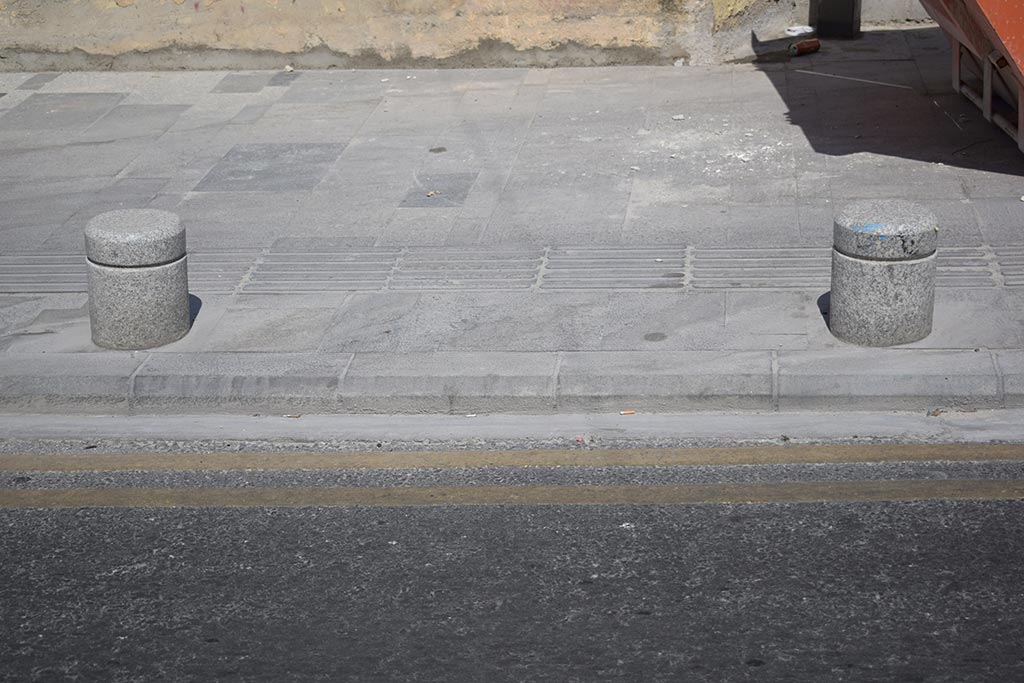 Not only that, but if you do have to pull a wheelchair up a curb, a chunk of the curb's edge has been shaved off to make this easy. Every little helps.
Page 1 of 8
If you like our blogs and the rest of our content, please consider slinging us a few euros to help us produce more content. Use the Coffee link below if you feel so inclined. Payments are taken on a secure gateway, with no contact!
❤

Related Blogs: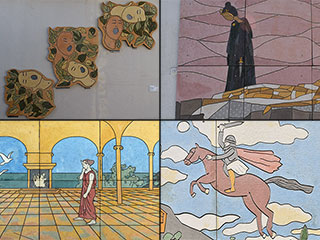 Old Town Cementography
You could be forgiven for not knowing anything about Cementography. It is a modern, Cypriot art form, that was celebrated in the dying days of Paphos 2017 by the placement of eight murals in and around Paphos Old Town. You may well have seen some of them on your travels, and some have featured in previous blogs. However, the murals actually depict different stages in a Cypriot fairy tale, so we thought it about time we presented the murals in order, with the accompanying story attached...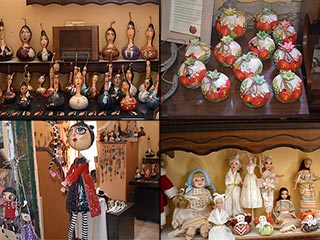 Pumpkin House
Paphos Old Town has been transformed over the past couple of years, in a good way, I feel. A walk through its streets will reveal a multitude of delights from beautifully decorated traditional coffee shops to quirky fashion boutiques. You will also find trendy eateries and theatres, not to mention an abundance of art and craft shop offering hand-crafted creations. Today we will be looking at one of these; a very special place, slightly off the beaten track, but well worth taking a diversion to...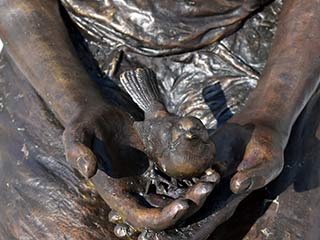 The Girl and the Sparrow
A new sculpture has come to Old Paphos. Courtesy of Cypriot artist, Yiota Ioannidou, the piece shows a young girl, sat by an olive tree, with a sparrow in her hands. It is a thing of beauty, I am sure you will agree...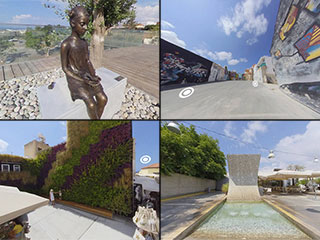 Take a Virtual Tour of The Old Town of Paphos
It has been several months in the making but we are pleased to announce that our new site on the Old Town of Paphos is now up and running! Now you can enjoy a virtual tour of over 200 panoramic images, and get lost in the winding streets as you take a virtual stroll. All that is missing is the aroma of souvlaki!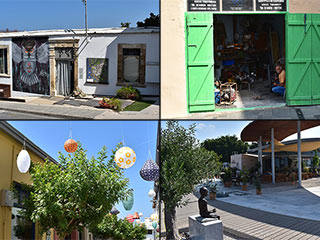 Old Pafos in 2019 - Part 1
It's a year since we had a proper look around Old Town, so we thought another blog was due. We won't be revisiting every place we visited in the previous blogs. Instead we will be focusing on new additions and places we missed last year. Even so, we took nearly 100 pictures for this blog, so we have split it in two. Part 2 will be published on monday.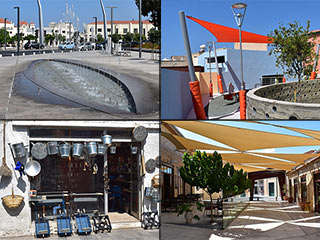 Old Pafos in 2019 - Part 2
This is the concluding part of our blog on our latest stroll around Old Pafos. We start in Kennedy Square and head via a roundabout route to the indoor market, before concluding the walk at Ibrahim's Khan. On the way we shall revisit some old friends and look at some of the shops and restaurant that are helping to bring life into the new Old Paphos.
A Last Look At The Old Old Paphos
Old Paphos is undergoing a transformation. Not only that, but in a few days time, Paphos 2017 will officially get underway. So we thought we would take a last stroll and a few snaps of the area before the transformation is complete.
Old Paphos Revisited
Six months ago we posted a blog optimistically titled "A Last Look at Old Old Paphos". It proved very popular. In fact, with nearly 3000 views, it is our most popular blog to date. Six months down the line, the renovations are still not yet complete. So we thought we would take another look, to see how the work was progressing.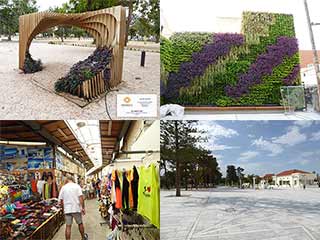 New Old Paphos
It's been a few months since we last reported on the progress of the Old Paphos Regeneration Scheme.I had to visit the main Cyta Shop recently, and as I had time to kill I decided to take my camera for a stroll, to see how things were progressing. Autumn was in the air and the skies were fairly grey. There was even some rain at some point. However, the pictures will still hopefully show what a wonderful place Old Town Paphos is becoming.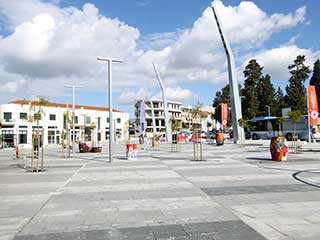 Kennedy Square - Looking Good
Yesterday I popped down to the Old Town to see how it looked after the opening ceremony. I had noticed in the pictures from our guest blogger that Kennedy Square had had some new additions, and I wanted to see if they were a new permanent fixture. I was pleasantly surprised with what I found.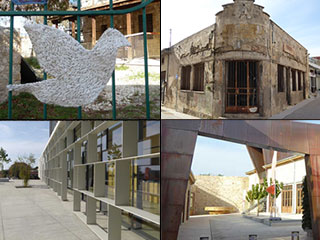 Peace 2 Peace Exhibit Again
You may remember back in Spring we blogged about the The Patchwork Tree in Ivis Maliotou Park. That was assembled by Peace2Peace. Well, they will soon be doing another installation at Ibrahim's Kahn, in Old Paphos. But prior to that, we caught up with another of their exhibits, at St. Sophia Mosque. We also took the opportunity for another stroll around the area, to have a look at the brand new Markideio Theatre...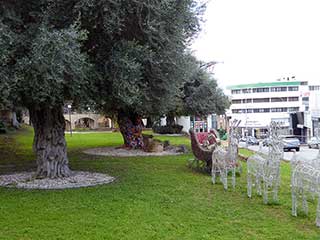 The Patchwork Tree in Ivis Maliotou Park
I noticed this tree when I was out logging shops for the Paphos Life Directory. I was intrigued by it so thought I would take a closer look.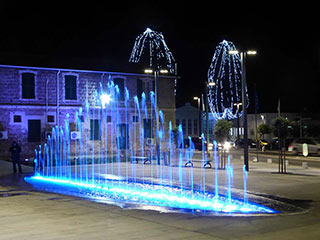 Old Town Christmas Lights
Christmas is here again, and on Friday the lights were officially switched on. We thought we would avoid the crowds, so waited until saturday before we had a wander around. This is what we saw...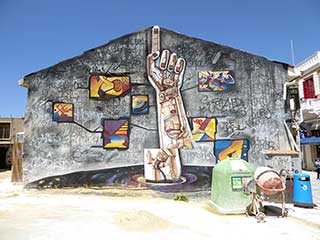 Paphos Murals
If you take a wander around the streets of Paphos, both old and new, you will occasionally stumble upon some random art installations.The patchwork tree is one such example, but there are other exhibits too numerous to mention here. Today, we are going to have a look at a subset of these works, and examine some of the murals you will find. Most of them are situated in a small area to the west of Kennedy Square. However, there are a few others scattered around, so it pays to explore...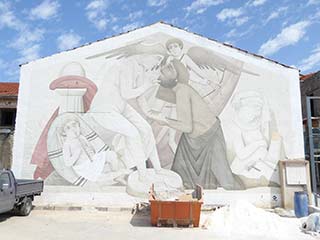 More Paphos Murals
Over the weekend I was out with my camera, seeing how work on Old Paphos has progressed in the last six months. That is the subject of another blog (watch this space). However, while I was taking photos I found some more murals which I think warrant their own article...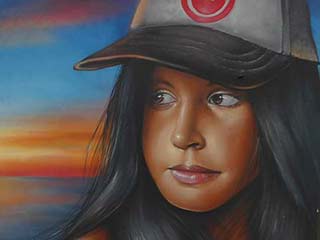 Even More Murals
Each time we take our camera around the new old Paphos, we seem to discover another set of murals. Last week was no different. I had to visit the main Cyta Office and as I had some time to kill I took the camera for a wander. I will publish most of the shots in the next blog, but this is a small article to show the murals we had previously missed.
Good Pages To Visit

FB Page

Paphos Life on Facebook

Like us on Facebook and stay notified of new blog posts.

FB Page

Our Facebook Chat Group

Paphos Chat has been created for people who like our site and want to chat using Facebook. You can also easily upload photos of any size here. A lot of people are members of the Facebook chat group and the main forum. It's entirely up to you.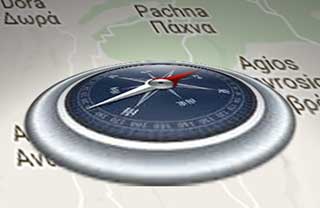 List

Blog Locations

Planning a day out? Then use our map of blog locations as a handy guide. Some of the places we visit our closer to each other than you might think, so take a look and start planning your next adventure...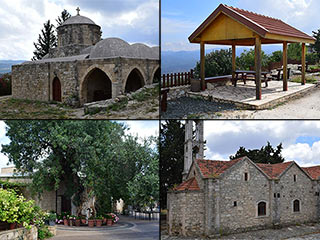 eBook

Cyprus Road Trip 01: the Kathikas - Panagia Loop

Let me take you on a journey around the region of Paphos, Cyprus. Starting at Paphos itself, we travel to Akoursos, then Kathikas, Kritou Terra and Simou. We continue past Lasa and Kannaviou, before taking in the delights of Panagia. Getting a bit more adventurous, we visit the abandoned villages of Statos and Agios Fotios, before passing through Choulou, Letymbou and Polemi, and rejoining the main Paphos - Polis road. The route is suitable for all types of vehicle, and requires no off-roading. The guide contains about 130 photographs including shots of all the road signs you need to pay attention to, as well as some of the highlights you may experience along the way. There are also several maps which will help you keep your bearings. You can do this journey in a day, or you can break it up into chunks. You can also do it in reverse, to get some completely different views. It is entirely up to you.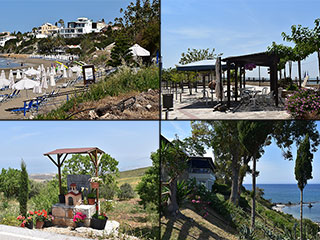 eBook

Cyprus Road Trip 02: Paphos - Coast to Coast

Newly published, our second Paphos Road trip takes you from coast to coast. Visit Coral Bay, Sea Caves, Agios Georgios, various traditional villages and more besides, as you travel to the Baths of Aphrodite on the Polis coast. And on the way back, we throw in an abandoned village for good measure.