St Anastasia Sulphur Spring
Published 25th of October, 2019
If you have driven from Paphos to Polis along the B7, you will probably have smelled the Sulphur Springs around Miliou as you drove past. It is a bit challenging but is thankfully soon replaced by the smell of the orange orchards which make up most of the surrounding farmland. When we we visiting the area a few days ago, we spotted a ramblers' sign pointing to the spring, so naturally we stopped to investigate...
Spot The Sign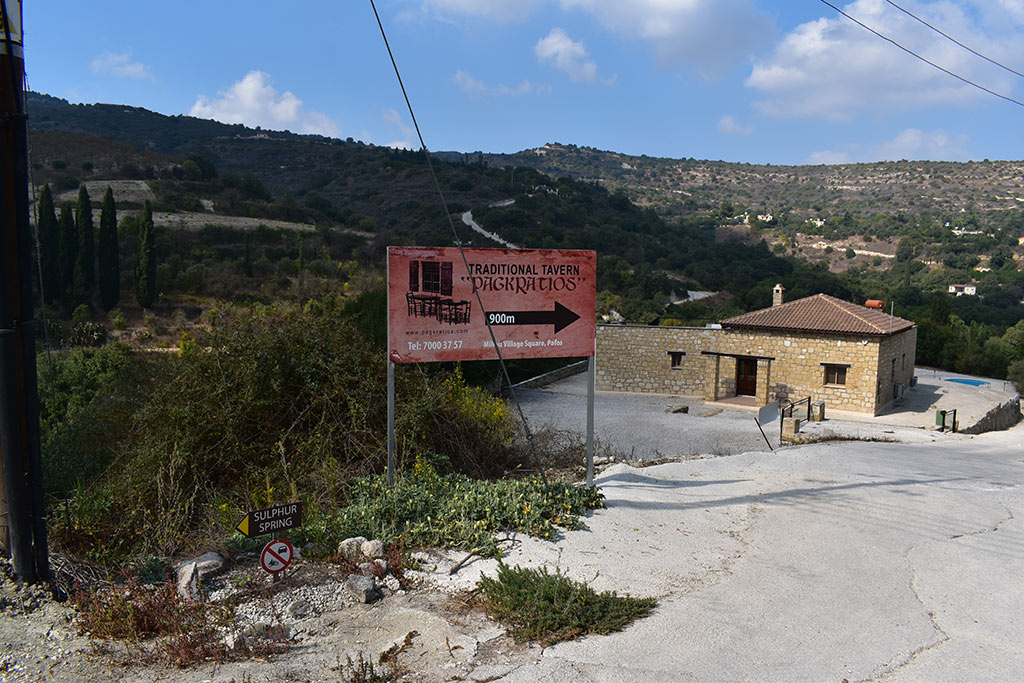 If you follow the sign to the Sulphur Spa from the B7, just below Giolou, you will end up at this spot. The road continues to the spa, and another, smaller lane leads left. You can see a sign to the spring in the forefront of the picture.
You will also get to this spot if you are doing our second road trip, as this goes through the area as well. Note that the sign says no cars or motorbikes. You can in fact drive a portion of the way, but to be honest you are better off parking around here and walking it. The walk to the spring is fairly short.

Turn Right Here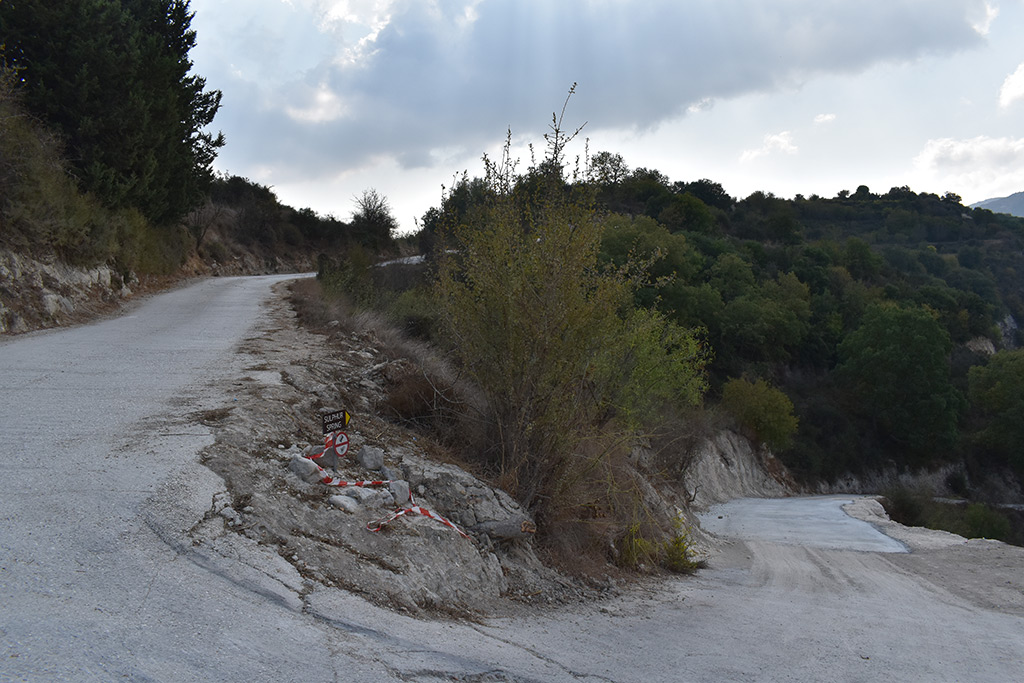 If you hate walking on roads don't worry, we will soon be going on a path. You need to follow the sign here, and descend into the gorge.
Gorgeous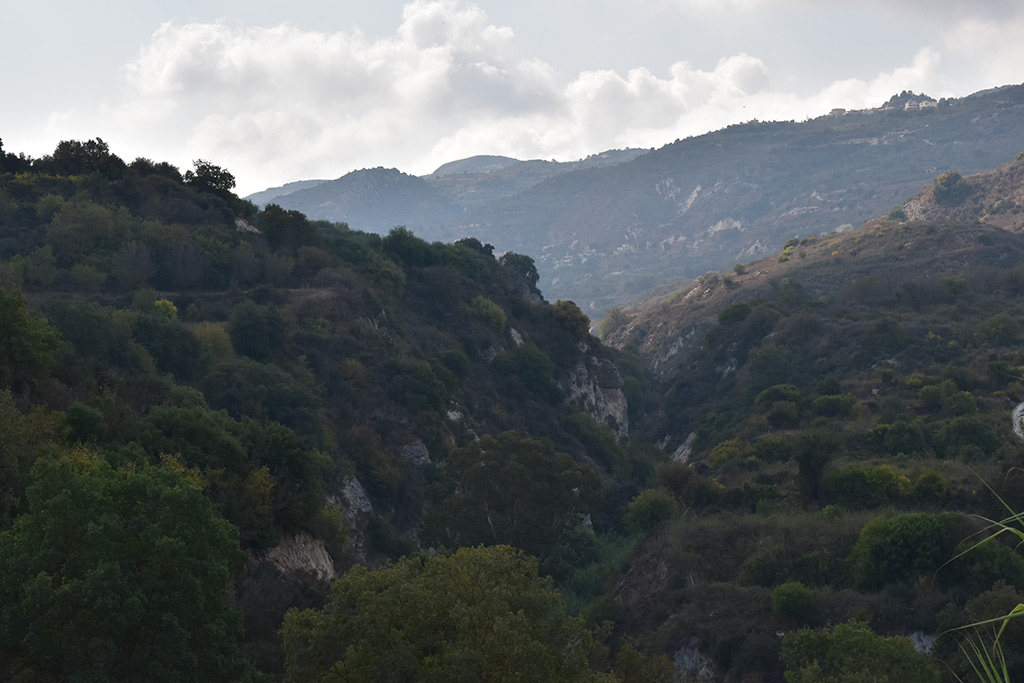 There's the gorge we will be walking through. To be honest, it looks more imposing from here than it actually was.
The Real Start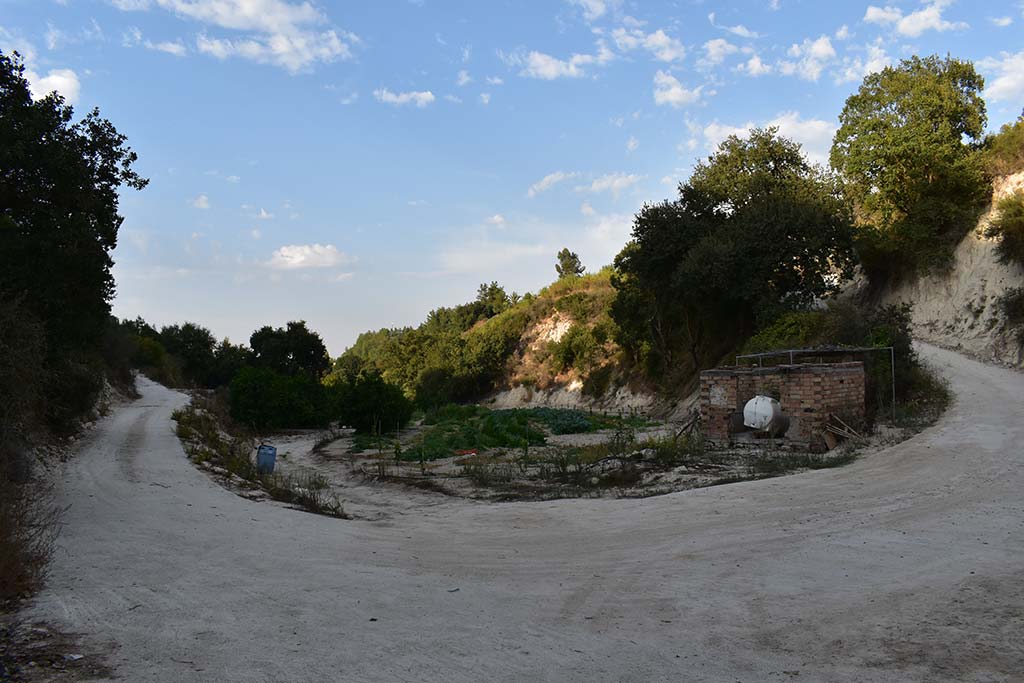 When you reach the bottom, the walk properly begins. As I said, it won't take long, but on the way back, don't go left here, as it doesn't lead back to the spa area. Instead it loops round above the gorge and goes in the opposite direction. It is a lovely route, which we will cover in a couple of blogs, but for now, just register the fact that to get back to the spa you need to retrace your steps from here.
Another thing to note is that funny little building you can see. Behind that is a tractor, which appears to be driving a pump.
Get Your Money's Worth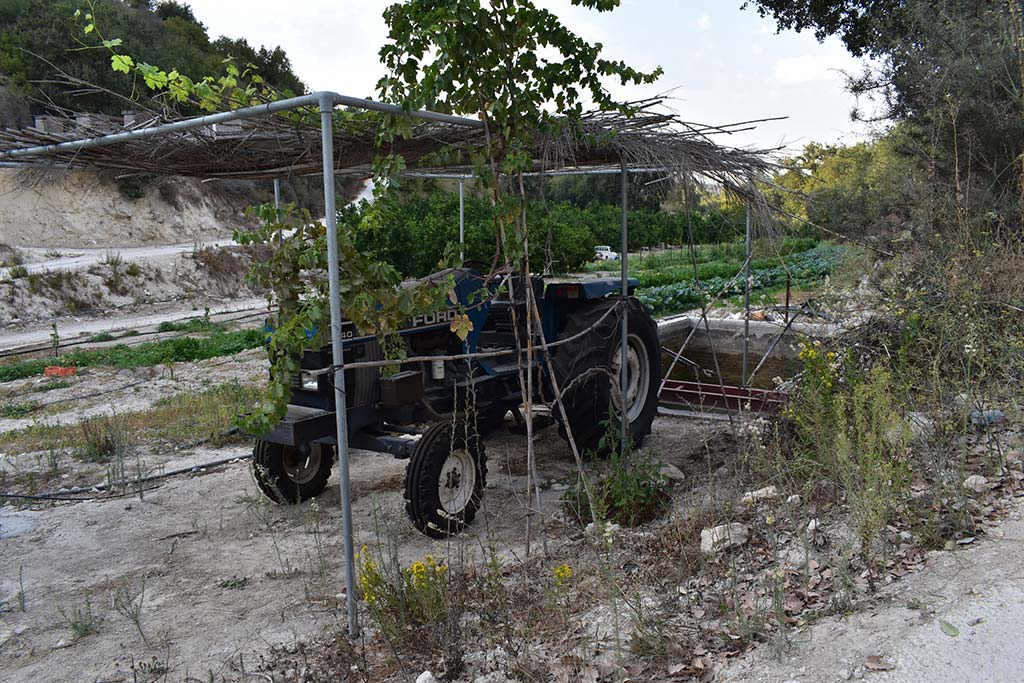 It looks like the farmer needed an engine more than a tractor. This one has been rigged to run some sort of pumping system. I love how ingenious the locals can get with their farming equipment. We often see odd looking devices that have been canibalised from a myriad of different vehicles. My Dad would love it.
Page 1 of 4
If you like our blogs and the rest of our content, please consider slinging us a few euros to help us produce more content. Use the Coffee link below if you feel so inclined. Payments are taken on a secure gateway, with no contact!
❤

Related Blogs: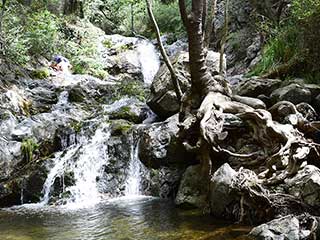 Chantara Falls
This waterfall, tucked in the woods behind the mountain village of Foini, has long been a favourite of ours. You can either pay it a quick visit, and have a paddle in the lower falls, or, if you are a bit more adventurous, you can climb the steps to the upper falls, and take a dip. The really adventurous can go beyond that, and have a stream-hopping adventure through the ancient woodland...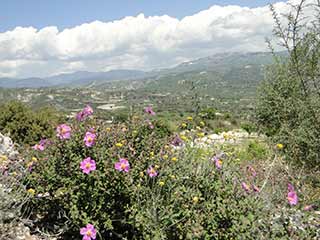 A Crystal Road Trip
Today Max takes us on a road trip around the Paphos district, to look at some of the fine crystal formations you can find by the roadside. He also shows you a nice vineyard where you can stop for a break and sample their wares...
The Polemi Countryside
The last couple of blogs have been a bit intense, so we thought we would chill out and go for a stroll through the Polemi Countryside, and take a look at the flora, fauna, and interesting gypsum formations that can be found in our beautiful Cyprus scenery...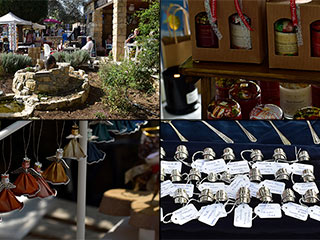 Pano Akourdaleia Craft Fair
Christmas is getting closer, so it is a perfect time to visit one of the craft fairs around Paphos to stock up on some unique gifts and decorations, not to mention a decent pud. Today we visited Pano Akourdaleia, and this is our report...
Good Pages To Visit

FB Page

Paphos Life on Facebook

Like us on Facebook and stay notified of new blog posts.

FB Page

Our Facebook Chat Group

Paphos Chat has been created for people who like our site and want to chat using Facebook. You can also easily upload photos of any size here. A lot of people are members of the Facebook chat group and the main forum. It's entirely up to you.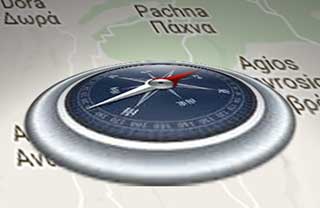 List

Blog Locations

Planning a day out? Then use our map of blog locations as a handy guide. Some of the places we visit our closer to each other than you might think, so take a look and start planning your next adventure...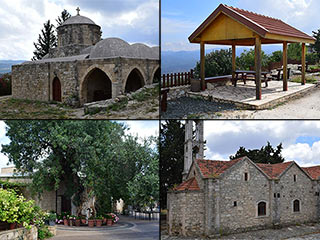 eBook

Cyprus Road Trip 01: the Kathikas - Panagia Loop

Let me take you on a journey around the region of Paphos, Cyprus. Starting at Paphos itself, we travel to Akoursos, then Kathikas, Kritou Terra and Simou. We continue past Lasa and Kannaviou, before taking in the delights of Panagia. Getting a bit more adventurous, we visit the abandoned villages of Statos and Agios Fotios, before passing through Choulou, Letymbou and Polemi, and rejoining the main Paphos - Polis road. The route is suitable for all types of vehicle, and requires no off-roading. The guide contains about 130 photographs including shots of all the road signs you need to pay attention to, as well as some of the highlights you may experience along the way. There are also several maps which will help you keep your bearings. You can do this journey in a day, or you can break it up into chunks. You can also do it in reverse, to get some completely different views. It is entirely up to you.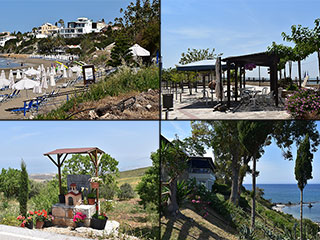 eBook

Cyprus Road Trip 02: Paphos - Coast to Coast

Newly published, our second Paphos Road trip takes you from coast to coast. Visit Coral Bay, Sea Caves, Agios Georgios, various traditional villages and more besides, as you travel to the Baths of Aphrodite on the Polis coast. And on the way back, we throw in an abandoned village for good measure.