Roudia Bridge
Published 8th of September, 2017
Now that we have covered the route from Vretsia to Kelefos, let's return to the subject of Venetian Bridges. This time, we will feature Roudia Bridge. For years this eluded us, as we drove past it without realising it was there. With the help of the previous blog, you should now be able to locate it and know where to park the car. So let's take a look at the bridge itself...
Roudia Bridge in July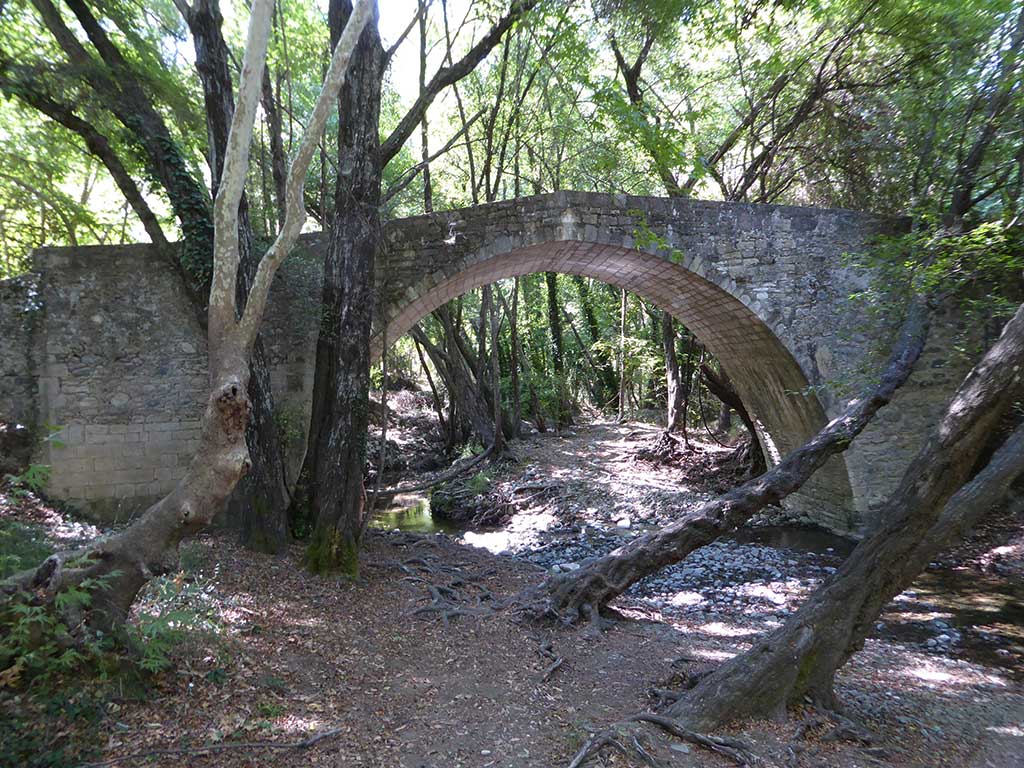 Unlike Kelefos, there is still a fair bit of water in the river in July.

Roudia Bridge in March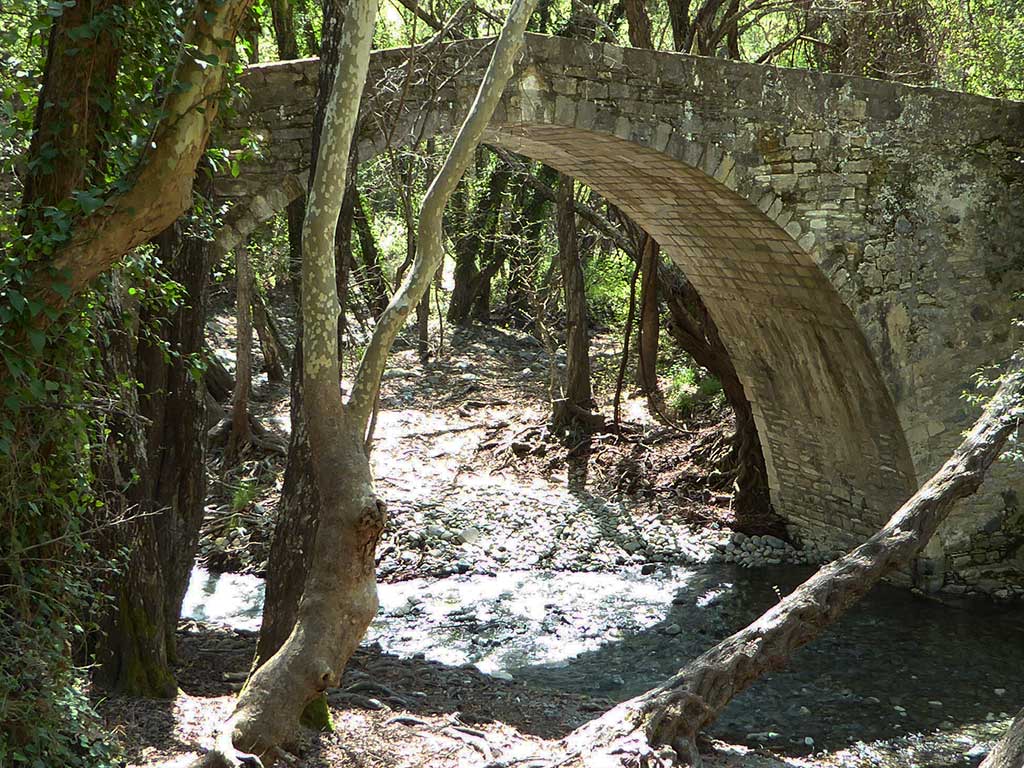 In March though, there was a lot more water. It made for prettier scenes but it required greater effort to take photos, as you had to use the bridge to cross over, rather than just hop from rock to rock.
Close Up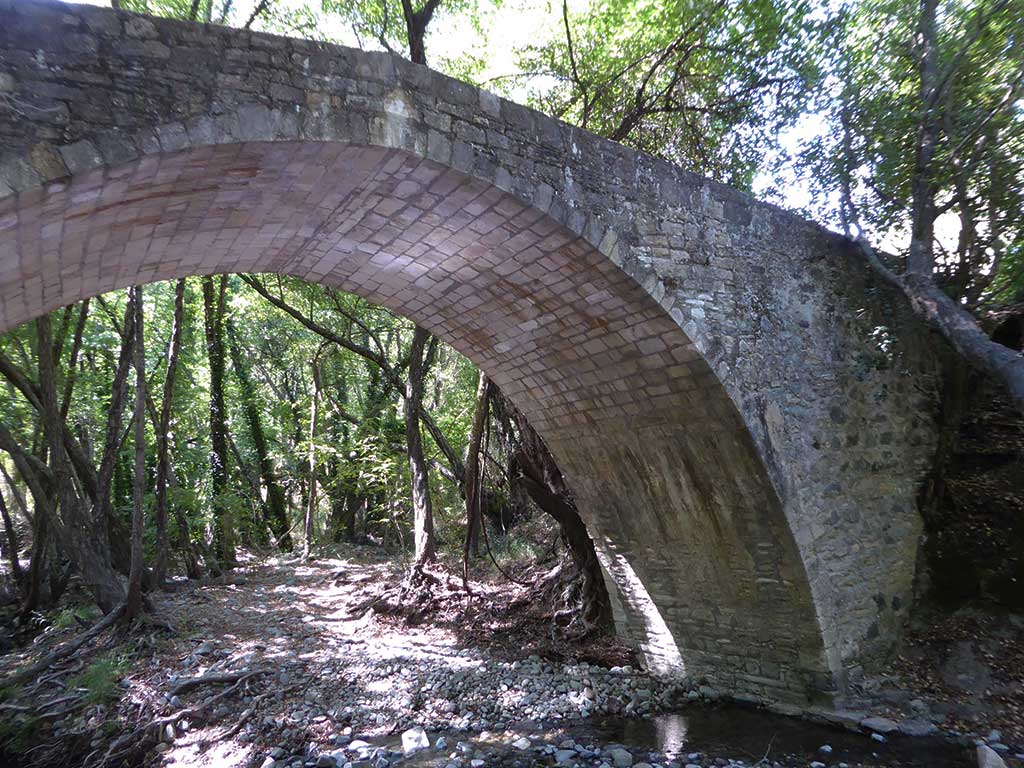 This is a closeup so you can admire the architecture a bit more easily. The inner side of the bridge looks very smooth. What you cannot see from this picture is the plethora of dates that adorn the wall. Unfortunately, the inspectors leave their initials here every time they spray for mosquitoes.
From the Other Side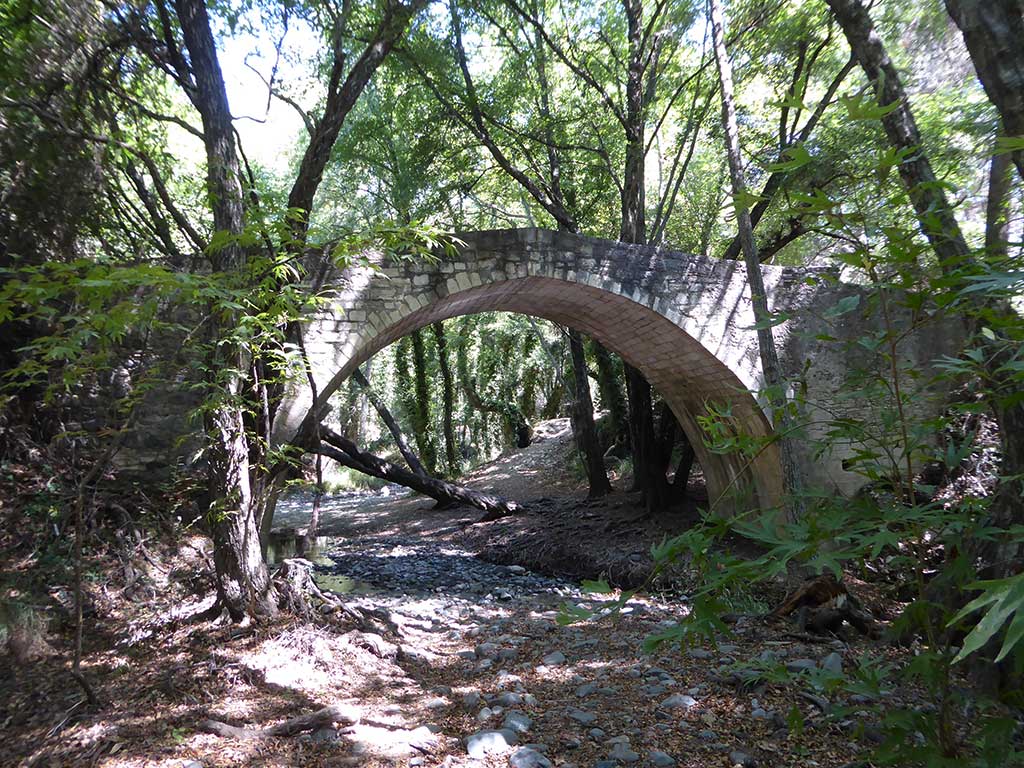 This is a nice place to visit even in the middle of summer, as the shade from the trees ensures the area is always fairly cool.
Root Floor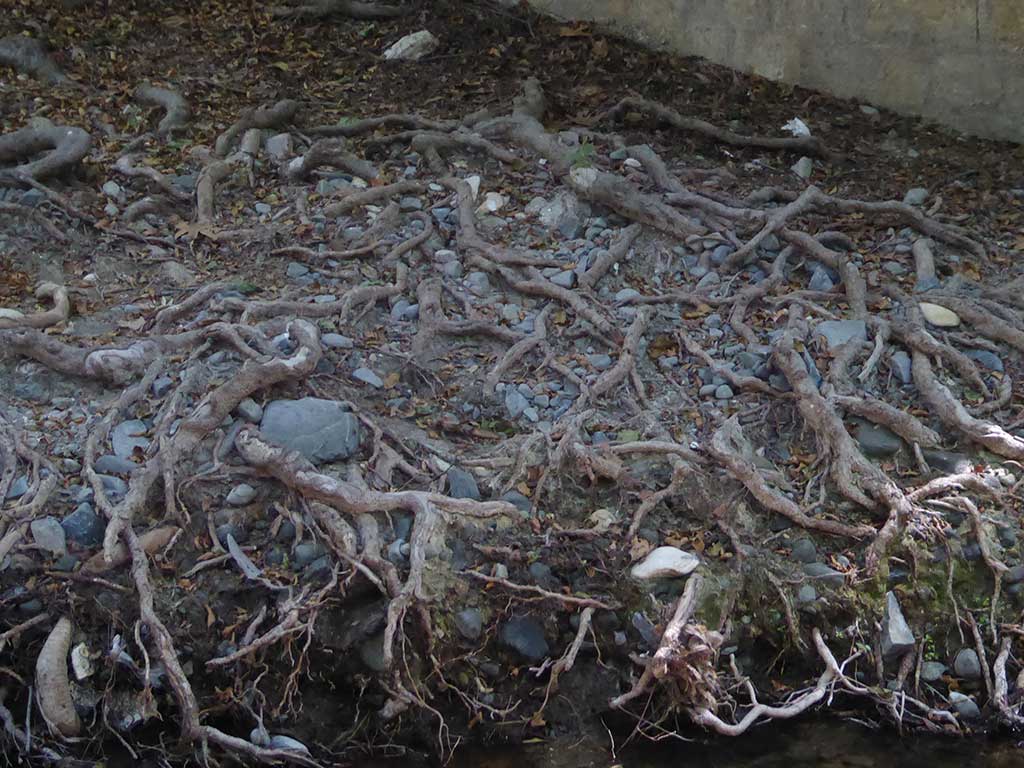 Beneath the bridge there is a blanket of roots that have given up fighting the rocky soil, and instead clambered straight over the top in their hunt for water. It may be my imagination, but I think these roots have been trimmed back over the last couple of years. I am sure they were thicker when we first found the bridge. Mind you, so was the hair on my head, so who am I to criticise?
Page 1 of 5
If you like our blogs and the rest of our content, please consider slinging us a few euros to help us produce more content. Use the Coffee link below if you feel so inclined. Payments are taken on a secure gateway, with no contact!
❤

Related Blogs: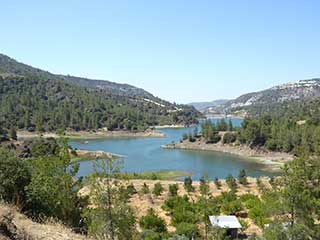 From Vretsia to Kelefos
This is another Road-Trip blog. Paphos Forest contains many treasures, and two of it's finest are the Venetian Bridges Roudia and Kelefos. Of the two, the latter is easy to locate. However, Roudia eluded us for some time, as it is easy to miss, being buried in woodland. So we have put together this guide, showing the route we took from our starting point of the abandoned village of Vretsia, through the forest to Kelefos and beyond. The aim of this blog is not to provide a de-facto route through the forest. After all, tracks get closed, and new tracks get opened every year. No, we mainly want to show you what you can expect to find should you decide to venture into the forest. We will do other blogs on the bridges themselves; today is all about the journey...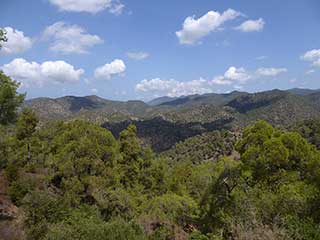 From Kannaviou To Polis Off Road
Yesterday was one of those days where we just set off with no real destination in mind, but with a picnic and our swimming costumes packed in the back of the 4x4. We were starting our adventure near the Kannaviou Reservoir, but had no idea where we would end up...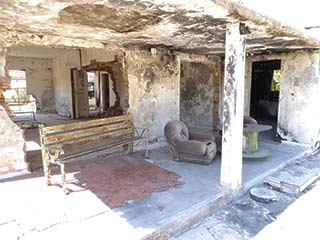 Vretsia Tavern Revisited
A few months ago, I wrote a blog about the abandoned village of Vretsia. I also did a supplementary blog about Vretsia Taven which, until last summer had still been open seasonally, for hunters and the like. In that blog, I reported that it had obviously had a nasty fire, as it was very badly burned. Well yesterday we were giving some guests a tour of the area, and we popped in to see the tavern. I was pleasantly surprised with what I found...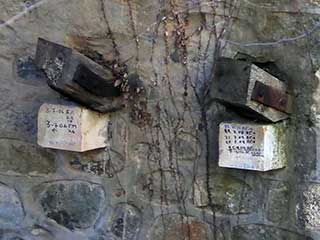 What Are These Mystery Tags?
I am taking a break from my normal blogs to pose a question. On my travels throughout Cyprus, while I have been photographing interesting locations for blogs, I have often stumbled across some mysterious tags. They consist of a date, and an initial or two. I have photographed them as I explored, but have never included the photos in a blog because it doesn't really fit in with the blog's theme. However, I have now amassed sufficient tag pictures for them to warrant a blog in their own right. And my question to you is simple; why are they there?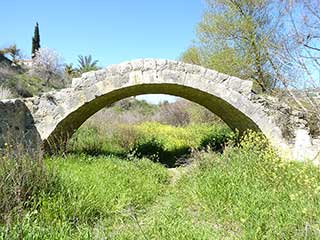 Venetian Bridges: Skarfos
We have been meaning to look at Venetian Bridges for some time, so today I thought I would start with Skarfos, as this is easily accessible and is the Western-most Venetian Bridge that I am aware of. Situated just off the road to Simou from the B7, it may not be the most spectacular bridge Cyprus has to offer, but there are enough other attractions nearby to make it worth your journey, as you shall see...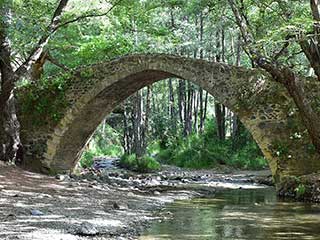 Kelefos Bridge
Kelefos Bridge is probably the most well-known of all the Venetian Bridges in Cyprus, for good reasons. It features on the UK TV holiday adverts for Cyprus, showing a couple cycling over it on an afternoon ride. In reality, you won't find any cyclists here, but you will find a bridge full of charm, and surrounding countryside to match...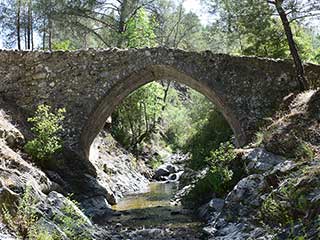 Elia Bridge
Like its more famous neighbour, Elia Bridge spans the Diarizos River in the south western corner of Paphos Forest. Along with Roudia and Kelefos, it forms the Venetian Bridges Nature Trail, which is a lovely route, even if you do opt to drive, rather than hike it's distance. Let's take a quick peek...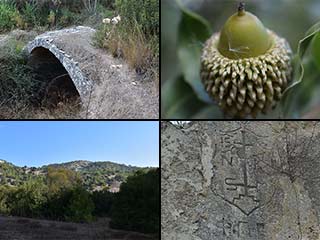 Archimandrita Bridge
There are a number of Venetian Bridges dotted around Cyprus, dating from the middle ages. We've already visited some of the most popular one (Kelefos, Roudia and Skarfos etc) but while we were researching the village of Archimandrita, we heard reference of a nearby Venetian Bridge that had previously escaped our radar. So naturally we had to find it...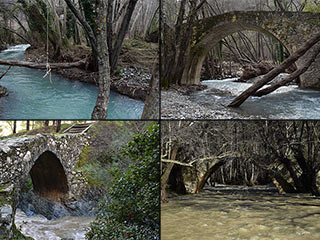 The Camel Trail Venetian Bridges
Over the last few days we've been trying to visit the three most popular Venetian Bridges on the Camel Trail, to see how they have coped with all the rain. It took a while to get to Roudia, but now finally, we can show you what we found.
Good Pages To Visit

FB Page

Paphos Life on Facebook

Like us on Facebook and stay notified of new blog posts.

FB Page

Our Facebook Chat Group

Paphos Chat has been created for people who like our site and want to chat using Facebook. You can also easily upload photos of any size here. A lot of people are members of the Facebook chat group and the main forum. It's entirely up to you.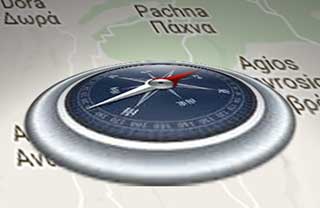 List

Blog Locations

Planning a day out? Then use our map of blog locations as a handy guide. Some of the places we visit our closer to each other than you might think, so take a look and start planning your next adventure...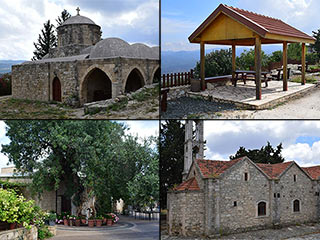 eBook

Cyprus Road Trip 01: the Kathikas - Panagia Loop

Let me take you on a journey around the region of Paphos, Cyprus. Starting at Paphos itself, we travel to Akoursos, then Kathikas, Kritou Terra and Simou. We continue past Lasa and Kannaviou, before taking in the delights of Panagia. Getting a bit more adventurous, we visit the abandoned villages of Statos and Agios Fotios, before passing through Choulou, Letymbou and Polemi, and rejoining the main Paphos - Polis road. The route is suitable for all types of vehicle, and requires no off-roading. The guide contains about 130 photographs including shots of all the road signs you need to pay attention to, as well as some of the highlights you may experience along the way. There are also several maps which will help you keep your bearings. You can do this journey in a day, or you can break it up into chunks. You can also do it in reverse, to get some completely different views. It is entirely up to you.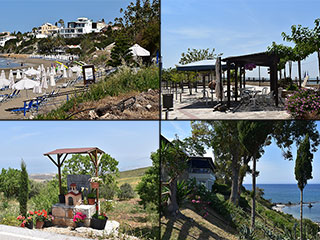 eBook

Cyprus Road Trip 02: Paphos - Coast to Coast

Newly published, our second Paphos Road trip takes you from coast to coast. Visit Coral Bay, Sea Caves, Agios Georgios, various traditional villages and more besides, as you travel to the Baths of Aphrodite on the Polis coast. And on the way back, we throw in an abandoned village for good measure.