Paphos Caving
Published 9th of February, 2018
A few months ago we read a report in the papers about an interesting cave that lurked within Paphos itself, behind an old church. After a bit of investigation we found it, and did a bit of spelunking.
The Old Church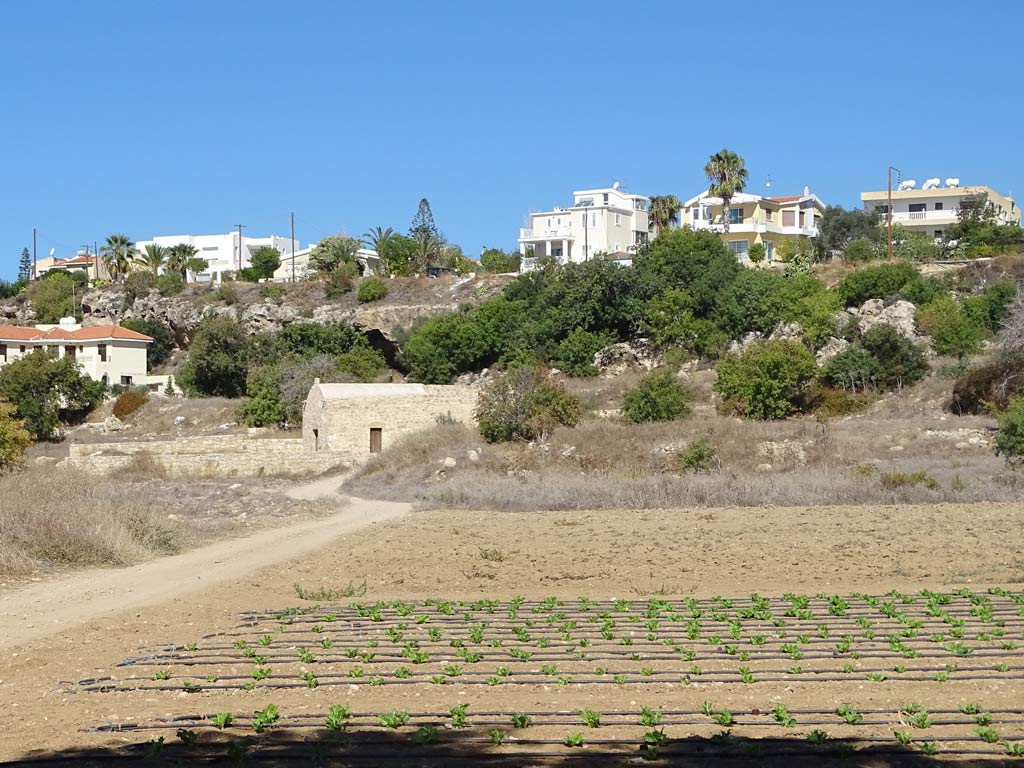 The first hurdle in locating the cave was locating the church. Once located, I had to work out a route to it. My initial attempt resulted in a bird's eye view of the church's roof, from the cliffs above. I arrived there from the direction of the crossroads above Mesogi Lidl. Studying the roads, it became apparent that a better approach would be from the main Kissonerga road.

Newly Restored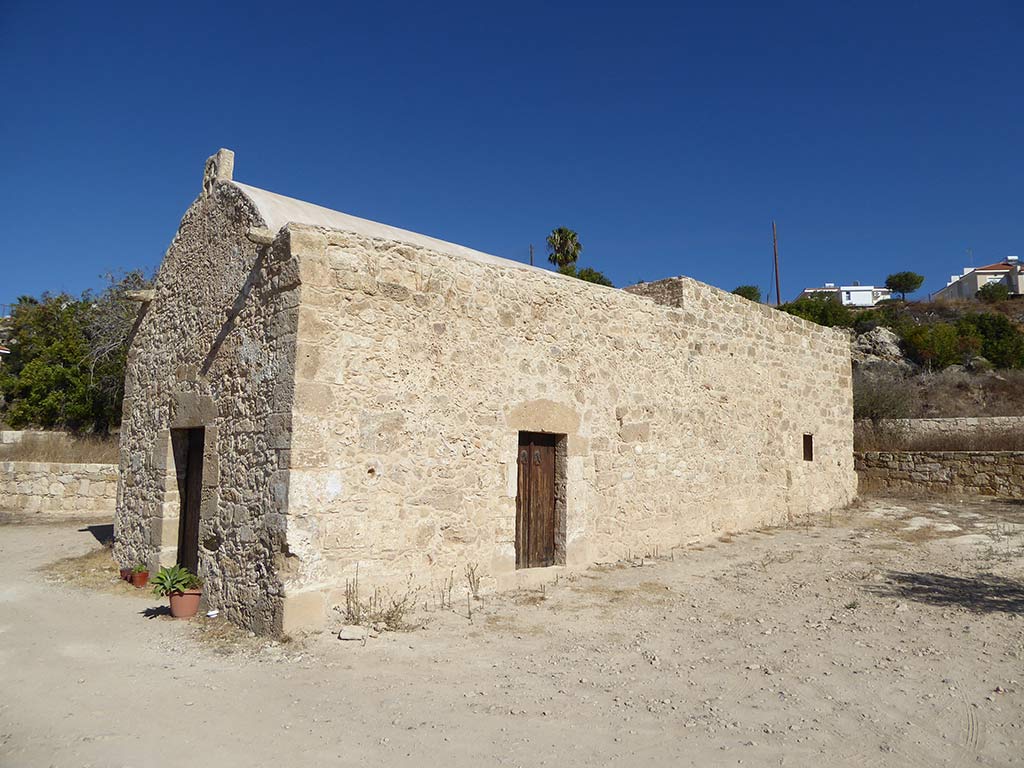 There is plenty of space to park at the church.
Anybody Care To Translate?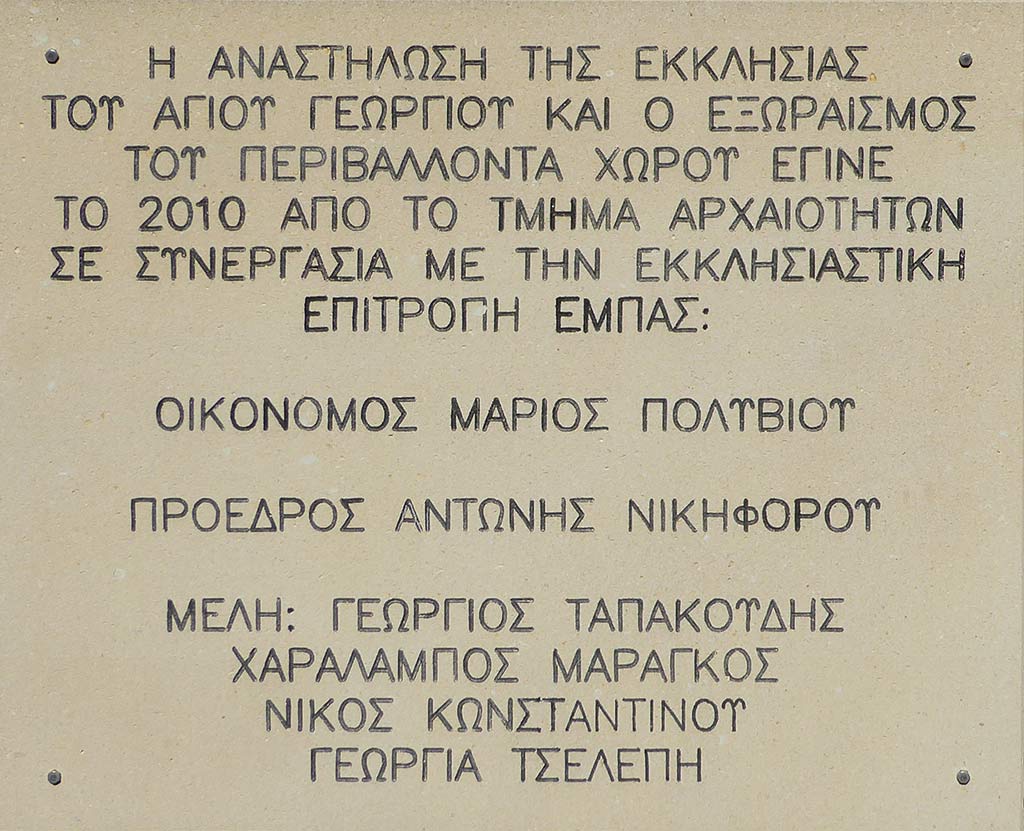 Thanks to Jean Kariolou for the following translation:
The reconstruction of the church of Ayios (Saint) George and the clearing of the surrounding area was undertaken in 2010 by the Archeological Department in co-operation with the church committee of Emba.
Treasurer : Mario's Polyviou
President : Antonia Nikiforou
Members : Georgios Tapakoidis
Nikos Konstantinou
Georgia Tselepi
Inside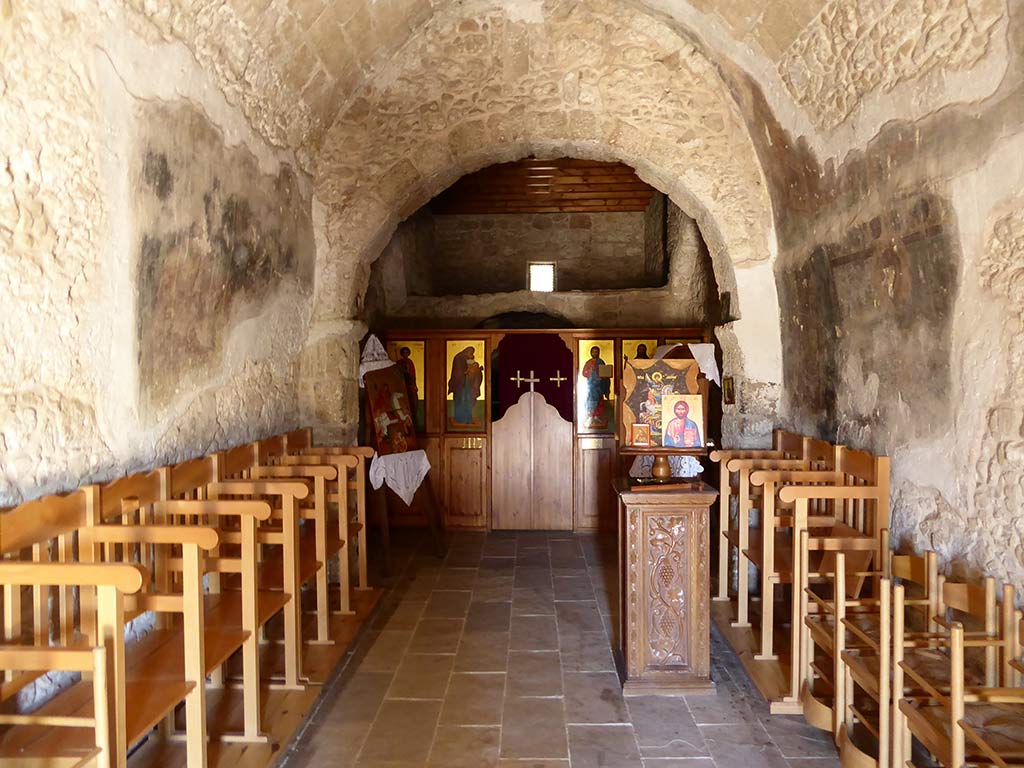 The church interior is fairly typical of small Cypriot churches. Note the older parts of the walls though. You can just make out the remains of ancient murals.
Into The Woods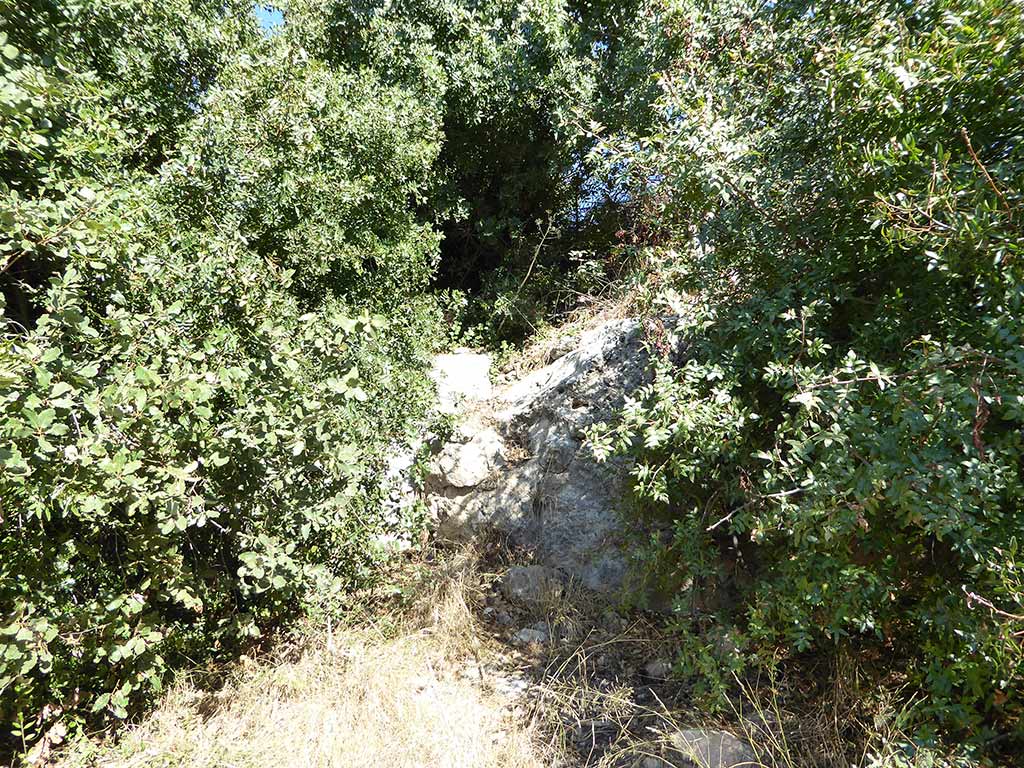 Anyway, the article I originally read stated that the cave could be found in the woods behind the church. So I set off.
Page 1 of 9
If you like our blogs and the rest of our content, please consider slinging us a few euros to help us produce more content. Use the Coffee link below if you feel so inclined. Payments are taken on a secure gateway, with no contact!
❤

Related Blogs: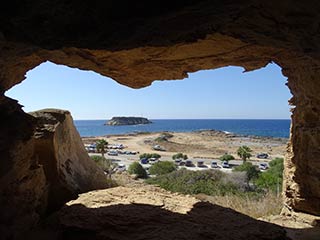 Cape Drepanum
It's time for another guest blog from Max. This time, he's been to the edge of the Akamas, to have a look at some of the caves at Cape Drepanum. Over to you, Max...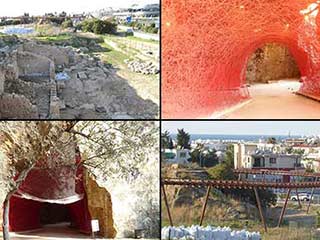 Let's Take a Look At Fabrica Hill
We've driven past Fabrica Hill many times over the years, and often wondered what was up there. (It's the area of land diagonally opposite The Mall, in case you didn't know). After comments and photos started appearing on the forum about the erection of a raised walkway, we decided a visit was overdue. With no expectations of what we would see when we got there, other than a vague feeling of disappointment that despite what it looked like, they weren't building a roller coaster, this is what we found.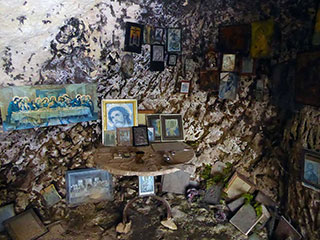 St George's Church and Shrine Caves
Near the shops on the Paphos / Geroskipou border, is a little track that runs below a cliff through some farmland. A sign indicates that there is a church down there, so one day I thought I would investigate. Sure enough, there was a little church, but there was so much more besides...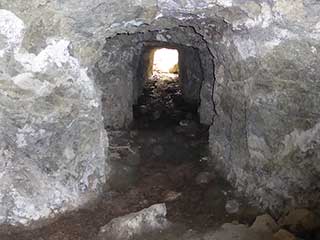 Happy Halloween!
As it is Haloween and the spirits of the departed are set to walk the Earth, placated only by sweets and small denomination coins, we thought it the perfect time to pay a visit to some spooky Akamas sites. So sit back and enjoy our trip to a pre-Christian Burial Ground and a spooky old mine, with not a janitor in sight.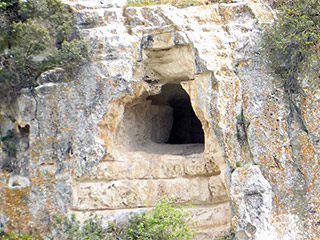 The Legend of Akoursos
Akoursos is a little village situated above Coral Bay, nestled in the hillside. It is off most people's radars and most visitors are probably tourists still searching in vain for the "suitable for all vehicles" road that will take them to Aphrodite's Water Baths. The other week we drove through there just so we could explore the hills behind it. While passing through, we couldn't help but notice a striking cave, embedded high up a cliff face. We decided to investigate...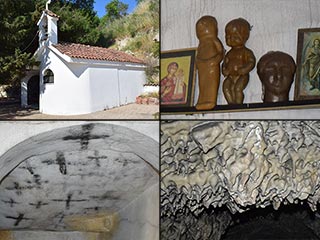 Kallepia Caving
We've visited a few shrine caves on our travels through Cyprus. Most of them are fairly shallow though, and don't require a torch to explore. The Agios Konstantinos and St. Helen chapel is different. If you enter the cave there, you better come equipped with illumination...
Good Pages To Visit

FB Page

Paphos Life on Facebook

Like us on Facebook and stay notified of new blog posts.

FB Page

Our Facebook Chat Group

Paphos Chat has been created for people who like our site and want to chat using Facebook. You can also easily upload photos of any size here. A lot of people are members of the Facebook chat group and the main forum. It's entirely up to you.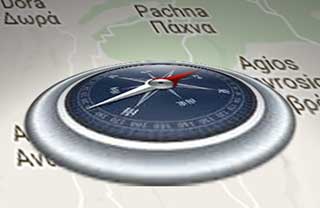 List

Blog Locations

Planning a day out? Then use our map of blog locations as a handy guide. Some of the places we visit our closer to each other than you might think, so take a look and start planning your next adventure...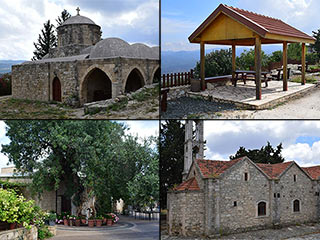 eBook

Cyprus Road Trip 01: the Kathikas - Panagia Loop

Let me take you on a journey around the region of Paphos, Cyprus. Starting at Paphos itself, we travel to Akoursos, then Kathikas, Kritou Terra and Simou. We continue past Lasa and Kannaviou, before taking in the delights of Panagia. Getting a bit more adventurous, we visit the abandoned villages of Statos and Agios Fotios, before passing through Choulou, Letymbou and Polemi, and rejoining the main Paphos - Polis road. The route is suitable for all types of vehicle, and requires no off-roading. The guide contains about 130 photographs including shots of all the road signs you need to pay attention to, as well as some of the highlights you may experience along the way. There are also several maps which will help you keep your bearings. You can do this journey in a day, or you can break it up into chunks. You can also do it in reverse, to get some completely different views. It is entirely up to you.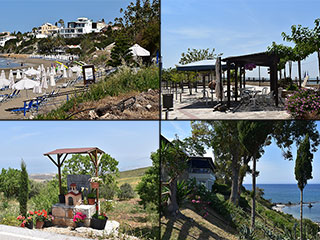 eBook

Cyprus Road Trip 02: Paphos - Coast to Coast

Newly published, our second Paphos Road trip takes you from coast to coast. Visit Coral Bay, Sea Caves, Agios Georgios, various traditional villages and more besides, as you travel to the Baths of Aphrodite on the Polis coast. And on the way back, we throw in an abandoned village for good measure.