The Church of St George Nicoxylitis
Published 9th of March, 2020
Spring is in the air, so on Sunday we took a drive to blow the winter sniffles and colds away. On a scenic route to Polis we stumbled upon this church and an old abandoned monastery, not to mention some stunning countryside...
This Must Be The Place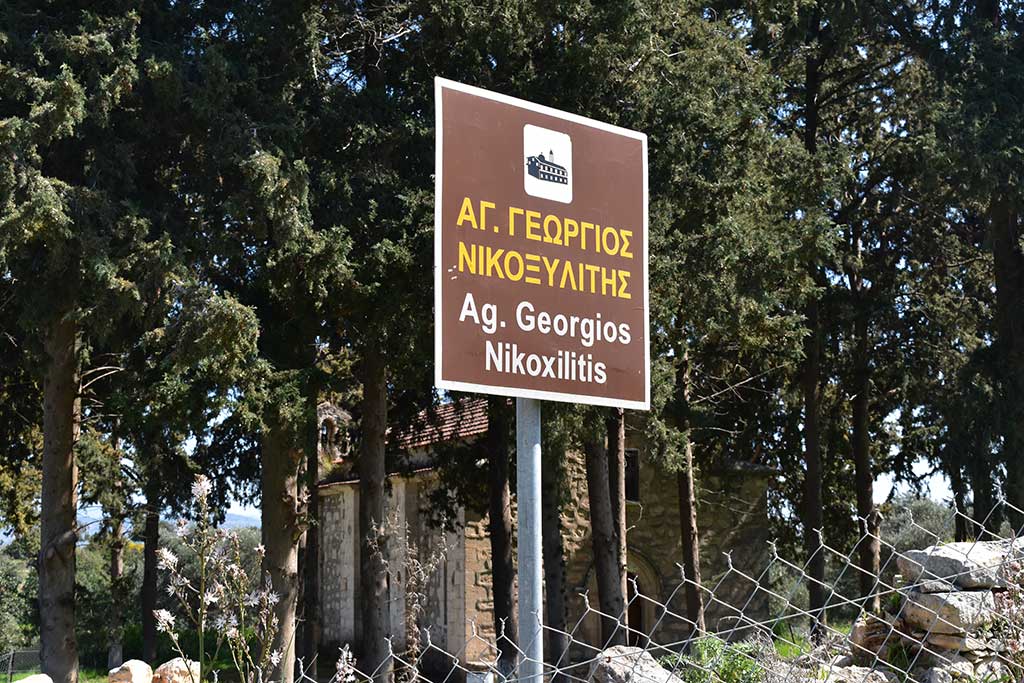 On this particular trip we took the high road from Polemi to Polis; through Kathikas and on down past Arodes and Droushia. As we began our descent towards Prodromi we took a right at a sign like the above. I had been here before when I had been doing some street view mapping, and thought it would be a good place for a family visit. Winter colds have been rattling around our villa, so I figured a bit of fresh air would blow them away.
I was going to write this blog after I finished with the Archaeological Park series, but somebody had requested pictures of flowers so I have bumped this to show some lovely blossoms...

Tidy Church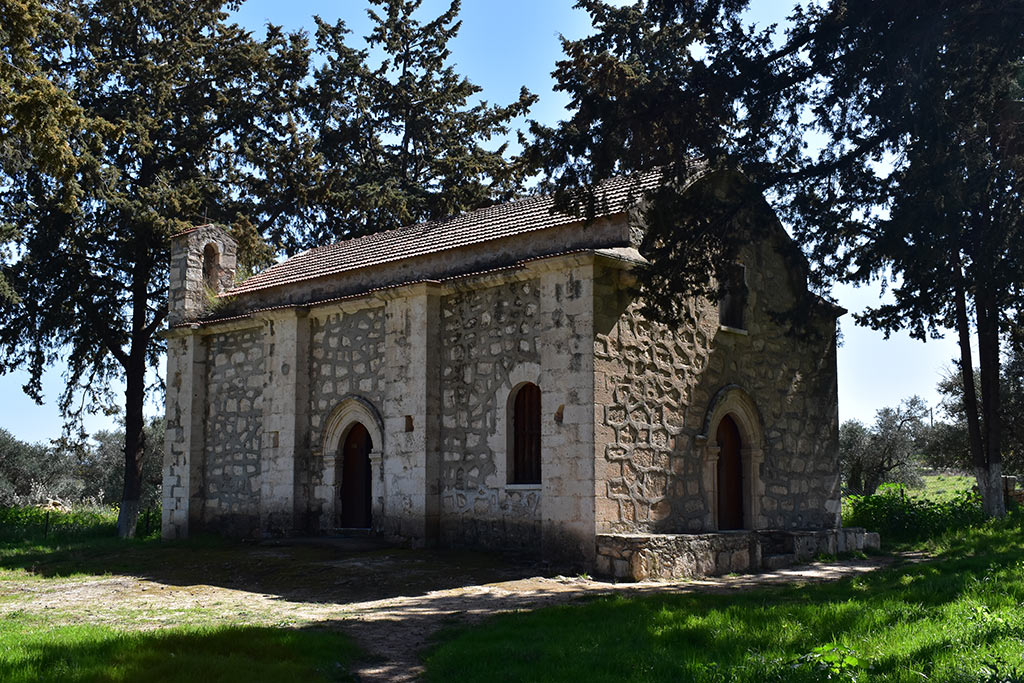 the church itself is nice enough - well kept and obviously looked after.
Out Houses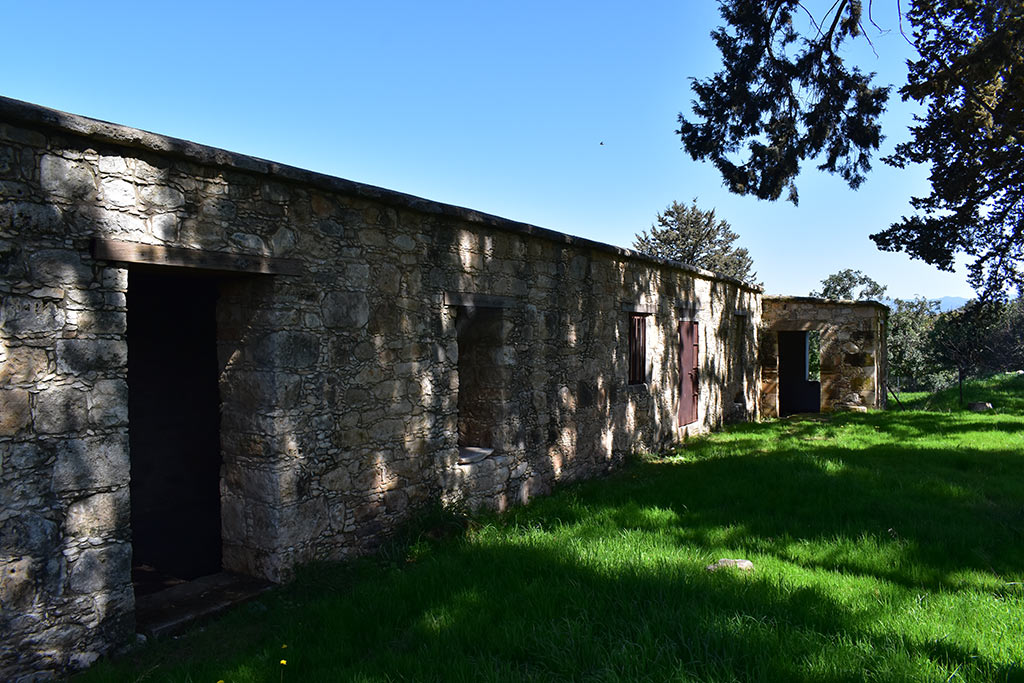 On one side of the church was a row of out-houses. Nothing special to report, though we did go in the end one.
Underneath The Arch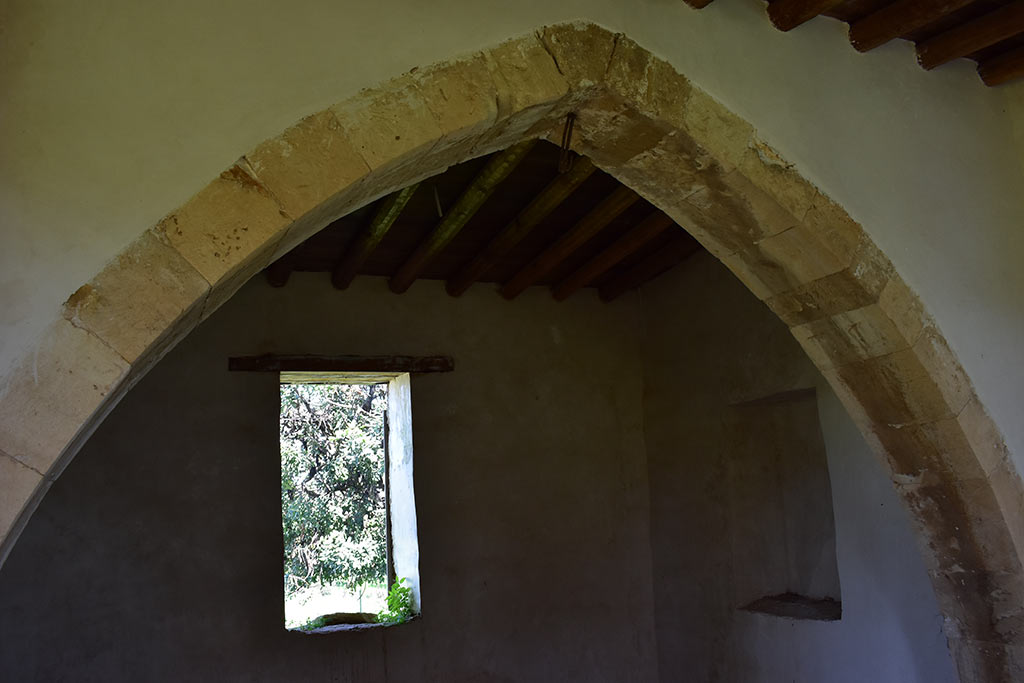 As regular readers will know, the hook under that arch is where they used to hang lanterns. I love a good arch.
Out House Ruins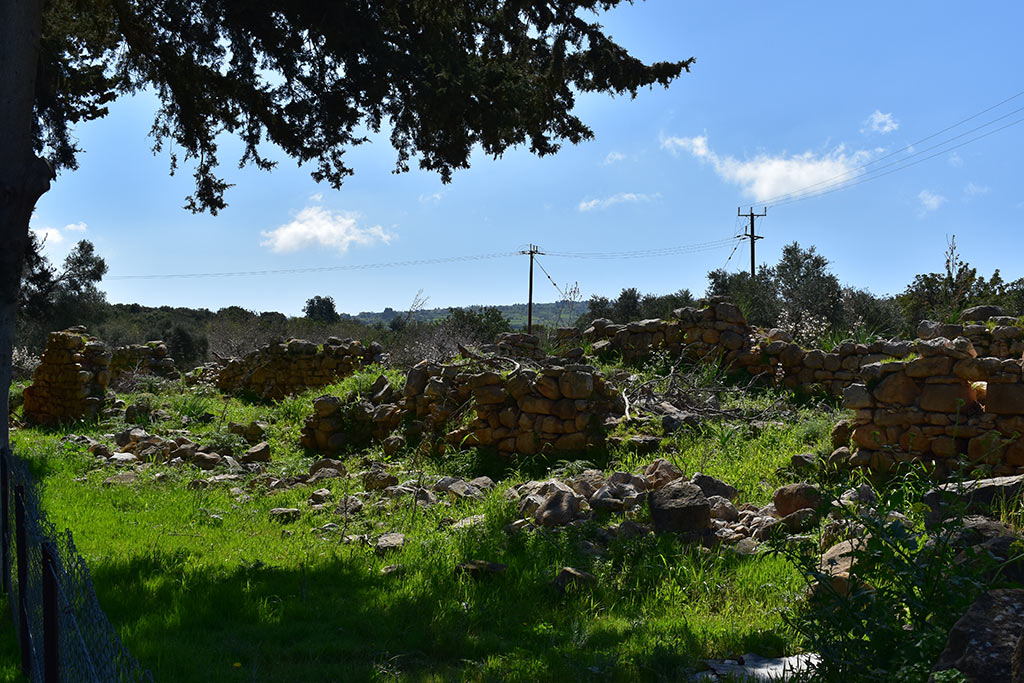 Far more interesting (to us at least) were the ruins on the other side of the church. We will get to them in a moment, but apparently they are all that remains of an old monastery that the church used to be a part of.
Page 1 of 7
If you like our blogs and the rest of our content, please consider slinging us a few euros to help us produce more content. Use the Coffee link below if you feel so inclined. Payments are taken on a secure gateway, with no contact!
❤

Related Blogs: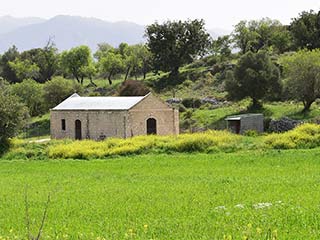 Agios Charalambos
Let's take a little break from flowers. I know that Cyprus looks lovely in the Spring, and that it abounds with colour and life. But it' time to take a break. With the Polemi Tulip Festival fast approaching, and the knowledge that another road trip from Max is just around the corner too, I think we need to look at something without petals.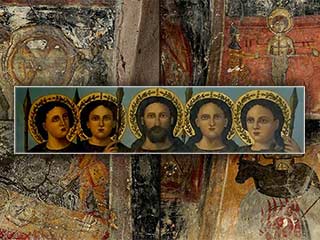 The barbaric frescoes of Agios Georgios Tou Sporou
It's time for another guest blog from Max. He's been out visiting some old churches and has uncovered some gruesome scenes...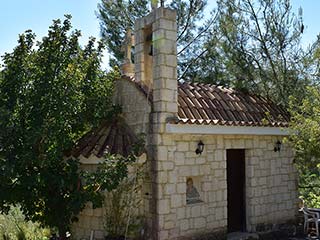 The Church of the Prophet Elias
As you drive to Polis on the B7, past Miliou, you will see a sign pointing to a church. If your Greek is as basic as ours, you will need Google Translate to tell you that it is the Church of the Prophet Elias. This is good to know, because you won't be able to find it on the map. When you see how small the church is, you will understand why...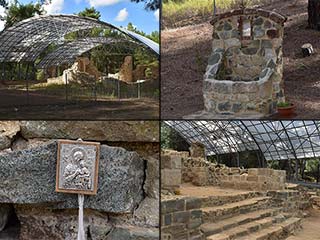 Gialia Monastery
In the northern reaches of Paphos forest lies an ancient monastery built over 1000 years ago. In ruins for over 400 years, Gialia Monastery was rediscovered in 1981, and excavated about a decade ago. It now provides an interesting and unique destination for the curious traveller...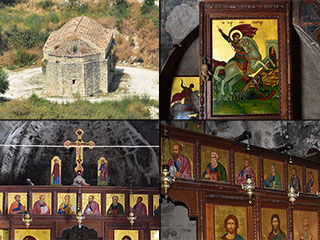 Ayios Georgios Koumanon Monastery
The Paphos Countryside is full of surprises. On any journey, you can guarantee that you will pass many interesting places without realising it. However, sometimes, if you go in search of a known location, it can prove elusive. Join us as we stalk this elusive old church through the Diarizos Valley countryside, before finally succumbing to its mysterious charms...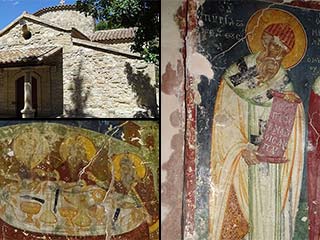 The Church of Saints Kerykos and Ioulitta
It's time for another guest blog from Max. He's taken a break from enlightening us about crystals and rock formations in the Paphos area, and has gone in search of some interesting church murals in Letymbou.
Good Pages To Visit

FB Page

Paphos Life on Facebook

Like us on Facebook and stay notified of new blog posts.

FB Page

Our Facebook Chat Group

Paphos Chat has been created for people who like our site and want to chat using Facebook. You can also easily upload photos of any size here. A lot of people are members of the Facebook chat group and the main forum. It's entirely up to you.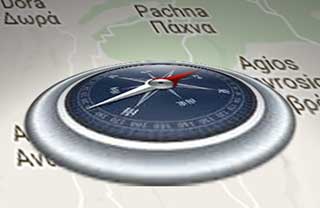 List

Blog Locations

Planning a day out? Then use our map of blog locations as a handy guide. Some of the places we visit our closer to each other than you might think, so take a look and start planning your next adventure...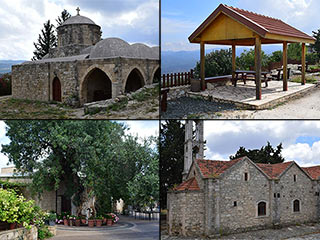 eBook

Cyprus Road Trip 01: the Kathikas - Panagia Loop

Let me take you on a journey around the region of Paphos, Cyprus. Starting at Paphos itself, we travel to Akoursos, then Kathikas, Kritou Terra and Simou. We continue past Lasa and Kannaviou, before taking in the delights of Panagia. Getting a bit more adventurous, we visit the abandoned villages of Statos and Agios Fotios, before passing through Choulou, Letymbou and Polemi, and rejoining the main Paphos - Polis road. The route is suitable for all types of vehicle, and requires no off-roading. The guide contains about 130 photographs including shots of all the road signs you need to pay attention to, as well as some of the highlights you may experience along the way. There are also several maps which will help you keep your bearings. You can do this journey in a day, or you can break it up into chunks. You can also do it in reverse, to get some completely different views. It is entirely up to you.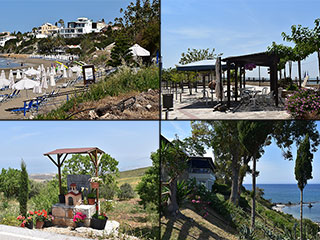 eBook

Cyprus Road Trip 02: Paphos - Coast to Coast

Newly published, our second Paphos Road trip takes you from coast to coast. Visit Coral Bay, Sea Caves, Agios Georgios, various traditional villages and more besides, as you travel to the Baths of Aphrodite on the Polis coast. And on the way back, we throw in an abandoned village for good measure.