Exploring Paphos In The Rain - Part 2
Published 16th of January, 2022
In the second half of my recent excursion into the wet Paphos countryside, I go valley hopping through Xeros and Ezousa, become re-acquainted with an abandoned village, and end up scrabbling through mud at a waterfall I hadn't seen before, tucked away behind the church in Choulou.
Xeros Valley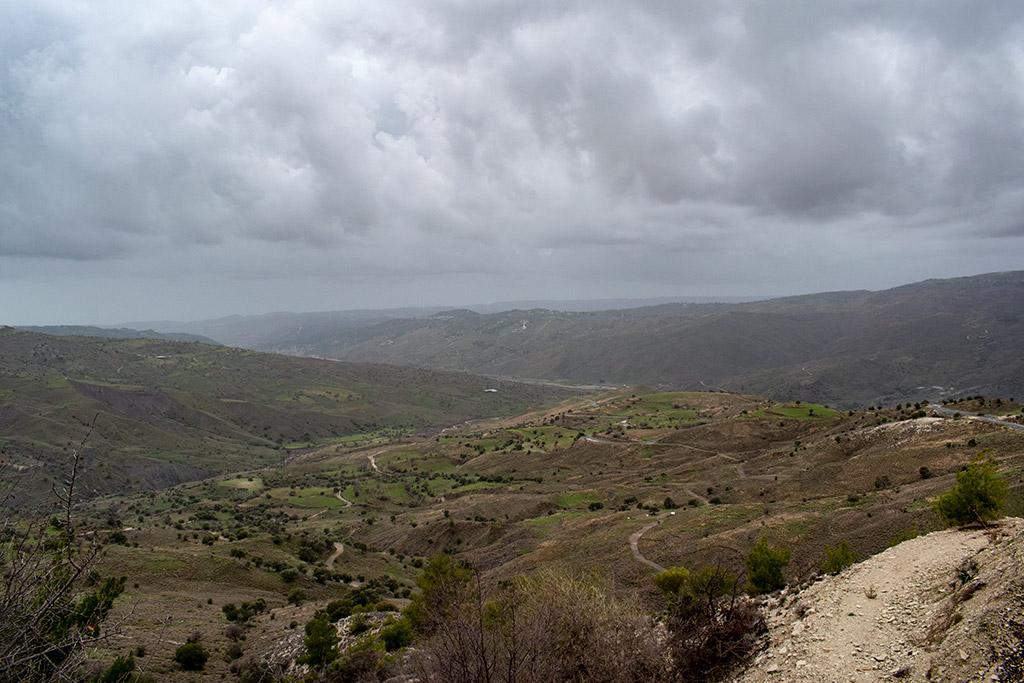 We finished the first half of this article in Saramiou. From there we drove towards Paphos, turning right at the sign pointing to Sinti Monastery. This road takes us into Xeros Valley.

Distant Sinti Monastery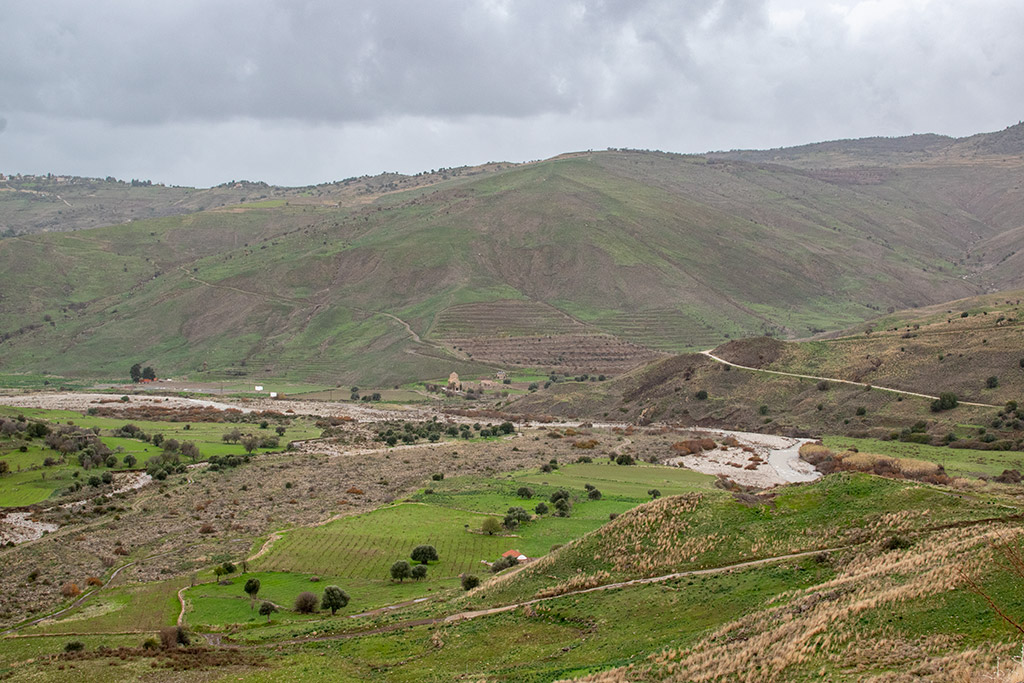 That's Sinti Monastery, there. Last year there was a fire in the area. It is nice to see that the landscape around it is obviously recovering. The monastery is a lovely place to visit, but I won't be going here today, for reasons which will soon become clear.
No Road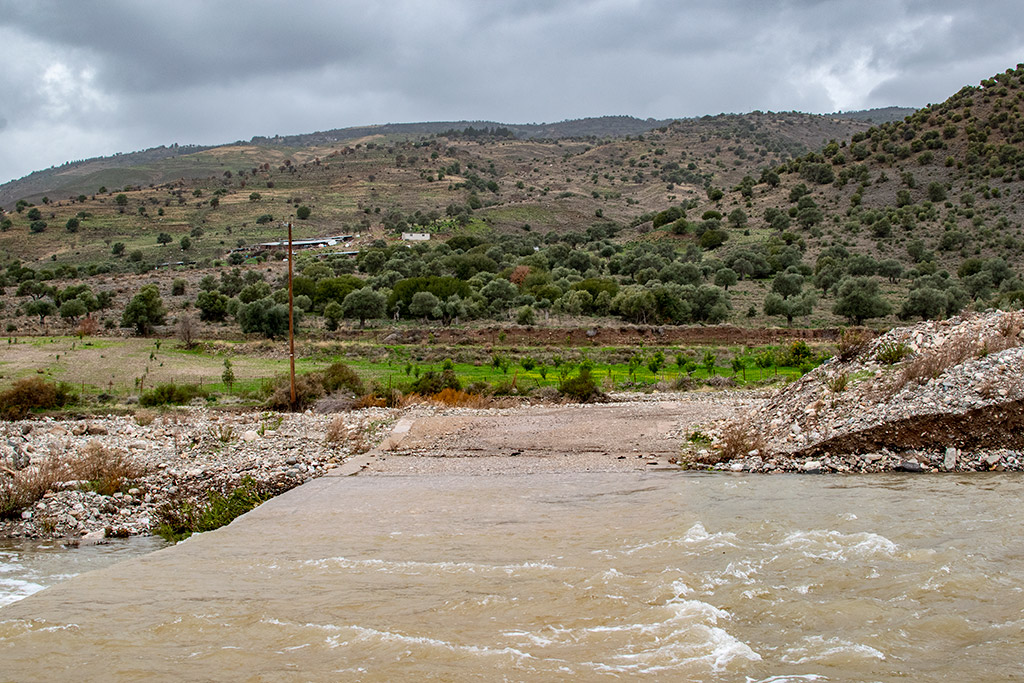 When the road gets to the Xeros River there is no bridge. Well there is, but it isn't very functional. The Venetians would look at this and laugh. There is a sign here warning people not to cross when the water is too high. So I decided to get out and check it for myself.
Not Too Bad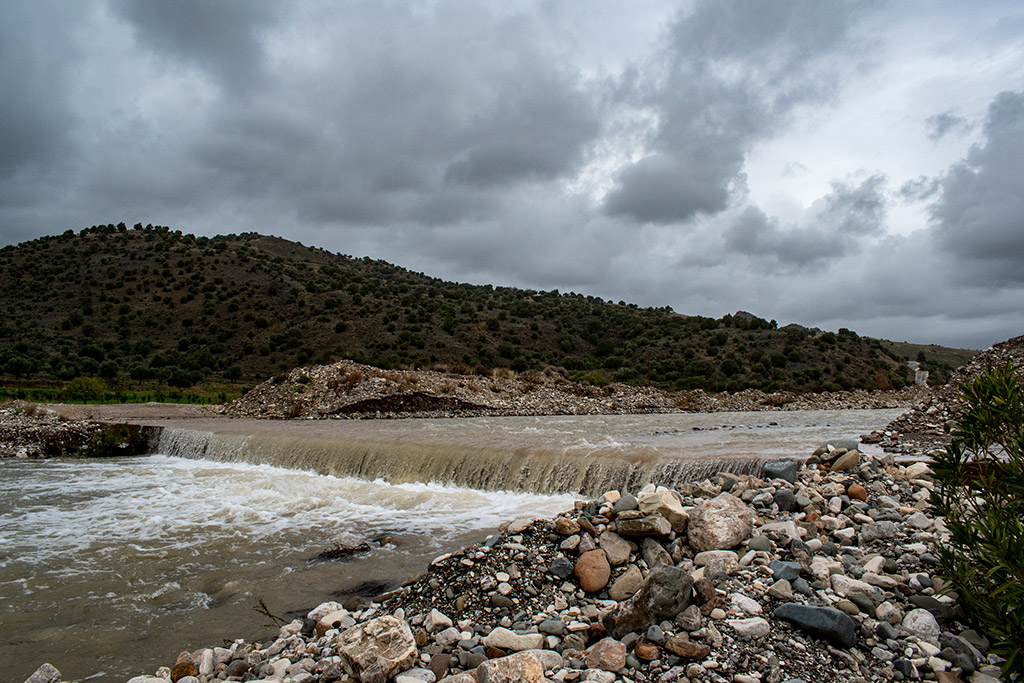 The water is flowing fairly rapidly, but it's not too deep. So I shall give it a go. What I can't do though, is take the road to Sinti Monastery. That is a stone track, that runs behind where I am standing. Its course is now submerged by the water, and while I don't have an issue crossing the ford, there's no way I am going to try and drive across a river bed.
Nothing To It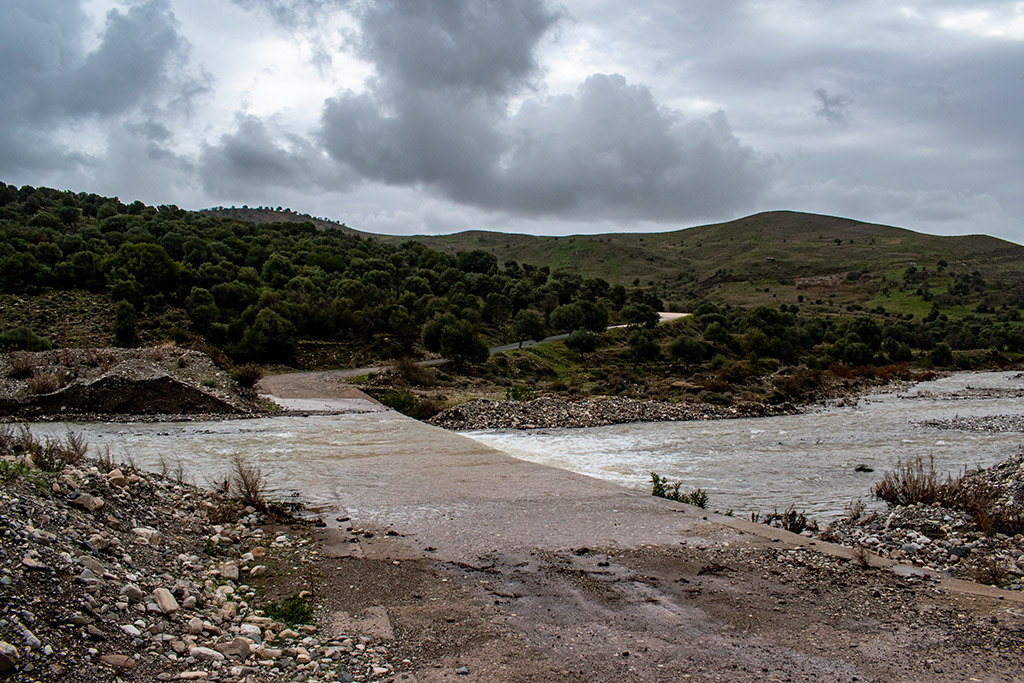 If you are unsure when you get to a situation like this, it is always best to check first. It is better to retrace your steps than get stuck in the middle of nowhere.
Page 1 of 7
If you like our blogs and the rest of our content, please consider slinging us a few euros to help us produce more content. Use the Coffee link below if you feel so inclined. Payments are taken on a secure gateway, with no contact!
❤

Related Blogs: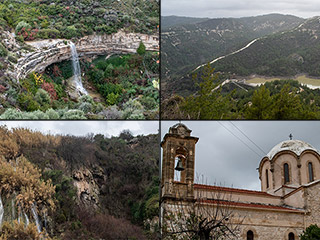 Exploring Paphos In The Rain - Part 1
Recently I've been going stir-crazy waiting for the rains to abate enough for me to go out and do some exploring. Well, after yet another yellow alert I finally decided to just drive off into the rain and take my chances. As it was, I had a great time revisiting old haunts and finding some new surprises...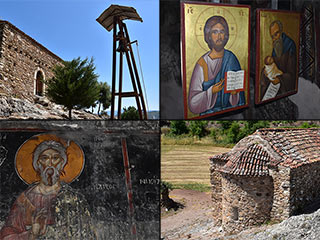 The Murals of Agios Nikolaos
We've featured a lot of churches in our blogs. This is not surprising, as they are lovely building ornately decorated, and great places for quiet reflection on a hot summer's day. The more modern churches often have fantastic murals which take your breath away. But this is not a new tradition. A visit to the remote church of Agios Nikolaos, near Galataria, will show you that fully immersive church murals have been around for centuries...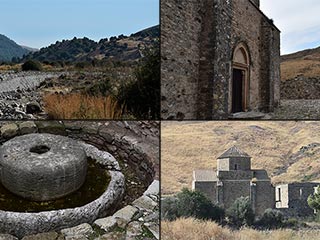 Sinti Monastery Revisited
Sinti Monastery is one of the hidden jewels of the Cyprus countryside. A couple of years ago we published a blog by our friend Max, who did a nice road-trip to the site. We recently returned, with our drone, to see how it was coping with the pandemic...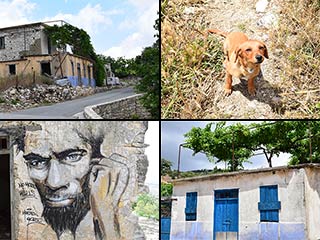 Abandoned Villages - Agios Fotios
Given that I wrote a blog about Statos last week, it would be unfair of me not to cover its close neighbour, Agios Fotios. Their histories are intertwined, as they were both abandoned for the same reason. Indeed, they merged to form a new, single town, called Statos Agios - Fotios. So what was left behind...
Good Pages To Visit

FB Page

Paphos Life on Facebook

Like us on Facebook and stay notified of new blog posts.

FB Page

Our Facebook Chat Group

Paphos Chat has been created for people who like our site and want to chat using Facebook. You can also easily upload photos of any size here. A lot of people are members of the Facebook chat group and the main forum. It's entirely up to you.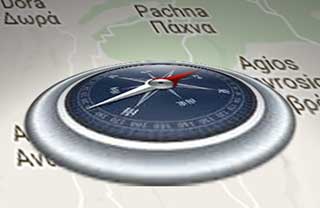 List

Blog Locations

Planning a day out? Then use our map of blog locations as a handy guide. Some of the places we visit our closer to each other than you might think, so take a look and start planning your next adventure...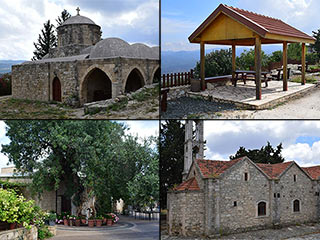 eBook

Cyprus Road Trip 01: the Kathikas - Panagia Loop

Let me take you on a journey around the region of Paphos, Cyprus. Starting at Paphos itself, we travel to Akoursos, then Kathikas, Kritou Terra and Simou. We continue past Lasa and Kannaviou, before taking in the delights of Panagia. Getting a bit more adventurous, we visit the abandoned villages of Statos and Agios Fotios, before passing through Choulou, Letymbou and Polemi, and rejoining the main Paphos - Polis road. The route is suitable for all types of vehicle, and requires no off-roading. The guide contains about 130 photographs including shots of all the road signs you need to pay attention to, as well as some of the highlights you may experience along the way. There are also several maps which will help you keep your bearings. You can do this journey in a day, or you can break it up into chunks. You can also do it in reverse, to get some completely different views. It is entirely up to you.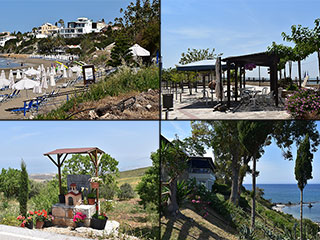 eBook

Cyprus Road Trip 02: Paphos - Coast to Coast

Newly published, our second Paphos Road trip takes you from coast to coast. Visit Coral Bay, Sea Caves, Agios Georgios, various traditional villages and more besides, as you travel to the Baths of Aphrodite on the Polis coast. And on the way back, we throw in an abandoned village for good measure.