Simou Church
Published 12th of November, 2018
A few sundays ago we were lucky enough to be visiting Simou when they were preparing for a Christening. The church which is normally locked, was open, so we had a quick look inside, and were stunned with what we found...
Simou Square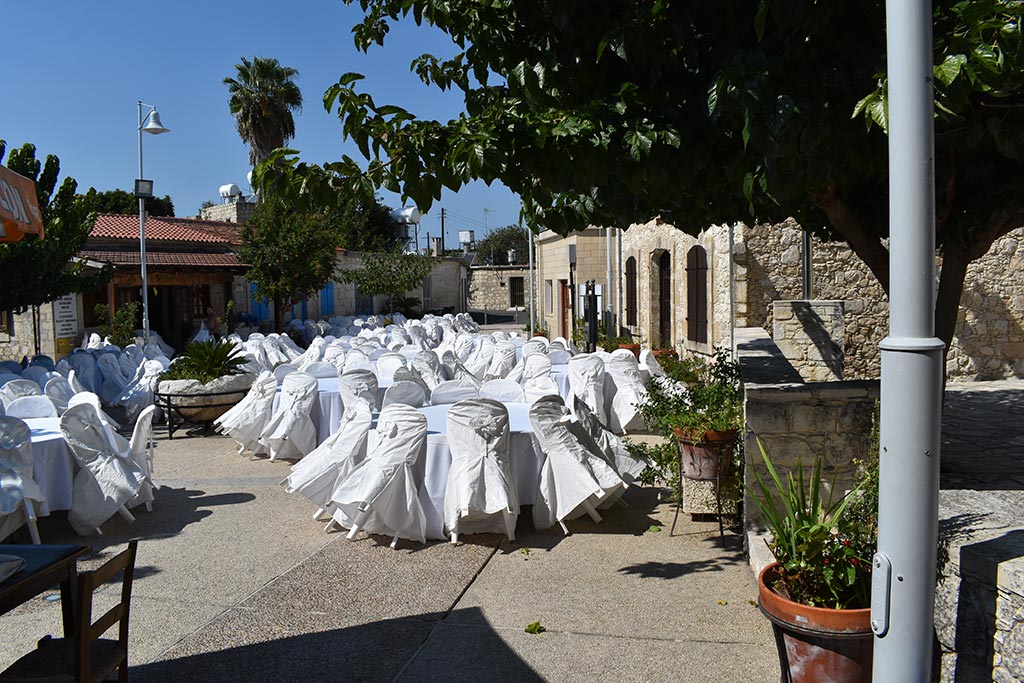 One of the great pleasures about life in Cyprus is being able to drive to a random village and dine at a local tavern. A few sundays ago, we decided to visit Simou for our sunday lunch. While we sat in the square we couldn't help but notice the surrounding decorations. On enquiring we found that there was to be a christening in the local church!

Fruity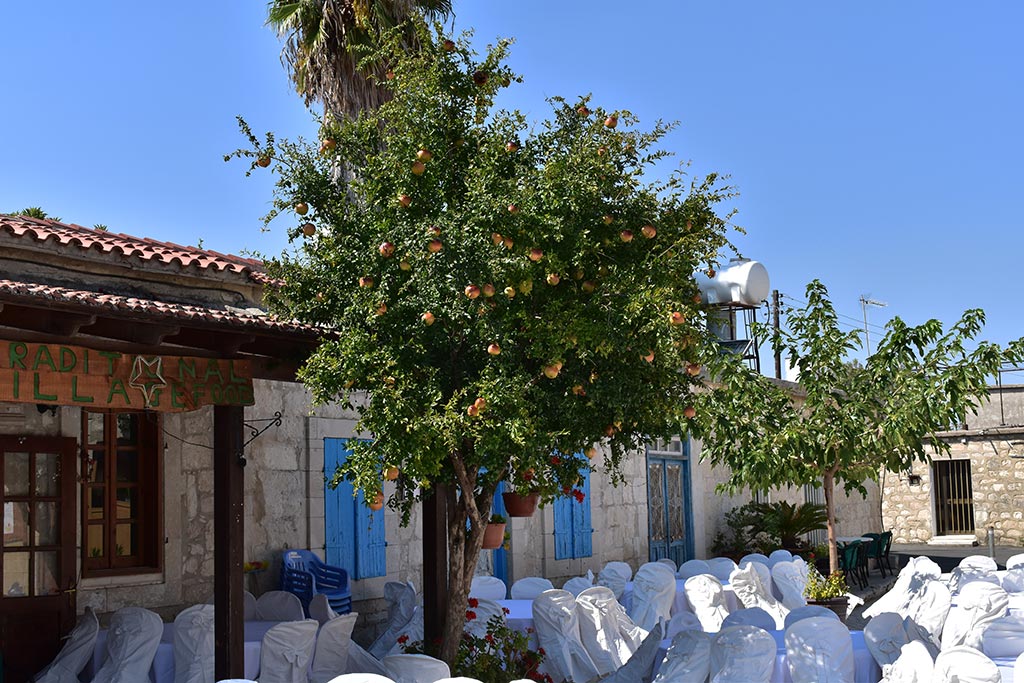 We love the tavern in Simou Square. The food is delicious and they are very relaxed. It's the kind of place where the menu is more of a hopeful guide than a definitive list of what you can order. Today, the lady serving us was completely on her own, as her husband was out on an errand. So she was our waitress and chef. Judging be the online reviews, this is not the usual state of affairs. Perhaps they are more of an evening venue?
We normally bring a pack of playing cards with us when we eat out, so we didn't mind waiting for the food to be freshly cooked from scratch. I went for the ribs, and they were delicious, with a lovely chilli sauce.
But this isn't about the food. While we were waiting, in between card games, I took the camera for a wander.
The Church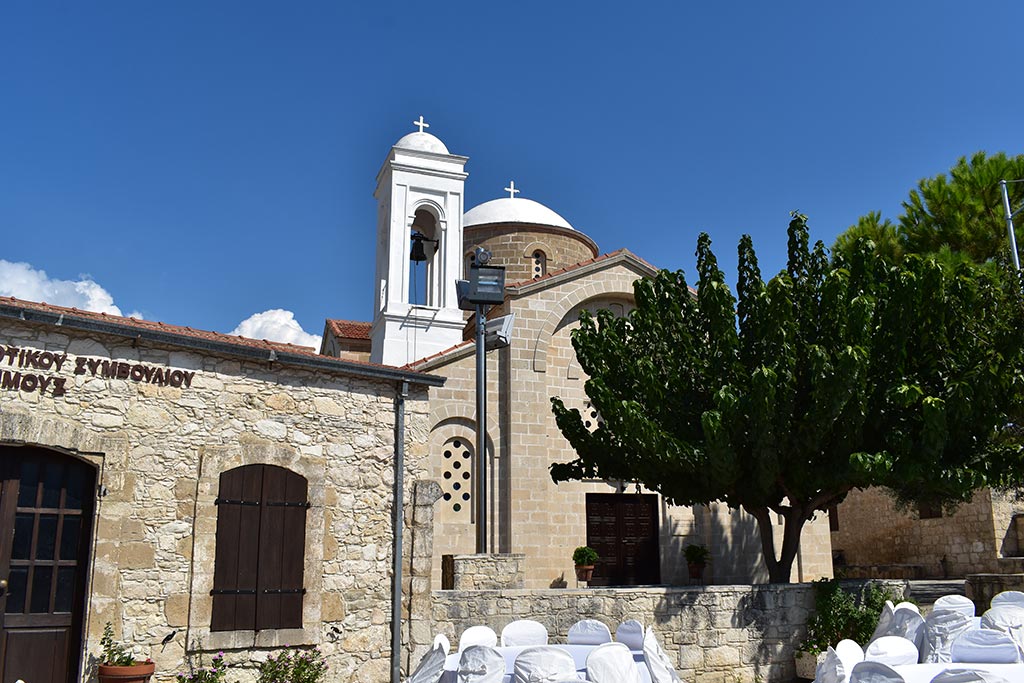 We had already blogged about Simou last year. However, we had visited on a weekday then, and the church had been locked. I wondered if it would be open on a sunday, especially as there was a Christening in the air?
The Door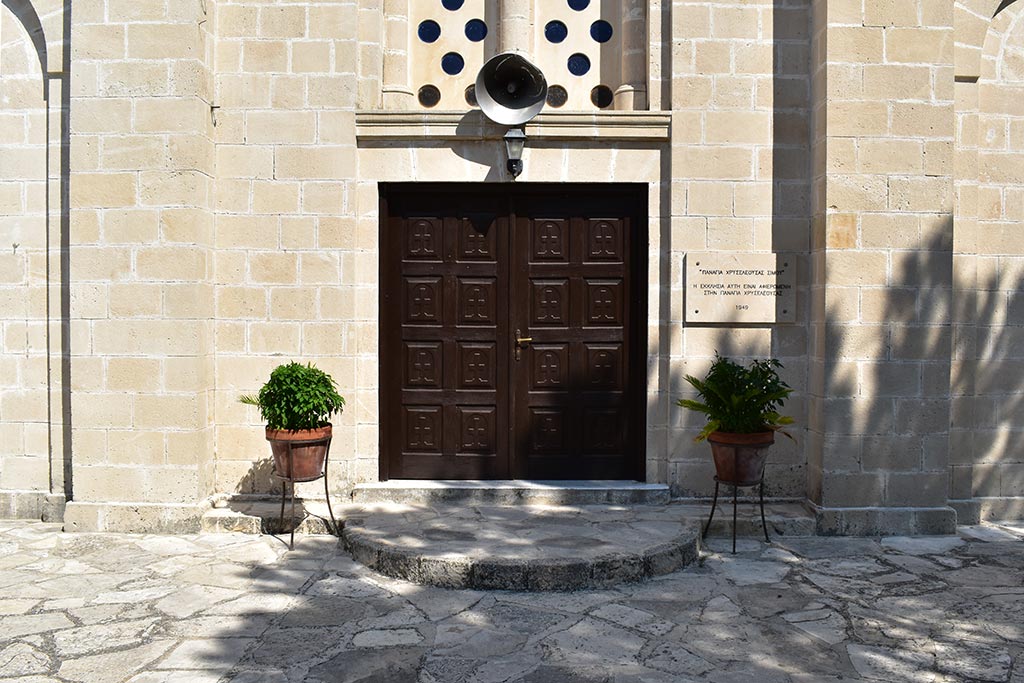 So we approached the door to see if it would open...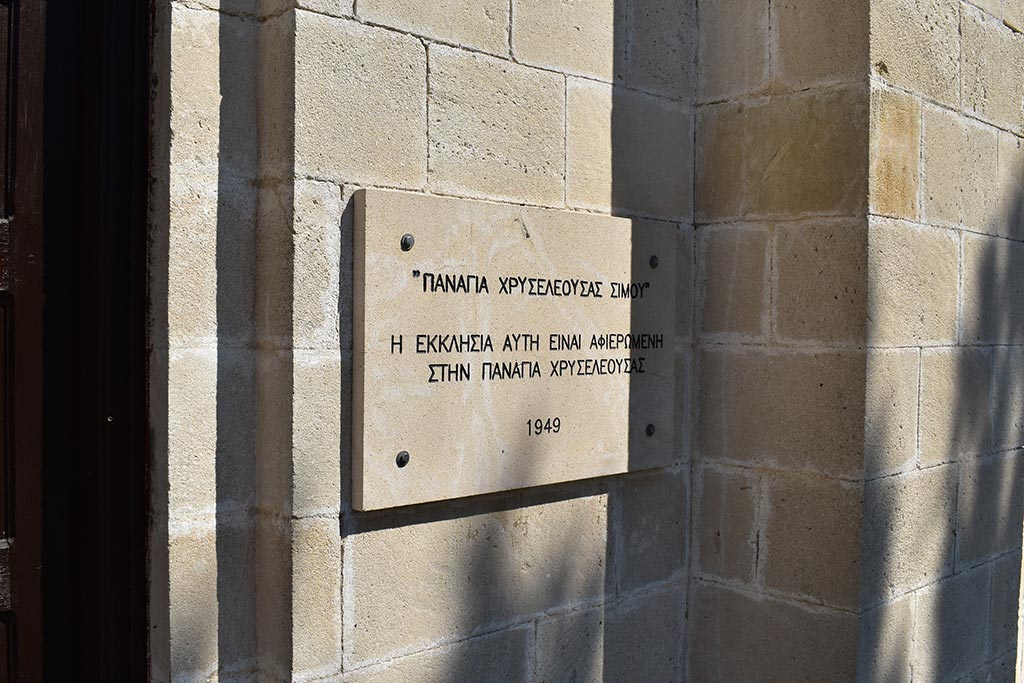 I think that means the church was built in 1949. So, what does it look like inside?
Page 1 of 4
If you like our blogs and the rest of our content, please consider slinging us a few euros to help us produce more content. Use the Coffee link below if you feel so inclined. Payments are taken on a secure gateway, with no contact!
❤

Related Blogs: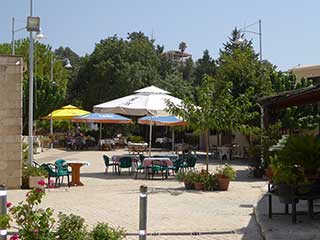 Simou
As promised at the end of our last blog about Skarfos Bridge, we now take a lot at the village of Skarfos, nestled 16km oustide of Polis, and see what it has to offer.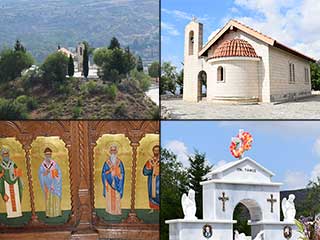 The Church of Chryseleousa
Wherever you travel in Cyprus, you are never far from a church. Every village has one, and some have several. In our blogs, we've looked at ancient churches, and the highly adorned churches you find in the more populated areas, but we haven't really examined the traditional village church. With that in mind, I am planning a few blogs which will feature such places of worship. So let's start the ball rolling, and travel to Kannivou to visit this lovely church on the hill.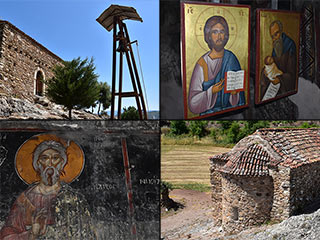 The Murals of Agios Nikolaos
We've featured a lot of churches in our blogs. This is not surprising, as they are lovely building ornately decorated, and great places for quiet reflection on a hot summer's day. The more modern churches often have fantastic murals which take your breath away. But this is not a new tradition. A visit to the remote church of Agios Nikolaos, near Galataria, will show you that fully immersive church murals have been around for centuries...
Good Pages To Visit

FB Page

Paphos Life on Facebook

Like us on Facebook and stay notified of new blog posts.

FB Page

Our Facebook Chat Group

Paphos Chat has been created for people who like our site and want to chat using Facebook. You can also easily upload photos of any size here. A lot of people are members of the Facebook chat group and the main forum. It's entirely up to you.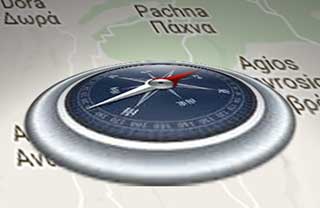 List

Blog Locations

Planning a day out? Then use our map of blog locations as a handy guide. Some of the places we visit our closer to each other than you might think, so take a look and start planning your next adventure...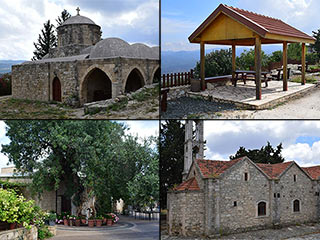 eBook

Cyprus Road Trip 01: the Kathikas - Panagia Loop

Let me take you on a journey around the region of Paphos, Cyprus. Starting at Paphos itself, we travel to Akoursos, then Kathikas, Kritou Terra and Simou. We continue past Lasa and Kannaviou, before taking in the delights of Panagia. Getting a bit more adventurous, we visit the abandoned villages of Statos and Agios Fotios, before passing through Choulou, Letymbou and Polemi, and rejoining the main Paphos - Polis road. The route is suitable for all types of vehicle, and requires no off-roading. The guide contains about 130 photographs including shots of all the road signs you need to pay attention to, as well as some of the highlights you may experience along the way. There are also several maps which will help you keep your bearings. You can do this journey in a day, or you can break it up into chunks. You can also do it in reverse, to get some completely different views. It is entirely up to you.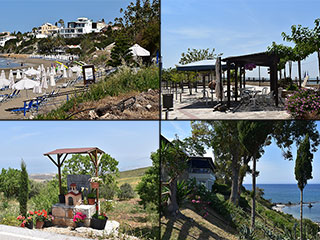 eBook

Cyprus Road Trip 02: Paphos - Coast to Coast

Newly published, our second Paphos Road trip takes you from coast to coast. Visit Coral Bay, Sea Caves, Agios Georgios, various traditional villages and more besides, as you travel to the Baths of Aphrodite on the Polis coast. And on the way back, we throw in an abandoned village for good measure.