The Rise and Fall of the Asprokremmos Reservoir
Published 19th of December, 2016
We've been coming to Cyprus for the last 10 years. On our first visit, I was keen to explore an abandoned village, and the closest one I could find to Paphos on the map was Foinikas, on the banks o the Asprokremmos Reservoir. Since then we have returned on numerous occasions, and the photographs we took over time show just how much the water levels have fallen.
View from the Dam in 2016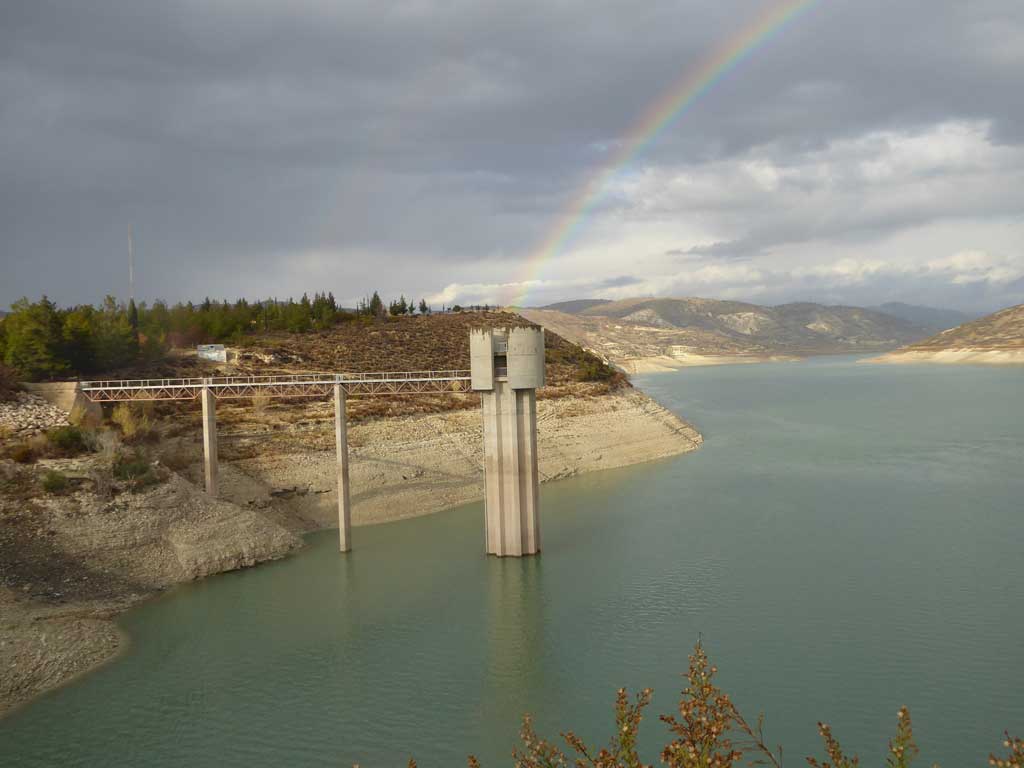 This shot was taken after several days of rain, at the start of December 2016. It was actually raining at the time, and we were even gifted a rainbow for the photo shoot.

View From The Dam in 2012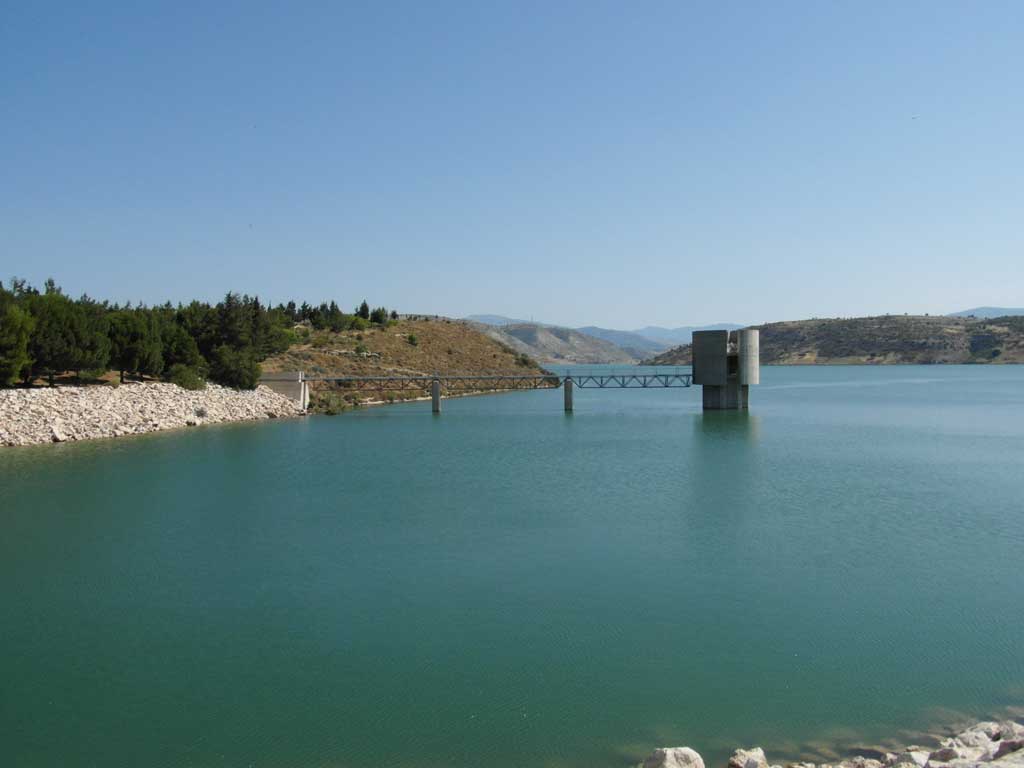 This was just about the same view, taken four years ago. As you can see, the reservoir is full.
The Overflow in 2016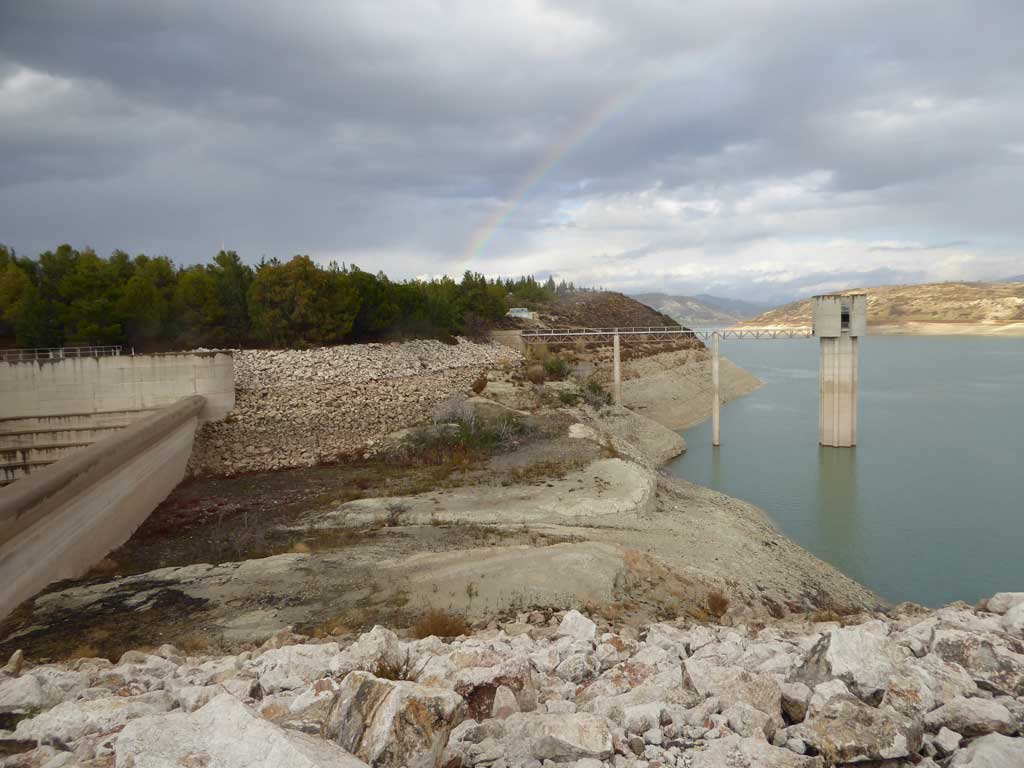 In 2016 this overflow looks pretty redundant.
The Overflow in 2012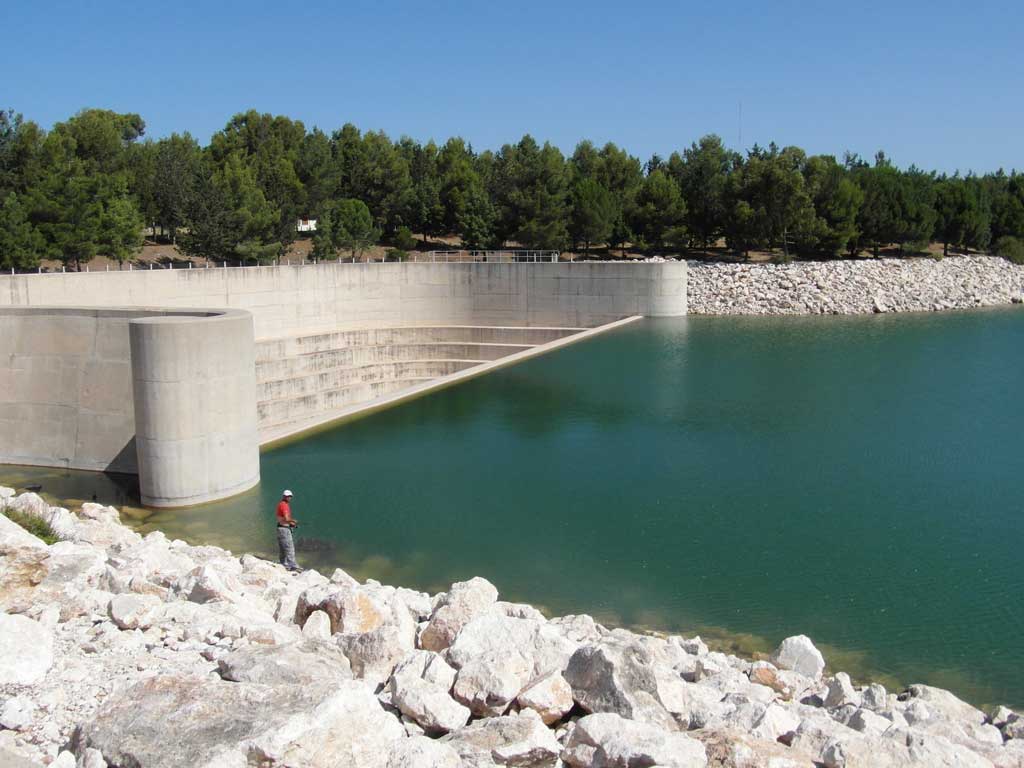 In 2012 we see a different story.
Now, to get to Foinikas from the dam, you have to leave the dam by the Paphos side, and head to Anarita. Before you get there, you should see a signpost to Foinikas. The road runs past a water treatment plant, before turning into a track and descending into the valley. If you want to visit the place, I strongly recommend a 4x4.
On the way to Foinikas, in 2016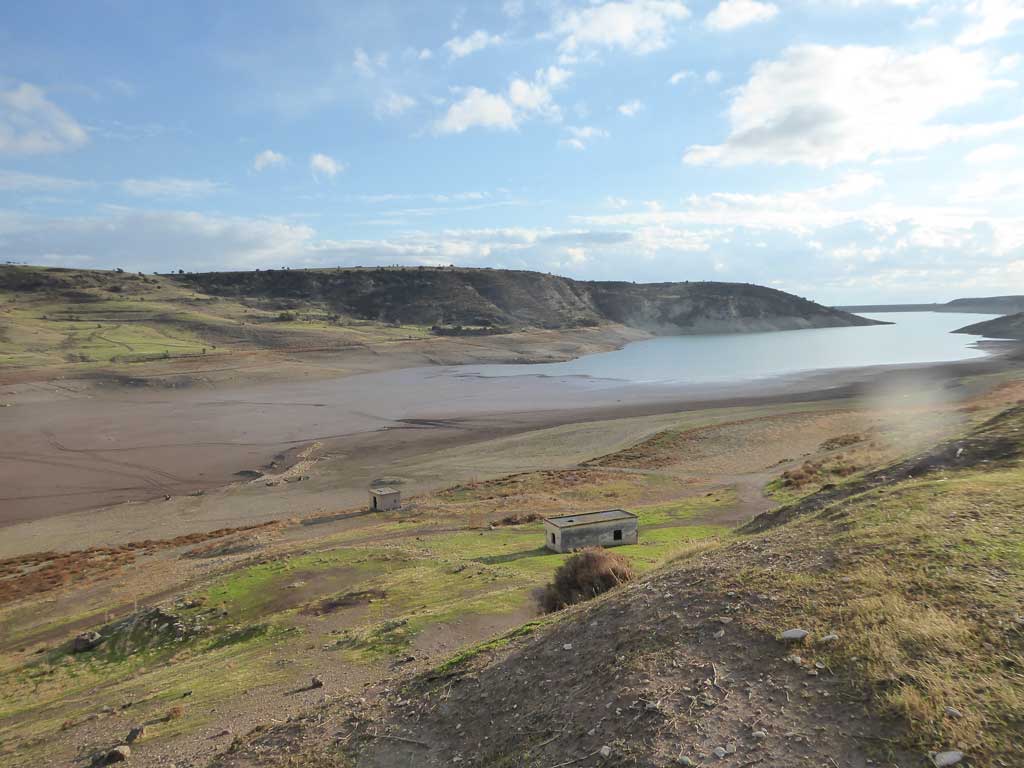 As you approach Foinikas, you will see these two huts.
Page 1 of 3
If you like our blogs and the rest of our content, please consider slinging us a few euros to help us produce more content. Use the Coffee link below if you feel so inclined. Payments are taken on a secure gateway, with no contact!
❤

Related Blogs: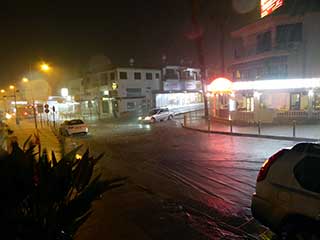 Sick of the Rain?
If it seems like it will never stop raining, take heart and consider what it was like in 2015. We took these when we were caught in a cloudburst while waiting for a kebab.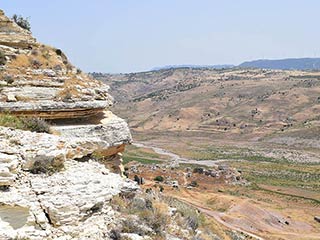 Foinikas Heights
We love Foinikas, the abandoned village on the banks of the Asprokremmos Reservoir. We've already blogged about it twice though, so we thought we would take a look at some of the surrounding countryside, and see what else the valley has to offer. Hopefully we will show you that you can find stunning, remote scenery only a stones-throw from Paphos. You don't need to travel all the way to the Akamas or Troodos to lose yourself in rugged beauty...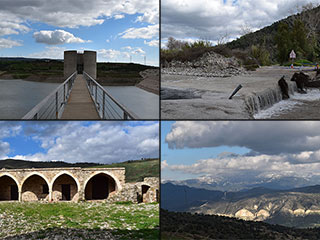 The Xeros River in Winter
The Asprokremmos Reservoir is beginning to fill up! At the last count, it was close to 40% full. But where is all the water coming from? The Xeros River is normally close to dry, but now it has become a raging torrent. So let's take a look...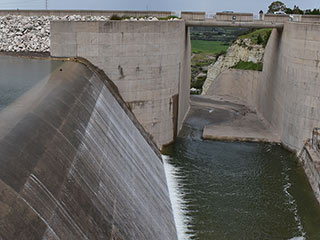 Asprokremmos Dam Revisited
The Asprokremmos Dam first started to overflow over a week ago. We filmed it at the time, but vowed to return once it had got into full swing...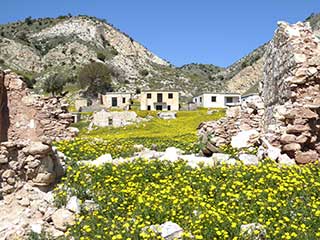 Abandoned Villages - Foinikas
Foinikas has a special place in our family's hearts. It was the first abandoned village we explored in Cyprus, some ten years ago. We have returned to it each time we visited Cyprus, and consquently have more pictures than we could ever possibly want of the village and surrounding area. We posted some of them on our blog about the Asprokremmos Reservoir. We wanted some up-to-date photos for the Abandoned Village blog series. So last saturday we revisited Foinikas, and couldn't believe what we found when we got there...
Foinikas Revisited
When we first blogged about Foinikas it was springtime, and the abandoned village was bathed in a sea of yellow. It was always an essential destination on our holidays, but we had never been in Spring, so it came as a pleasant surprise. However, it made it difficult to explore, as you never know what you might tread on when you have to wade through thigh-high flowers. As frequently happens with our blogs, people posted more information about the site in the comments. So we decided to pay another visit a few days ago, and explore it in more depth...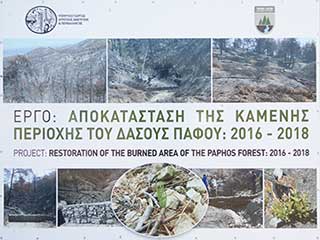 Argaka Dam
The subject of litter often crops up in discussions on the Paphos Life forum. Things are improving, but there is definitely a long way to go. So it is with great pleasure that we are able to report that on a recent visit to Argaka Dam, we witnessed first hand how school children from the ISOP are helping to keep the area tidy.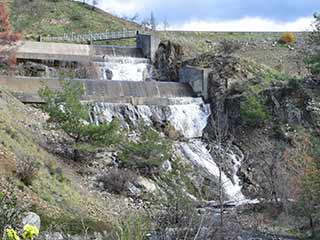 Argaka Overflow
This morning we read a news article which said the Argaka Dam was full. We recently visited Argaka to help clean the nature trail, so we were keen to see what it looked like when full...
Good Pages To Visit

FB Page

Paphos Life on Facebook

Like us on Facebook and stay notified of new blog posts.

FB Page

Our Facebook Chat Group

Paphos Chat has been created for people who like our site and want to chat using Facebook. You can also easily upload photos of any size here. A lot of people are members of the Facebook chat group and the main forum. It's entirely up to you.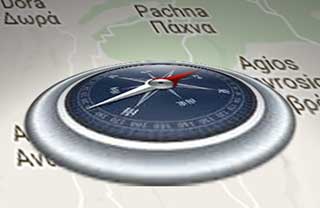 List

Blog Locations

Planning a day out? Then use our map of blog locations as a handy guide. Some of the places we visit our closer to each other than you might think, so take a look and start planning your next adventure...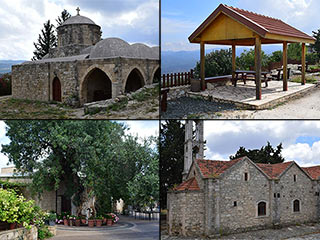 eBook

Cyprus Road Trip 01: the Kathikas - Panagia Loop

Let me take you on a journey around the region of Paphos, Cyprus. Starting at Paphos itself, we travel to Akoursos, then Kathikas, Kritou Terra and Simou. We continue past Lasa and Kannaviou, before taking in the delights of Panagia. Getting a bit more adventurous, we visit the abandoned villages of Statos and Agios Fotios, before passing through Choulou, Letymbou and Polemi, and rejoining the main Paphos - Polis road. The route is suitable for all types of vehicle, and requires no off-roading. The guide contains about 130 photographs including shots of all the road signs you need to pay attention to, as well as some of the highlights you may experience along the way. There are also several maps which will help you keep your bearings. You can do this journey in a day, or you can break it up into chunks. You can also do it in reverse, to get some completely different views. It is entirely up to you.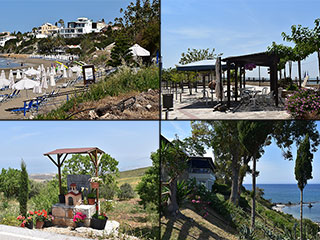 eBook

Cyprus Road Trip 02: Paphos - Coast to Coast

Newly published, our second Paphos Road trip takes you from coast to coast. Visit Coral Bay, Sea Caves, Agios Georgios, various traditional villages and more besides, as you travel to the Baths of Aphrodite on the Polis coast. And on the way back, we throw in an abandoned village for good measure.