Kissonerga Mosfilia
Published 7th of September, 2018
Tucked away in the lower reaches of Kissonerga, lies a site of great historical importance. Similar in appearance to the ancient village of Lemba, which is currently closed for maintenance, Kissonerga Mosfilia is a perfect way to spend half an hour if you fancy something a little different. Like most of our findings, it was a happy accident that brought us to this ancient settlement. We were avoiding a roadblock and happened to pass this sign on our way to the coast road. Brown signs often signal something interesting, so we stopped to take a look...
The Entrance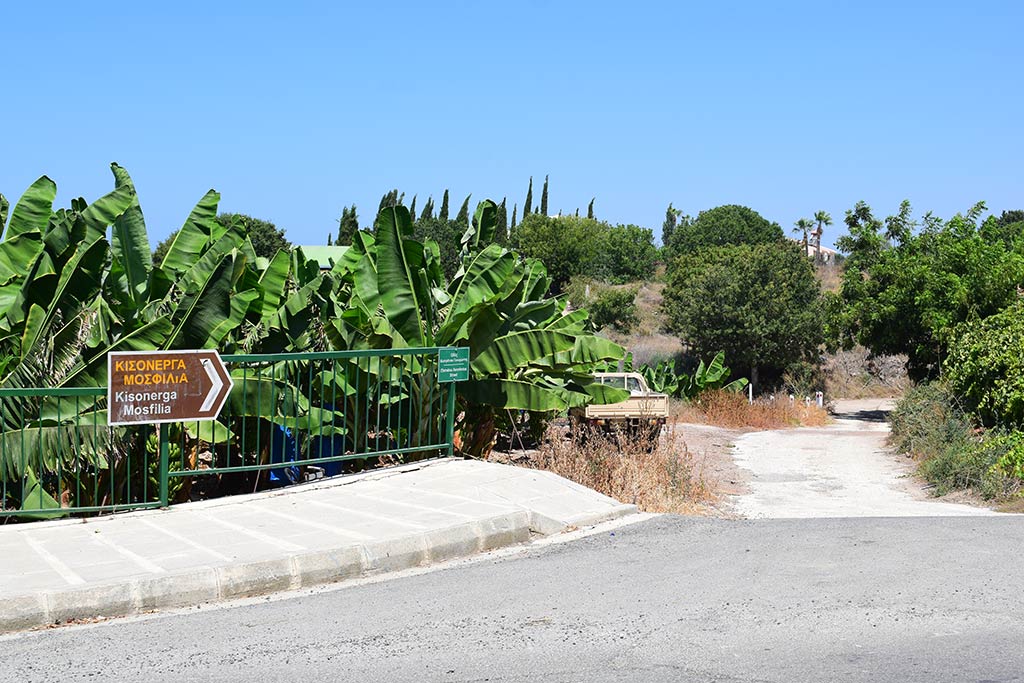 I am not going to describe what route we took to get here, as I can't remember it. However, there is a map link at the bottom of this page, and I will include it here too. This is the map.

Reconstruction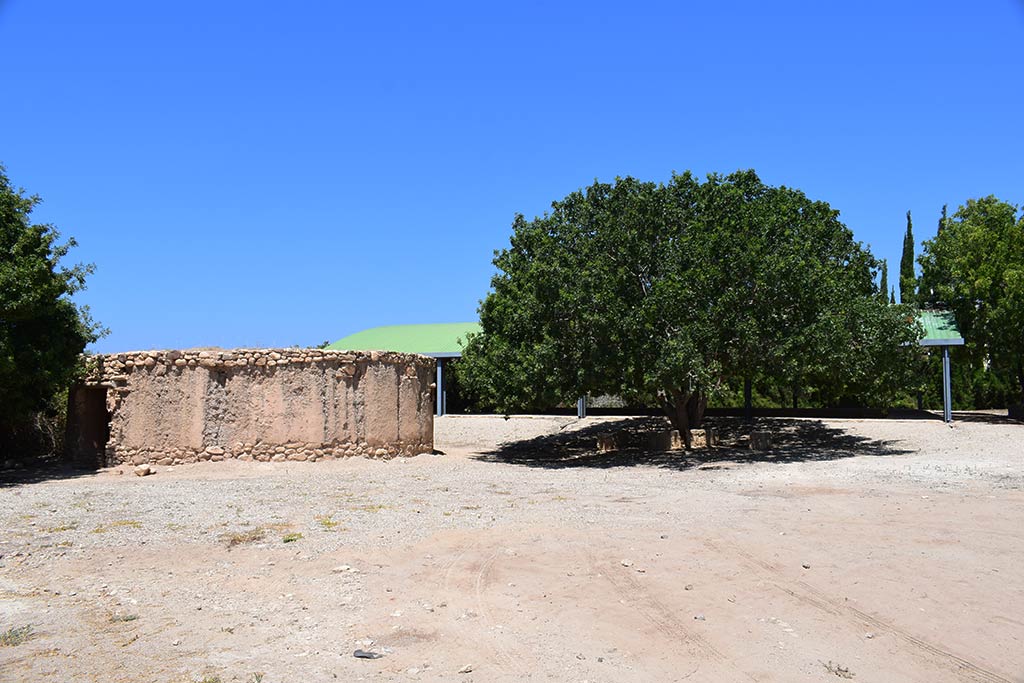 the first building you see is a reconstruction of what the buildings looked like in the original settlement.
Good Condition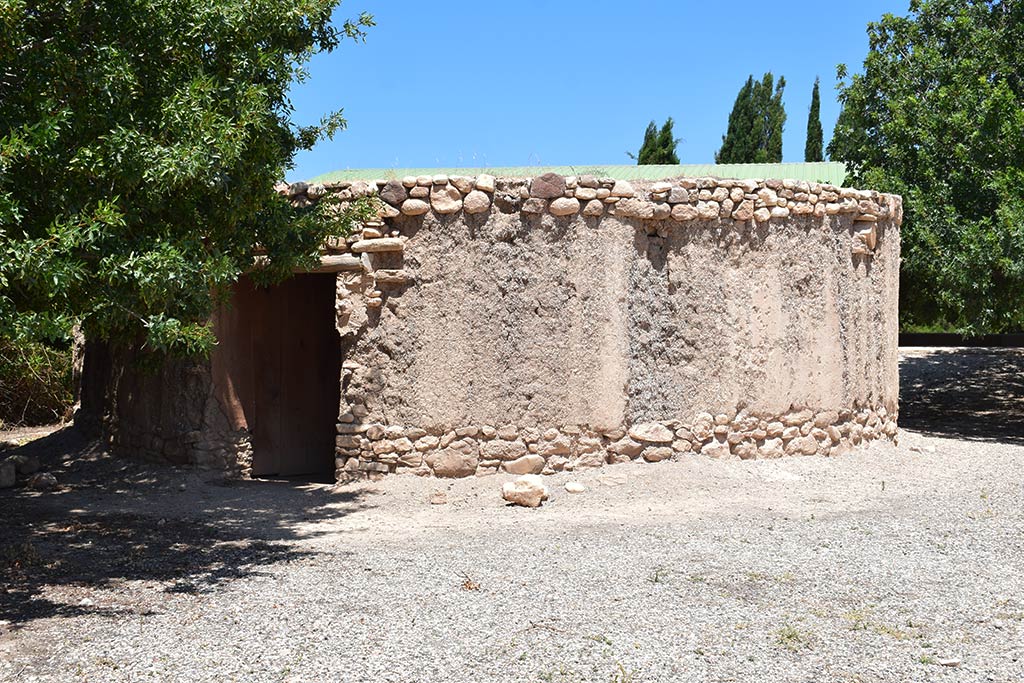 Unlike the similar reconstruction at ancient Lemba the roof is still intact.
Inside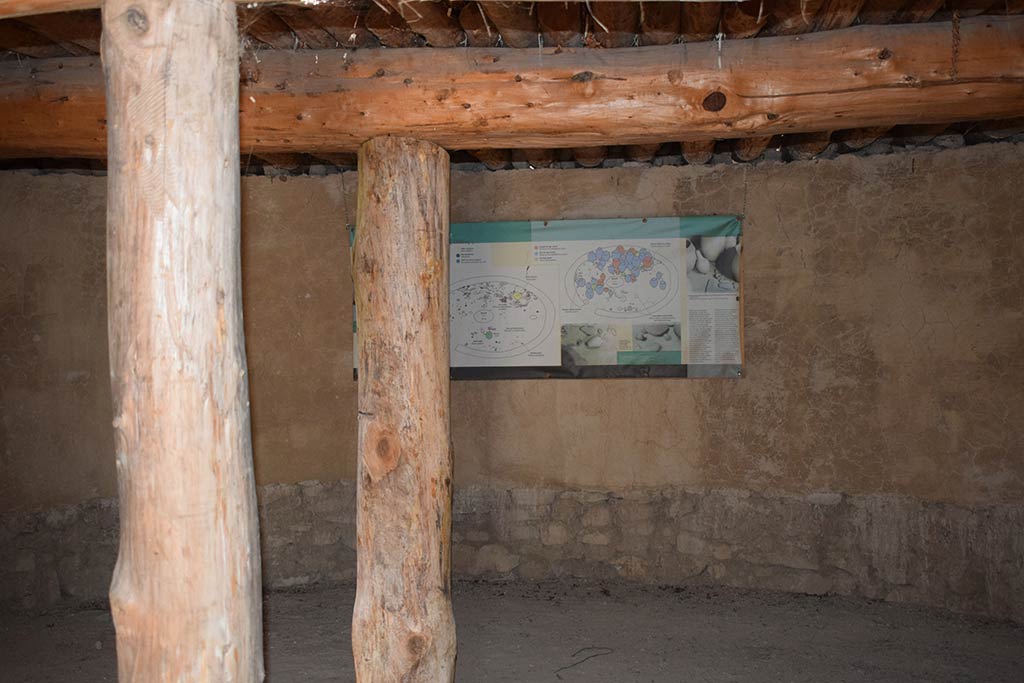 On entering the hut you will see lots of information about the area.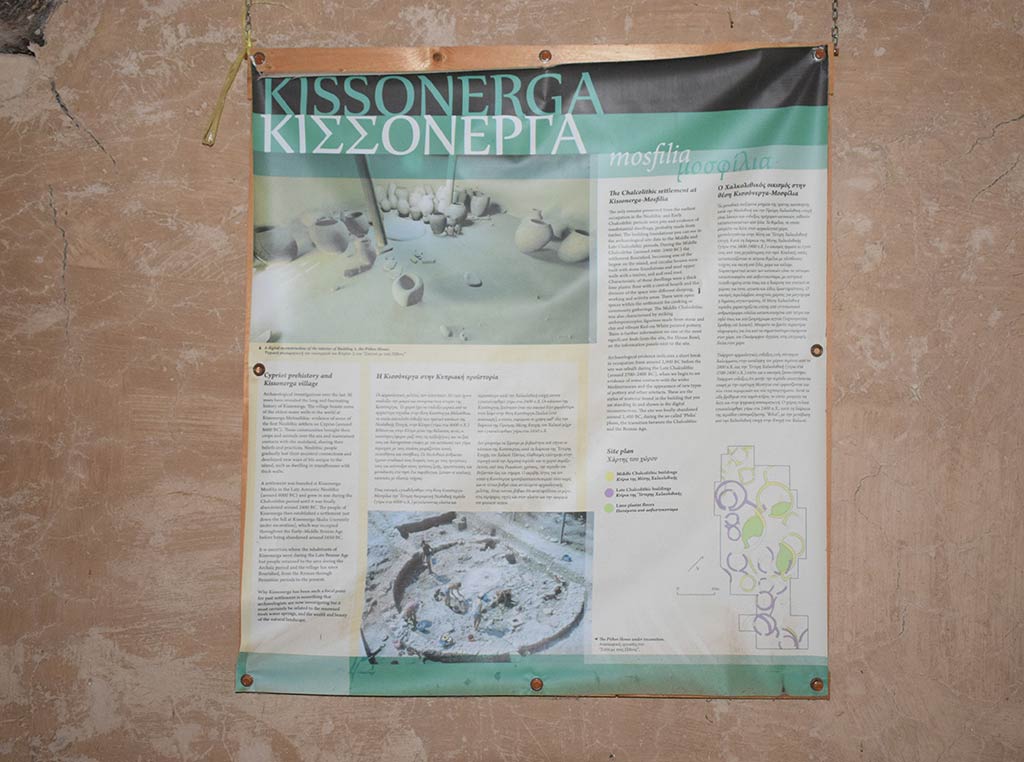 This is what the Kissonerga Website has to say about the site:
---
The relics of the housing are divided in two architectural phases. In the first one there are large circular residences with diameters 8 and 11 metres long, whereas in the second one there are shorter dimensions of 4 and 5 metres long. Actually, two carven tombs were discovered in the floor of a second phase residence, which constitute the primary samples of a new style in the evolving course of the burial Architecture, which characterizes the last chronological phase of the Copper-stone age and of the entire posterior Copper Age (2300-1900 B.C.)". In the first tomb, a sloping path leads inside two burial chambers, one containing the skeleton of a middle-aged man and the second one containing two skeletons "holding hands with their sides on the ground". Funeral gifts were discovered in both burial chambers. In the second tomb, "the remains of a single skeleton were found scattered and without any funeral gifts"...
Page 1 of 3
If you like our blogs and the rest of our content, please consider slinging us a few euros to help us produce more content. Use the Coffee link below if you feel so inclined. Payments are taken on a secure gateway, with no contact!
❤

Good Pages To Visit

FB Page

Paphos Life on Facebook

Like us on Facebook and stay notified of new blog posts.

FB Page

Our Facebook Chat Group

Paphos Chat has been created for people who like our site and want to chat using Facebook. You can also easily upload photos of any size here. A lot of people are members of the Facebook chat group and the main forum. It's entirely up to you.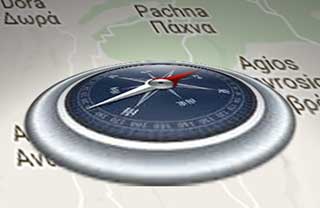 List

Blog Locations

Planning a day out? Then use our map of blog locations as a handy guide. Some of the places we visit our closer to each other than you might think, so take a look and start planning your next adventure...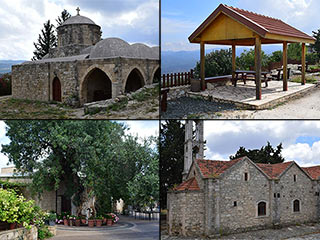 eBook

Cyprus Road Trip 01: the Kathikas - Panagia Loop

Let me take you on a journey around the region of Paphos, Cyprus. Starting at Paphos itself, we travel to Akoursos, then Kathikas, Kritou Terra and Simou. We continue past Lasa and Kannaviou, before taking in the delights of Panagia. Getting a bit more adventurous, we visit the abandoned villages of Statos and Agios Fotios, before passing through Choulou, Letymbou and Polemi, and rejoining the main Paphos - Polis road. The route is suitable for all types of vehicle, and requires no off-roading. The guide contains about 130 photographs including shots of all the road signs you need to pay attention to, as well as some of the highlights you may experience along the way. There are also several maps which will help you keep your bearings. You can do this journey in a day, or you can break it up into chunks. You can also do it in reverse, to get some completely different views. It is entirely up to you.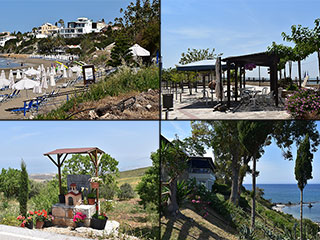 eBook

Cyprus Road Trip 02: Paphos - Coast to Coast

Newly published, our second Paphos Road trip takes you from coast to coast. Visit Coral Bay, Sea Caves, Agios Georgios, various traditional villages and more besides, as you travel to the Baths of Aphrodite on the Polis coast. And on the way back, we throw in an abandoned village for good measure.