Millo's Tower
Published 21st of April, 2022
A new piece of Street Art has been created in Geroskipou, and it is magnificent! Let us introduce you to "Surround" which adorns a water tower in Andreas Sylianides park.
Stunning!
New parks are a big thing in the district of Paphos at the moment. They are popping up all over the place. This particular park, in Geroskipou, is especially blessed in that it has a new mural painted by Italian Artist Millo.

Familiar Style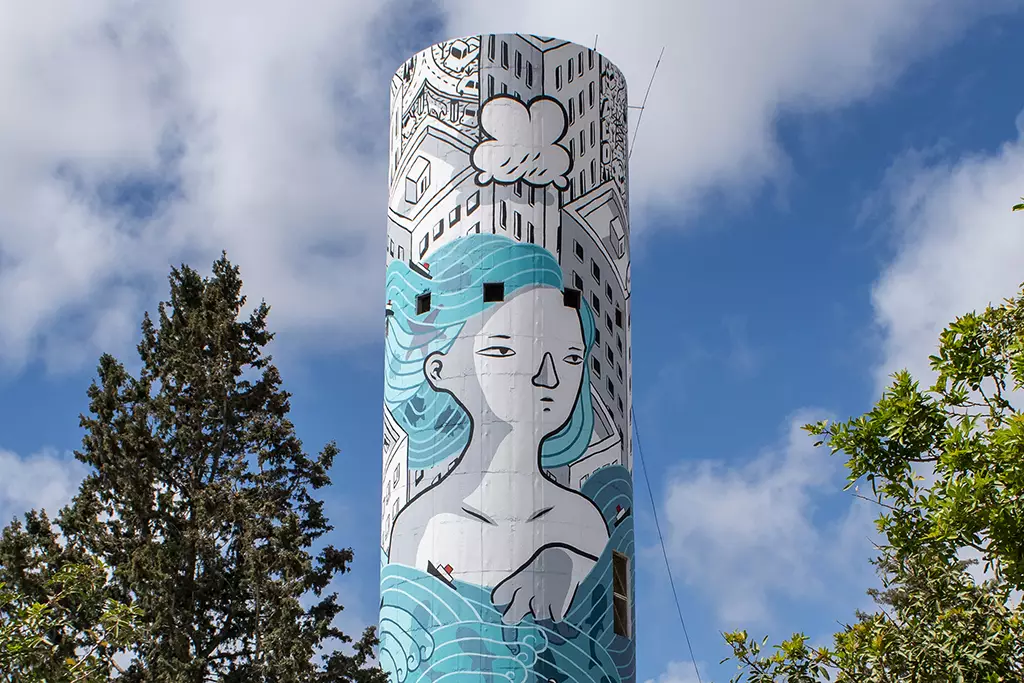 If this artwork looks a bit familiar, it is because Millo created an amazing mural in Old Town Paphos a few years ago. Unfortunately, the owners of that building wanted to renovate it, and the mural was painted over in the process. The less said about that the better. Fortunately the good people of Geroskipou stepped in, and offered Millo a new canvas.
So What's It All About?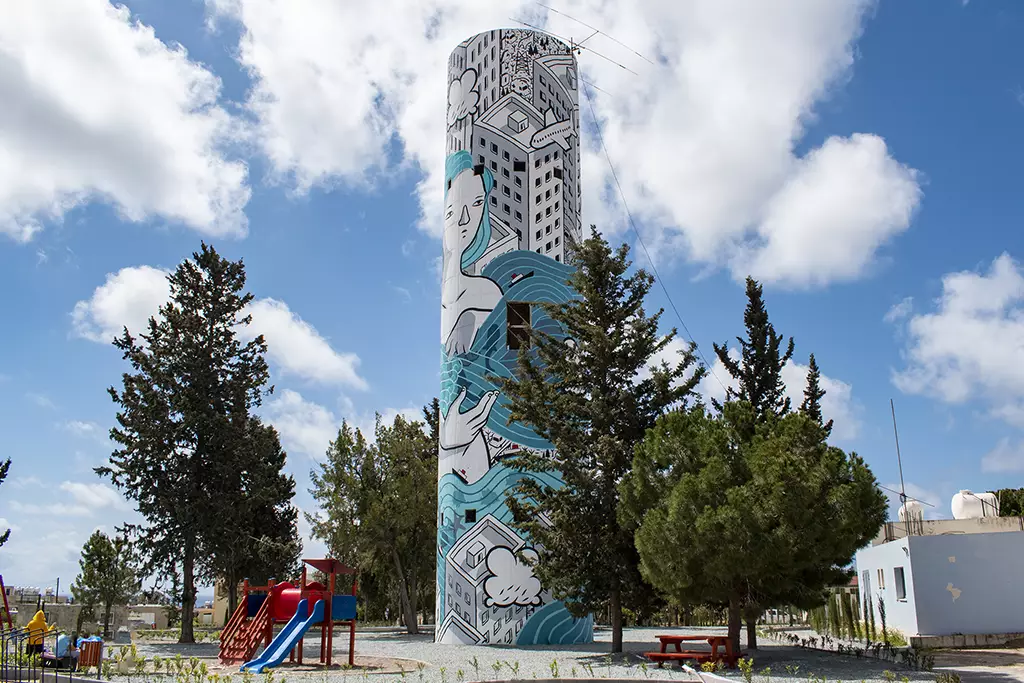 Looking at the tower, there is a definite theme of water. This is fitting, as it is painted on a water tower. However, rather than spend hours contemplating the design, I shall cheat and look on Millo's Facebook Page.
"Surround"
Here's my last mural, a water tower in Geroskipou, Cyprus.
Surrounded by the water as the island that hosts it, there's a female figure that looks ahead, while all the lives passes through her hands.
A gentle tribute to the figure of the goddess Aphrodite (as here according to the greek mythology, it's where her sacred gardens were located) with the will to underline the role and the importance of water, the real main character, not only in the mural, but in all Cyprus, located in a such unique position in the Mediterranean sea, but that still fights the most dramatics water shortages of Europe.
A special thanks goes to the city of Geroskipou and its late major, prematurely passed away, for the invitation to paint such a challenging space and to the great work done to make it possible, as a curator, to @yiannissakellis .
Horse's Mouth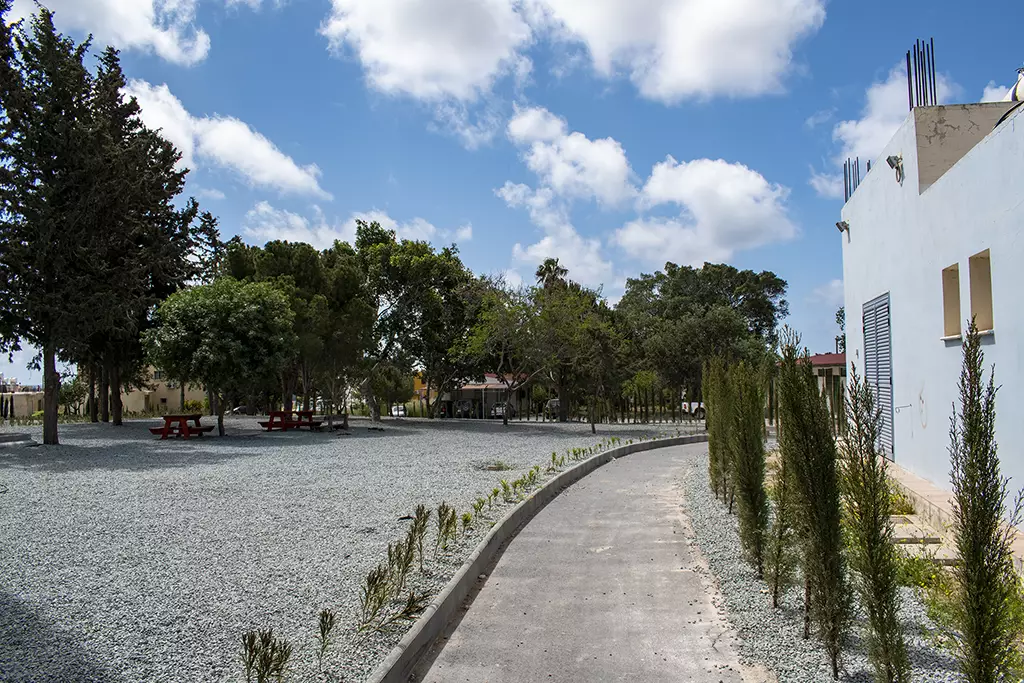 It's nice to be able to get such a verbose description from a street artist!
How To Get There
This film shows you how to get to the tower. It starts at the McDonalds Takeaway near the motorway roundabout, and goes via the new bypass. It is a 360 film, so you can move the camera around as it plays.
Page 1 of 3
If you like our blogs and the rest of our content, please consider slinging us a few euros to help us produce more content. Use the Coffee link below if you feel so inclined. Payments are taken on a secure gateway, with no contact!
❤

Good Pages To Visit

FB Page

Paphos Life on Facebook

Like us on Facebook and stay notified of new blog posts.

FB Page

Our Facebook Chat Group

Paphos Chat has been created for people who like our site and want to chat using Facebook. You can also easily upload photos of any size here. A lot of people are members of the Facebook chat group and the main forum. It's entirely up to you.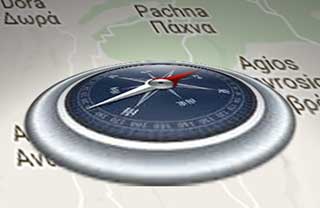 List

Blog Locations

Planning a day out? Then use our map of blog locations as a handy guide. Some of the places we visit our closer to each other than you might think, so take a look and start planning your next adventure...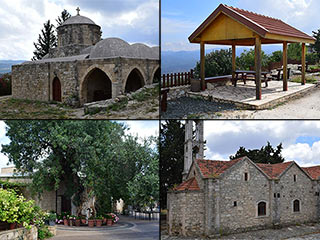 eBook

Cyprus Road Trip 01: the Kathikas - Panagia Loop

Let me take you on a journey around the region of Paphos, Cyprus. Starting at Paphos itself, we travel to Akoursos, then Kathikas, Kritou Terra and Simou. We continue past Lasa and Kannaviou, before taking in the delights of Panagia. Getting a bit more adventurous, we visit the abandoned villages of Statos and Agios Fotios, before passing through Choulou, Letymbou and Polemi, and rejoining the main Paphos - Polis road. The route is suitable for all types of vehicle, and requires no off-roading. The guide contains about 130 photographs including shots of all the road signs you need to pay attention to, as well as some of the highlights you may experience along the way. There are also several maps which will help you keep your bearings. You can do this journey in a day, or you can break it up into chunks. You can also do it in reverse, to get some completely different views. It is entirely up to you.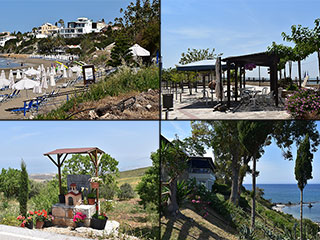 eBook

Cyprus Road Trip 02: Paphos - Coast to Coast

Newly published, our second Paphos Road trip takes you from coast to coast. Visit Coral Bay, Sea Caves, Agios Georgios, various traditional villages and more besides, as you travel to the Baths of Aphrodite on the Polis coast. And on the way back, we throw in an abandoned village for good measure.