Lemba Art College
Published 20th of December, 2017
On our travels around Cyprus we have often stumbled across numerous random statues and quirky art exhibits. We first happened upon Lemba Art College in 2016, and if you like quirky art it is a must see location. We re-visited a couple of weeks ago and are pleased to see that the college is still a work in progress, as these photos will show...
Meet The College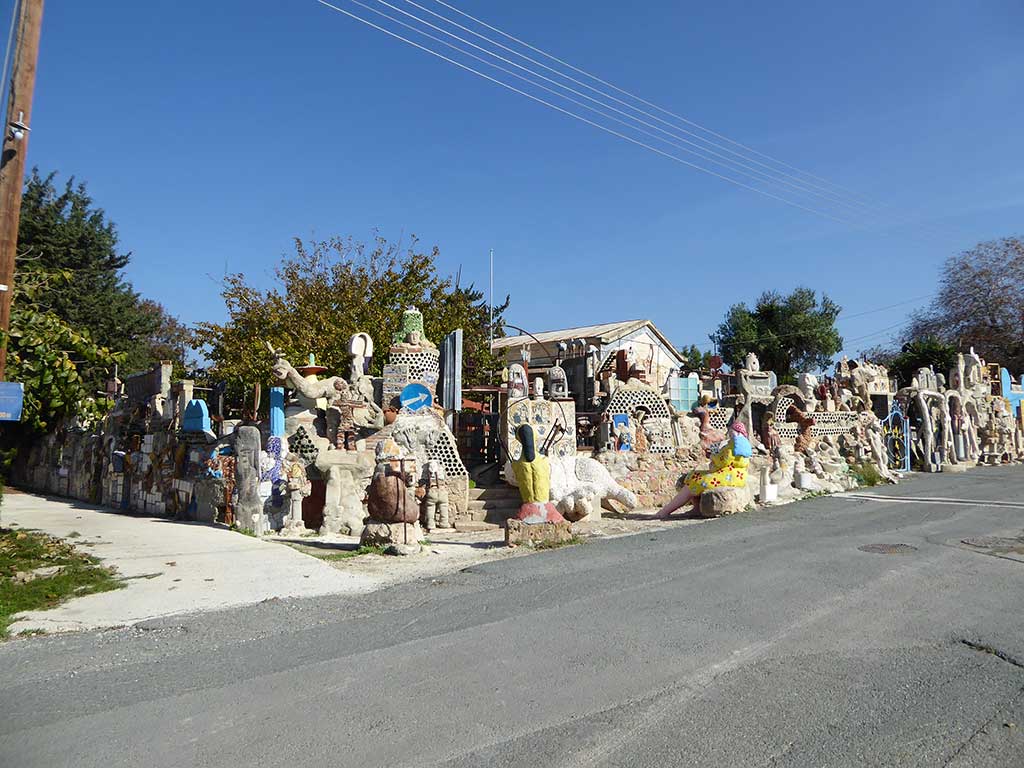 Lemba is a lovely village, nestled between Chloraka and Kissonerga. If you are driving from Paphos to Coral Bay, it is fairly easy to miss it. You need to turn right at the traffic lights before Laura Beach Hotel. You can view a map showing the location here.
We first came to the college in search of a geocache. We loved what we found, though are pleased to say that some of the statues present in the photo above have been added more recently.

Near The Cache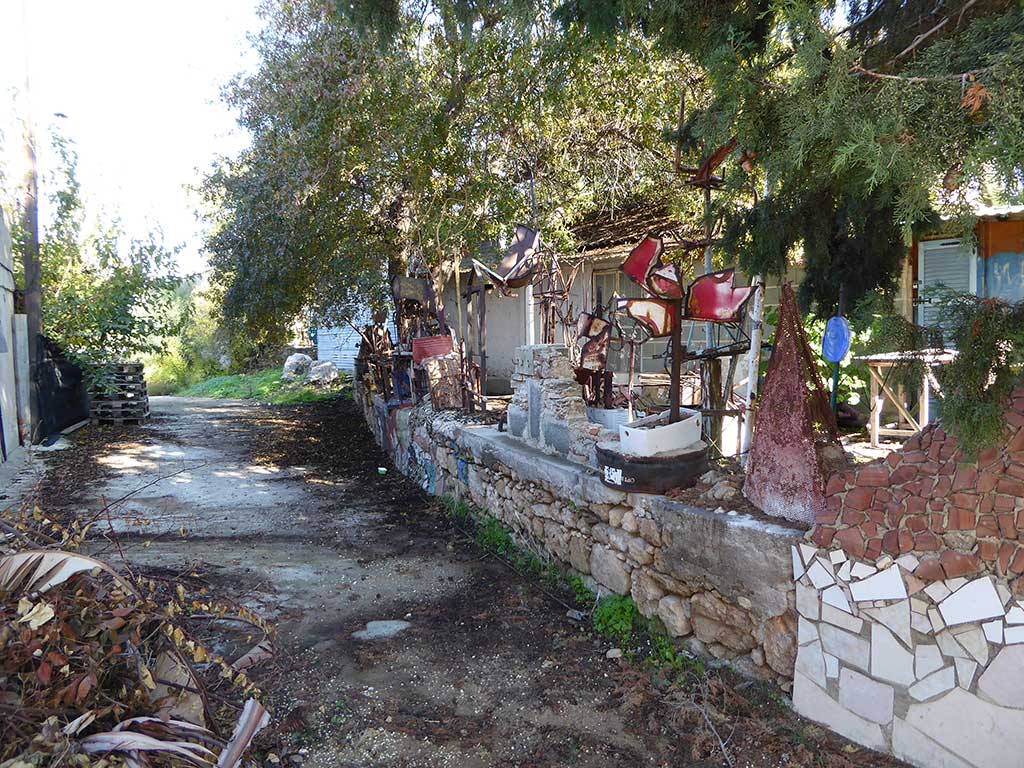 While we were looking for the geocache, which was down here if I recall correctly, we were approached by a rather concerned lady who turned out to be the head of the college. She wanted to know what we were doing.
Moving Up The Wall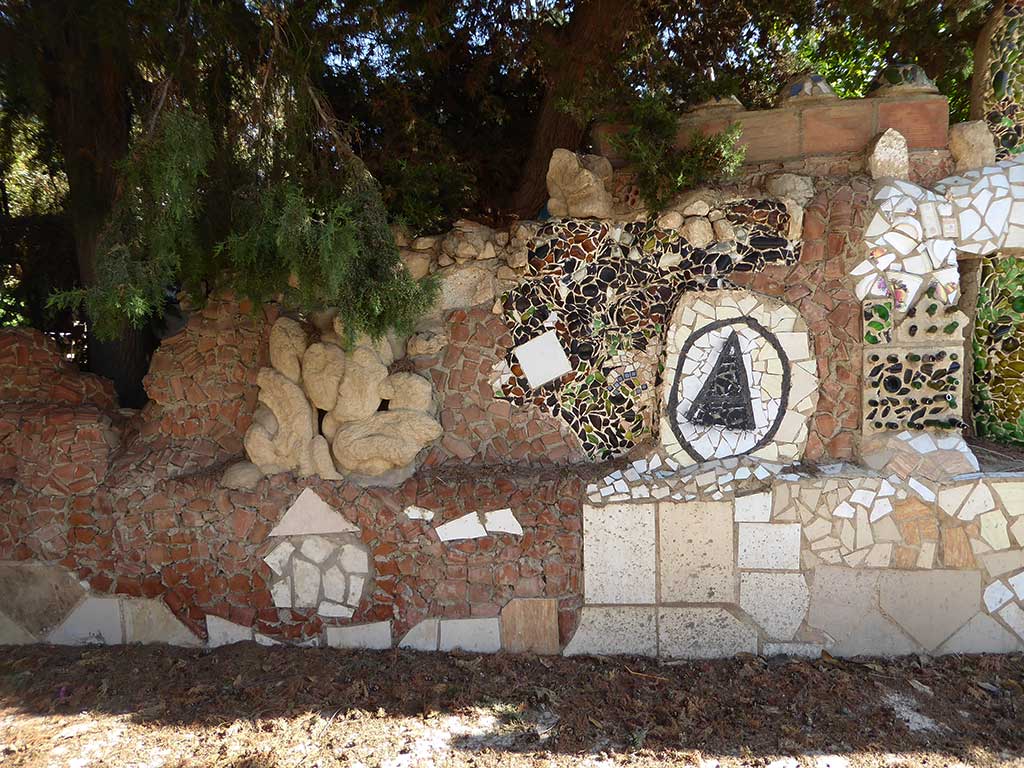 We explained about geocaching, and it turned out she knew where the cache was. She was a bit fed up with the cache, as too many geocachers seemed to think it okay to dismantle the wall looking for it. This is a complete no-no, so we promised we would get something done about it.
This Is Just The Beginning...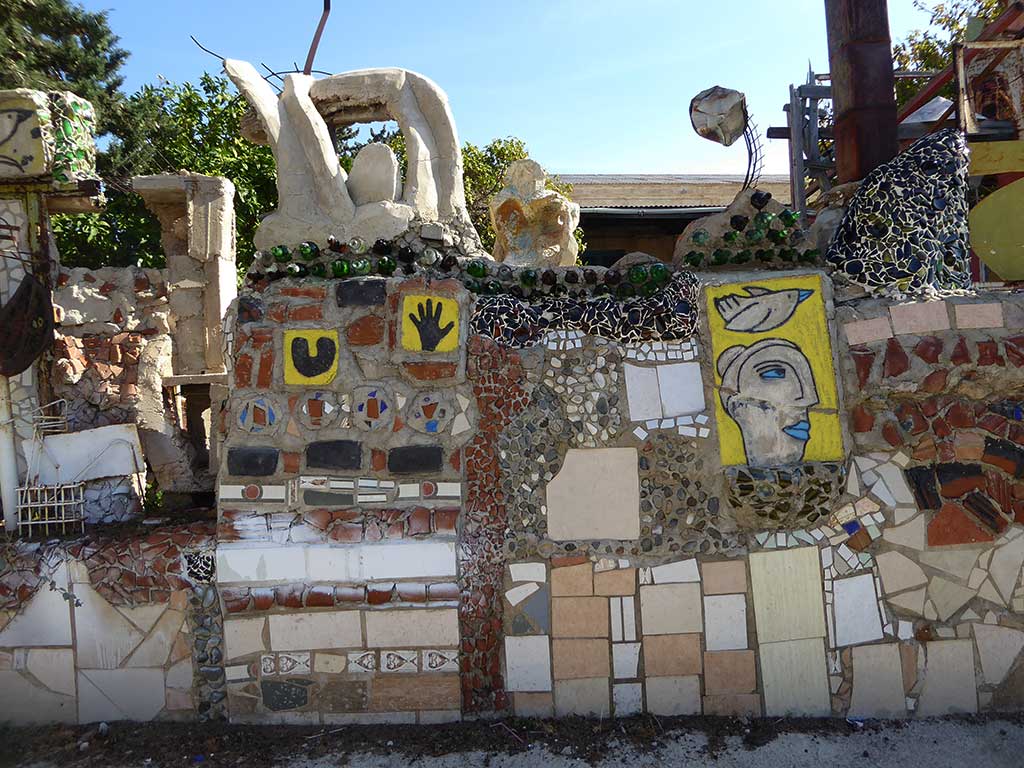 She also explained she was having problems with adventure bus tours, who seemed to think they could wander about disturbing the artists without a care in the world. So one thing we would like to make clear is this: people are more than welcome to visit the college, but please respect the exhibits and the artists.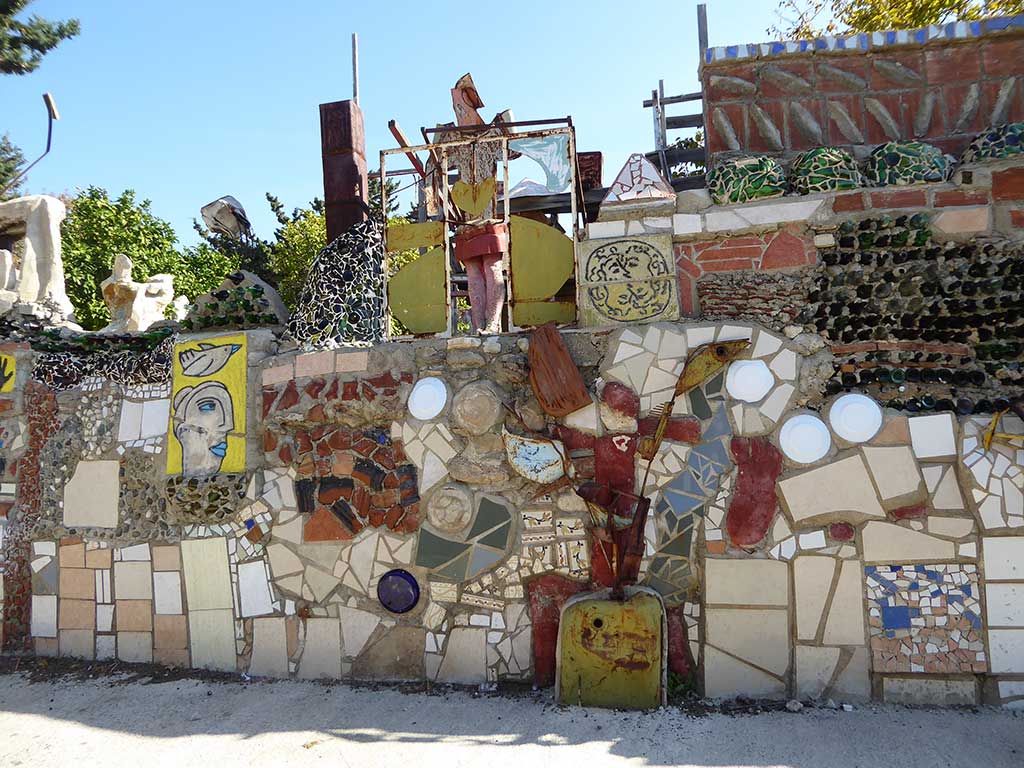 With regards to the geocache, we raised the topic on the Geocaching Cyprus facebook page, and the owner of the cache happily agreed to archive it and put a new cache elsewhere. So at least that problem had a happy ending.
Page 1 of 5
If you like our blogs and the rest of our content, please consider slinging us a few euros to help us produce more content. Use the Coffee link below if you feel so inclined. Payments are taken on a secure gateway, with no contact!
❤

Related Blogs: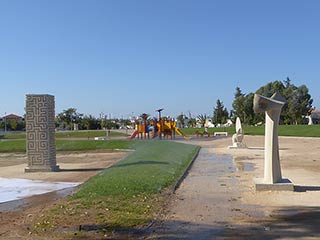 Geroskipou Sculpture Park
As part of Pafo2017, a new Sculpture Park was commissioned in Geroskipou. Inspired by local history, legends and traditions, ten Cypriot and foreign sculptors have created on-site works drawing on the history of the area and, in this way, leaving behind them the traces of the European Capital of Culture. That's what the blurb says anyway. So what are they like?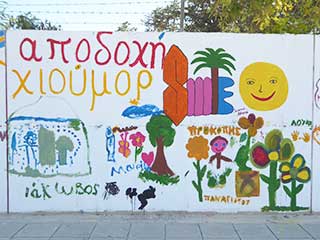 The Geroskipou Mural
When we went looking for the new Geroskipou Sculpture Park, we also wanted to take in the Old Camp, as we had seen it previously in passing, and thought it deserved a closer look. As luck would have it, they were right next to each other. However, what we didn't expect to find was a large mural that had appeared, on one of the walls of the camp. As a result, this article is somewhat larger than we originally anticipated, so sit back and enjoy the art...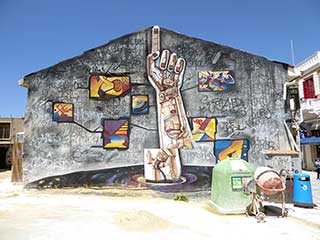 Paphos Murals
If you take a wander around the streets of Paphos, both old and new, you will occasionally stumble upon some random art installations.The patchwork tree is one such example, but there are other exhibits too numerous to mention here. Today, we are going to have a look at a subset of these works, and examine some of the murals you will find. Most of them are situated in a small area to the west of Kennedy Square. However, there are a few others scattered around, so it pays to explore...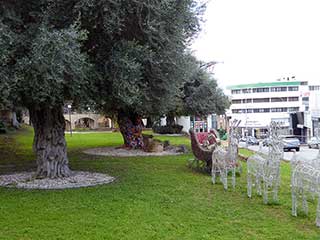 The Patchwork Tree in Ivis Maliotou Park
I noticed this tree when I was out logging shops for the Paphos Life Directory. I was intrigued by it so thought I would take a closer look.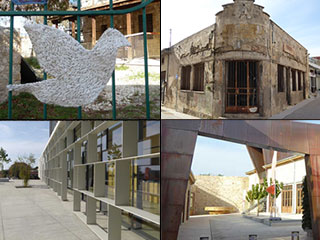 Peace 2 Peace Exhibit Again
You may remember back in Spring we blogged about the The Patchwork Tree in Ivis Maliotou Park. That was assembled by Peace2Peace. Well, they will soon be doing another installation at Ibrahim's Kahn, in Old Paphos. But prior to that, we caught up with another of their exhibits, at St. Sophia Mosque. We also took the opportunity for another stroll around the area, to have a look at the brand new Markideio Theatre...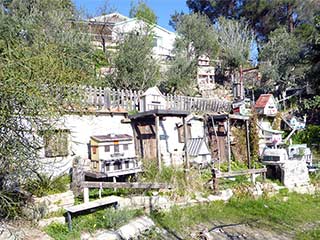 The Model Houses at Trimiklini
Sometimes when we are exploring the mountains, we like to return from the direction of Limassol. This gives us the opportunity to revisit the ranch we mentioned in a previous blog. However, it also lets us explore more rural areas that are further afield. One such village is Trimiklini. There are a number of reasons to visit. For a start, there is a petrol station and a well stocked supermarket. They also have a most unusual bridge I will feature in another blog. However, the focus of this article will be the small hillside liberally sprinkled with model houses, which you can pass, and may well miss, on you way to the sea.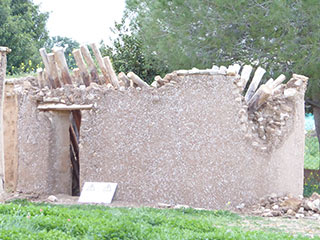 Ancient Lemba
Yesterday a news headline caught my eye: "An ancient Chalcolithic settlement site in Lemba in Paphos urgently requires maintenance, according to the local community leader". We had visited this site before, so I thought I should revisit it to see just how urgent the maintenance was...
Good Pages To Visit

FB Page

Paphos Life on Facebook

Like us on Facebook and stay notified of new blog posts.

FB Page

Our Facebook Chat Group

Paphos Chat has been created for people who like our site and want to chat using Facebook. You can also easily upload photos of any size here. A lot of people are members of the Facebook chat group and the main forum. It's entirely up to you.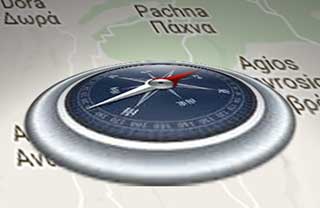 List

Blog Locations

Planning a day out? Then use our map of blog locations as a handy guide. Some of the places we visit our closer to each other than you might think, so take a look and start planning your next adventure...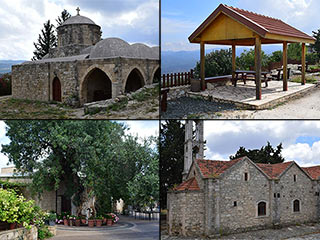 eBook

Cyprus Road Trip 01: the Kathikas - Panagia Loop

Let me take you on a journey around the region of Paphos, Cyprus. Starting at Paphos itself, we travel to Akoursos, then Kathikas, Kritou Terra and Simou. We continue past Lasa and Kannaviou, before taking in the delights of Panagia. Getting a bit more adventurous, we visit the abandoned villages of Statos and Agios Fotios, before passing through Choulou, Letymbou and Polemi, and rejoining the main Paphos - Polis road. The route is suitable for all types of vehicle, and requires no off-roading. The guide contains about 130 photographs including shots of all the road signs you need to pay attention to, as well as some of the highlights you may experience along the way. There are also several maps which will help you keep your bearings. You can do this journey in a day, or you can break it up into chunks. You can also do it in reverse, to get some completely different views. It is entirely up to you.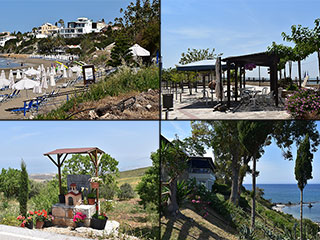 eBook

Cyprus Road Trip 02: Paphos - Coast to Coast

Newly published, our second Paphos Road trip takes you from coast to coast. Visit Coral Bay, Sea Caves, Agios Georgios, various traditional villages and more besides, as you travel to the Baths of Aphrodite on the Polis coast. And on the way back, we throw in an abandoned village for good measure.