Pumpkin House
Published 15th of September, 2018
Back To The Shoes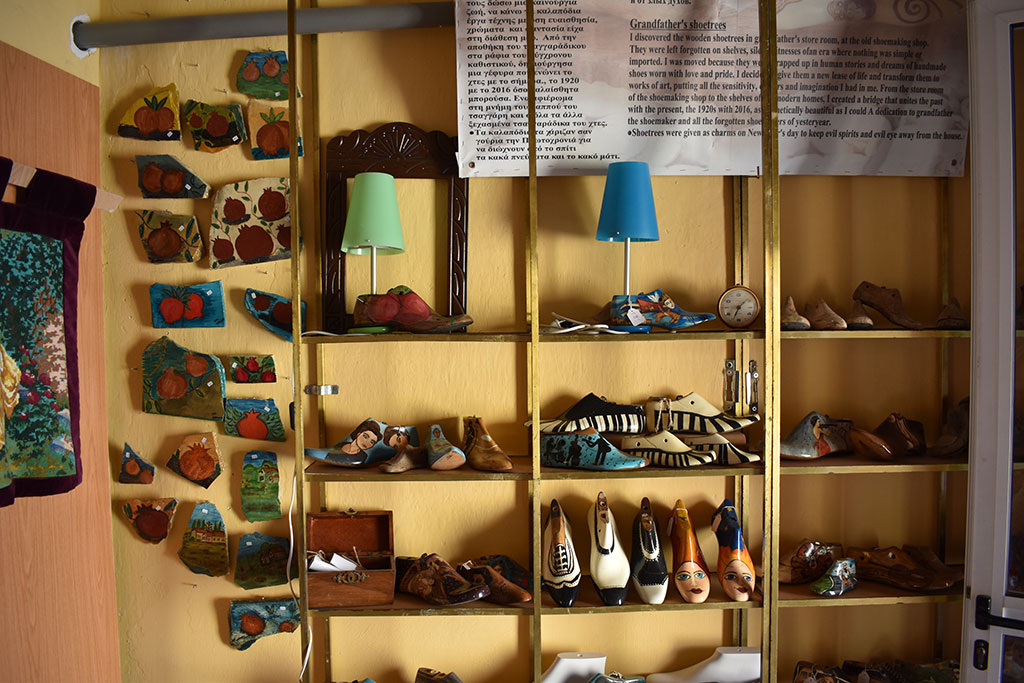 Ok, so I have shown you the map. Now I need to show you why you should go here. Let's return to those shoes by the door first. As you can see, a lot of them are painted. They aren't actually shoes, but shoetrees; used by Evi's Grandfather, who used to be a shoemaker. A helpful sign relates their story:
---
I discovered the wooden shoetrees in grandfather's store room, at the old shoemaking shop. They were left forgotten on shelves, silent witnesses of an era where nothing was simple or imported. I was moved because they were wrapped up in human stories and dreams of handmade shoes worn with love and pride. I decided to give them a new lease of life and transform them to works of art, putting all the sensitivity, colours and imagination I had in me. From the store room of the shoemaking shop to the shelves of the modern homes, I created a bridge that unites the past with the present, the 1920s with 2016, as aesthetically beautiful as I could. A dedication to grandfather the shoemaker and all the forgotten shoemakers of yesteryear.
* Shoetrees were given as charms on New Year's Day to keep evil spirits and evil eye away from the House.

All Sorts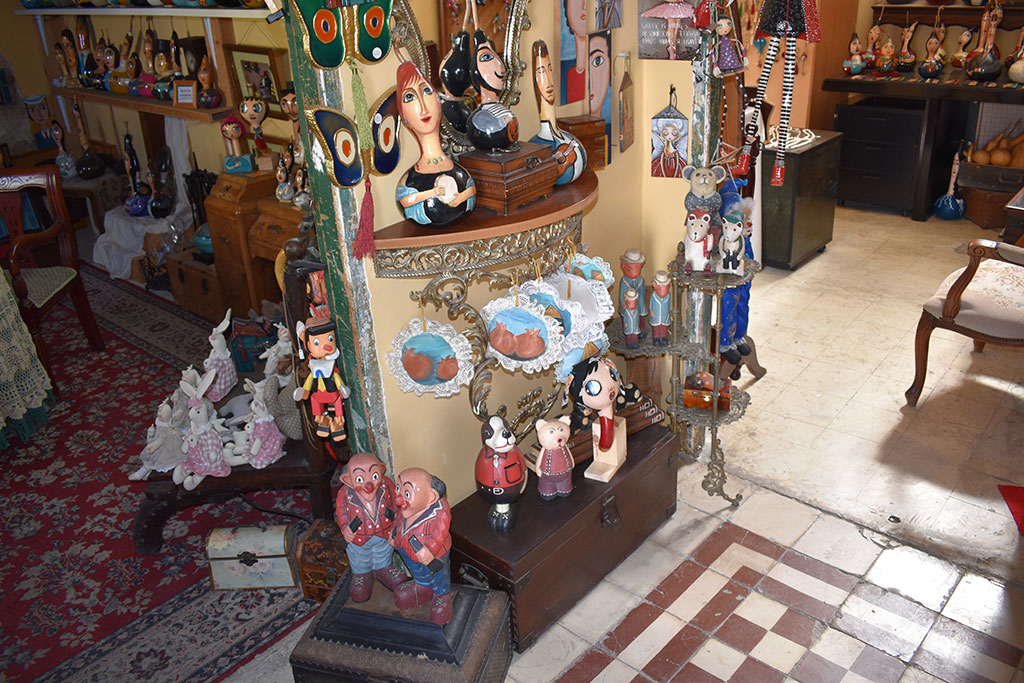 As Evi was showing me the shoetrees she pointed out how few there were for children. Was this because children went around barefoot, or because they relied more on hand-me-downs? They are an enchanting piece of history, and the decorated ones make lovely gifts. You also get a little scroll explaining what it is.
But shoetrees make up only a small part of Pumpkin House. Let's continue our tour...
The House Band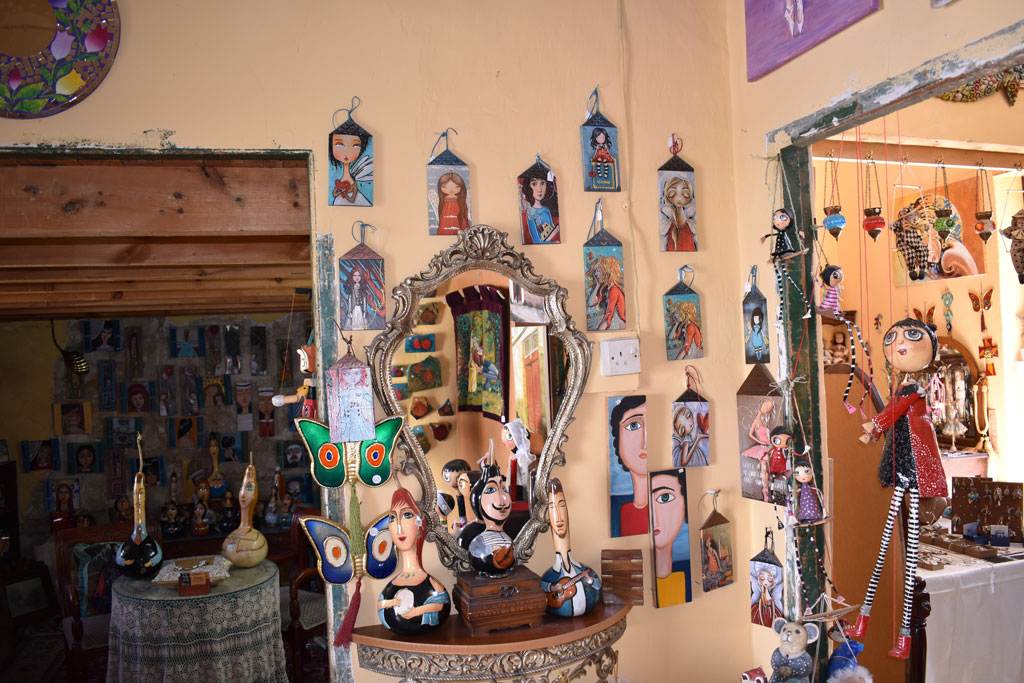 I loved the three painted pumpkins on this shelf, decorated as musicians.
Invited Guests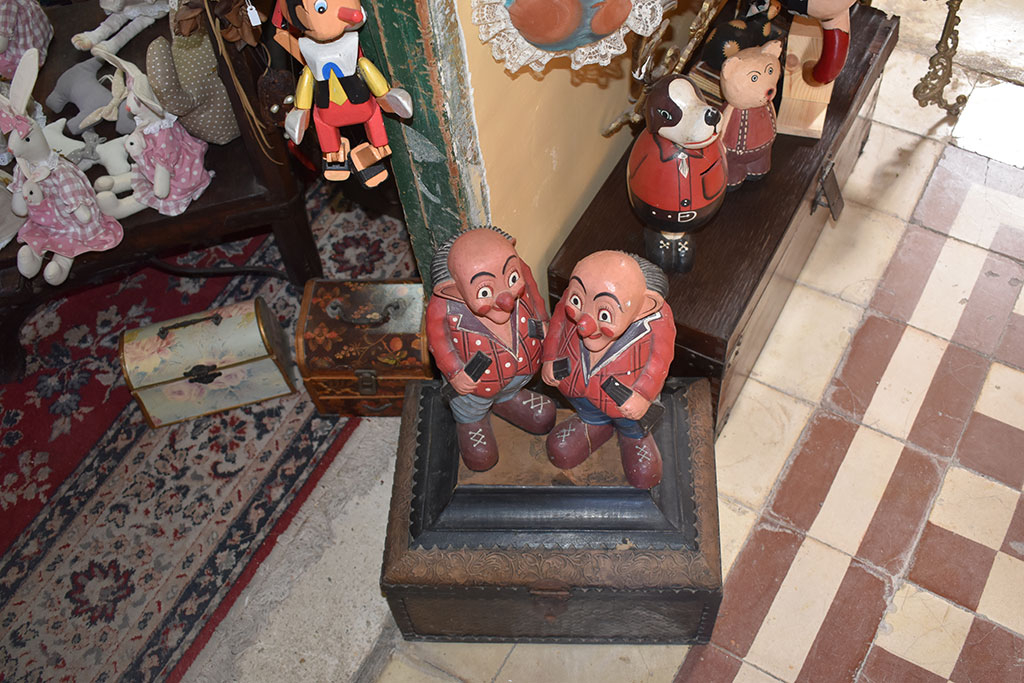 These two chaps were not actually made by Evi, she was at pains to tell me. Her Grandmother originally brought them from Alexandria. She liked them and felt they enhanced the shop. They certainly do, but I can't for the life of me work out what they are supposed to be holding?
The Second Papier Mache Creation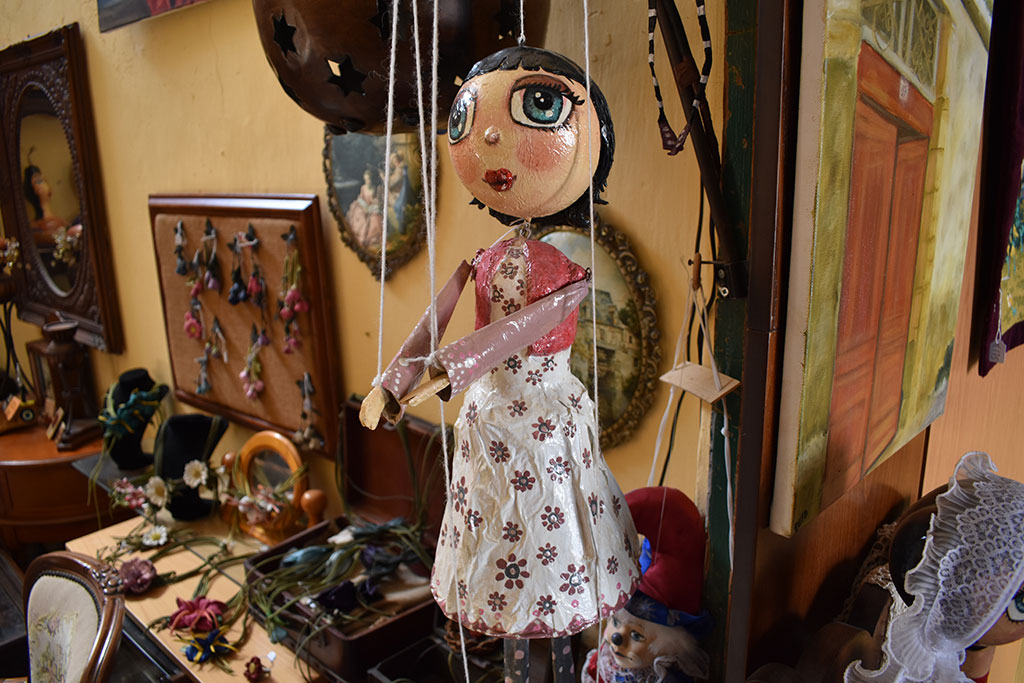 Like her sister, this lady was made out of papier mache.
Page 2 of 7
If you like our blogs and the rest of our content, please consider slinging us a few euros to help us produce more content. Use the Coffee link below if you feel so inclined. Payments are taken on a secure gateway, with no contact!
❤


Good Pages To Visit

FB Page

Paphos Life on Facebook

Like us on Facebook and stay notified of new blog posts.

FB Page

Our Facebook Chat Group

Paphos Chat has been created for people who like our site and want to chat using Facebook. You can also easily upload photos of any size here. A lot of people are members of the Facebook chat group and the main forum. It's entirely up to you.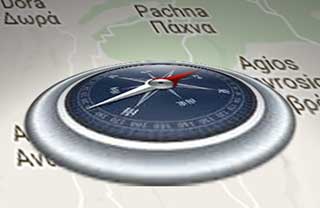 List

Blog Locations

Planning a day out? Then use our map of blog locations as a handy guide. Some of the places we visit our closer to each other than you might think, so take a look and start planning your next adventure...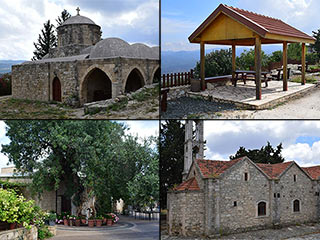 eBook

Cyprus Road Trip 01: the Kathikas - Panagia Loop

Let me take you on a journey around the region of Paphos, Cyprus. Starting at Paphos itself, we travel to Akoursos, then Kathikas, Kritou Terra and Simou. We continue past Lasa and Kannaviou, before taking in the delights of Panagia. Getting a bit more adventurous, we visit the abandoned villages of Statos and Agios Fotios, before passing through Choulou, Letymbou and Polemi, and rejoining the main Paphos - Polis road. The route is suitable for all types of vehicle, and requires no off-roading. The guide contains about 130 photographs including shots of all the road signs you need to pay attention to, as well as some of the highlights you may experience along the way. There are also several maps which will help you keep your bearings. You can do this journey in a day, or you can break it up into chunks. You can also do it in reverse, to get some completely different views. It is entirely up to you.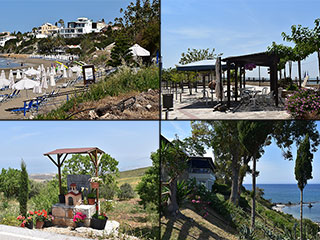 eBook

Cyprus Road Trip 02: Paphos - Coast to Coast

Newly published, our second Paphos Road trip takes you from coast to coast. Visit Coral Bay, Sea Caves, Agios Georgios, various traditional villages and more besides, as you travel to the Baths of Aphrodite on the Polis coast. And on the way back, we throw in an abandoned village for good measure.