Polemi Tulips Are Here!
Published 28th of March, 2023
It's that time of year again. Some of the fields around Polemi are beginning to turn red as our very own variety of Tulip comes into bloom. We took a first look today, to whet your appetite for the forthcoming festival which takes place this weekend.
Polemi Mountain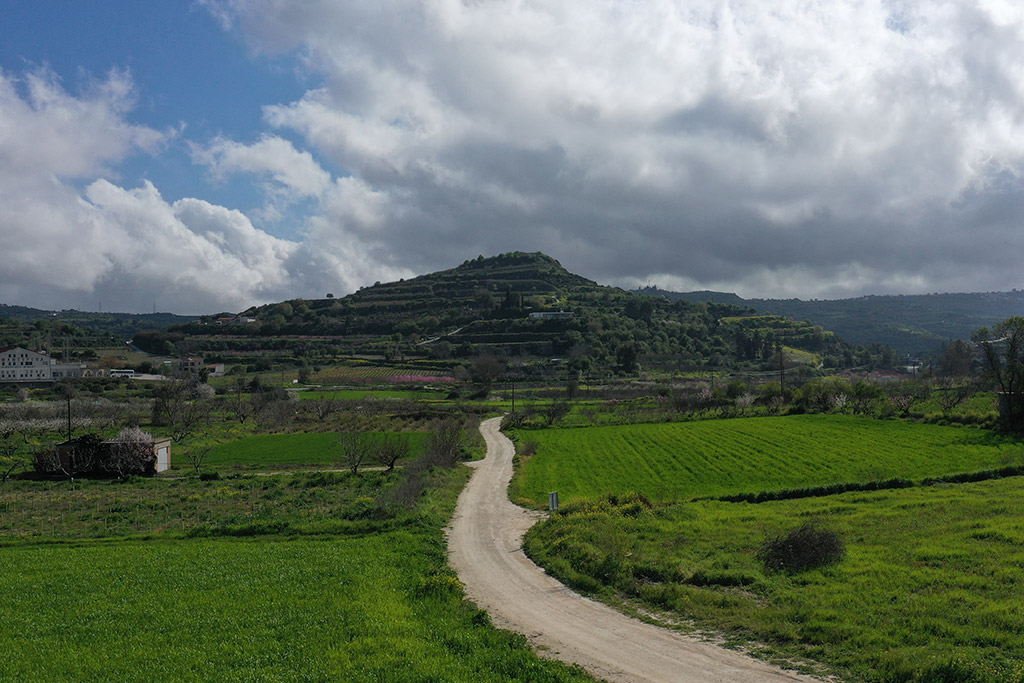 We begin our adventure in the vineyards and fields that surround our beloved Polemi. In the distance here you can see Polemi Mountain. It may not look like a mountain, but if you climb to the top you will see that there is a sign there that calls it Polemi Mountain. So there.

Orchards In Bloom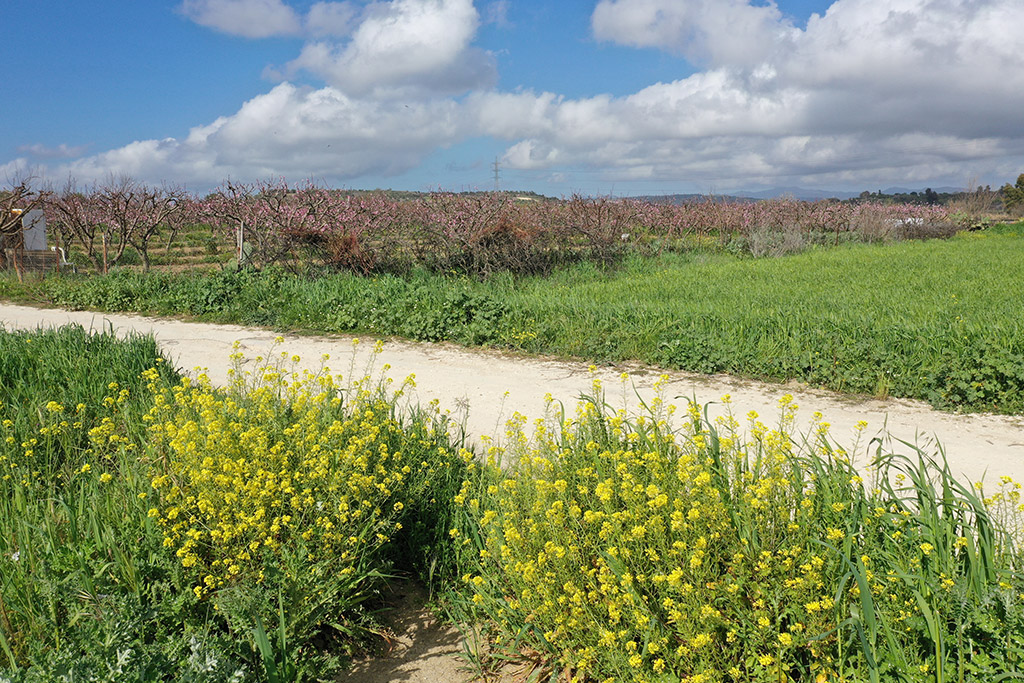 The fields are a blaze of colour at the moment, as Spring is most definitely in the air.
Tiptoe Through The Tulips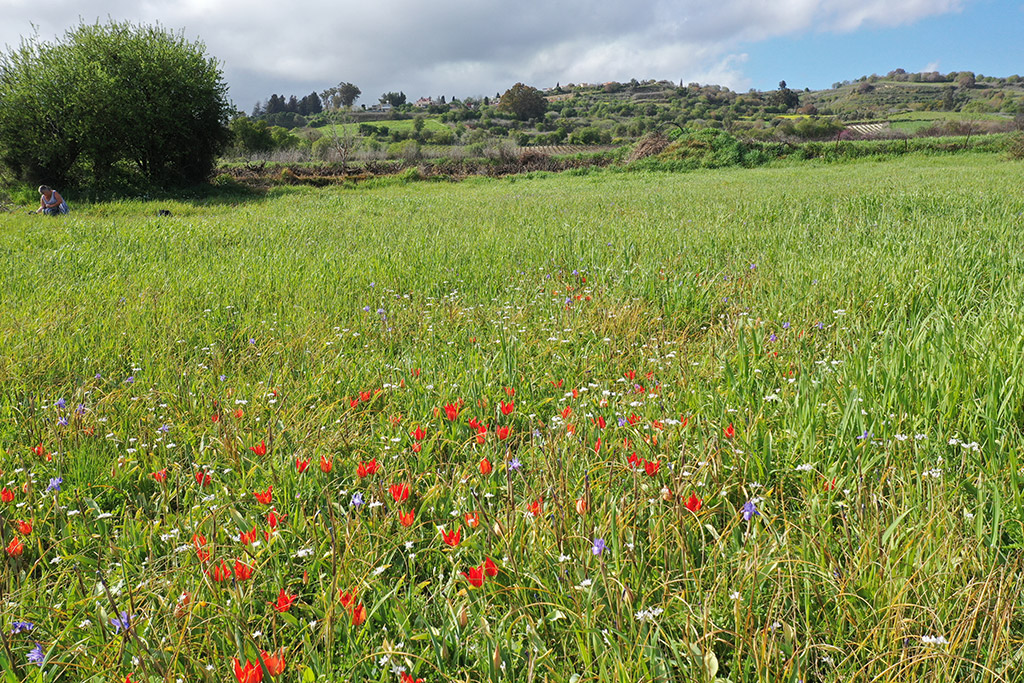 And here are some of the beauties.
Early Days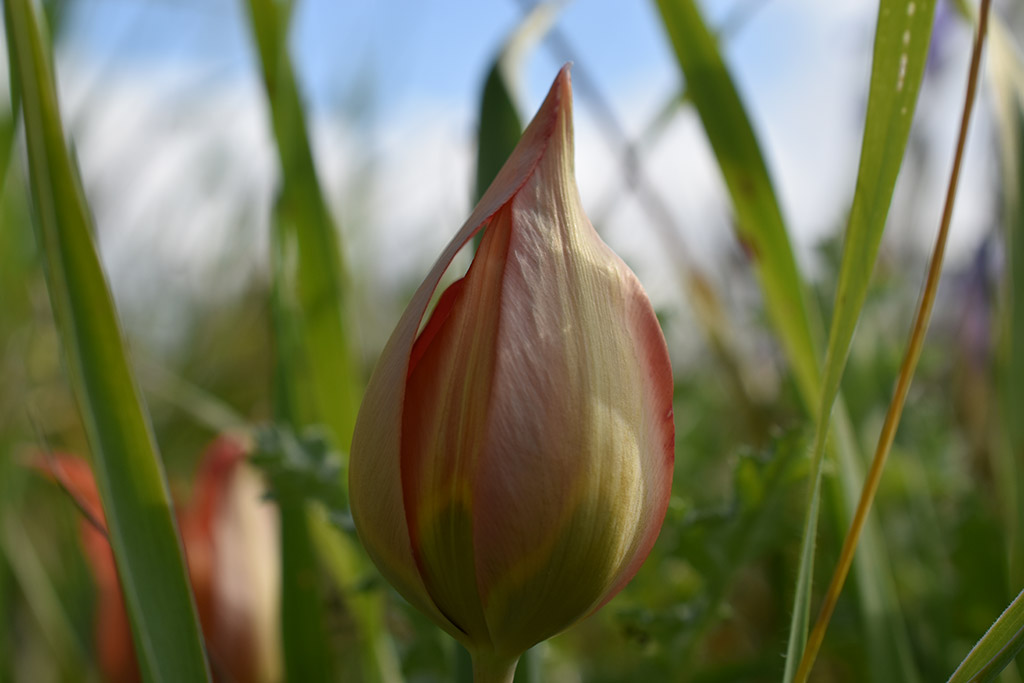 The tulips are still coming into bloom. So the festival will be perfectly timed, assuming the forecast gale predicted for tomorrow doesn't bring with it a tonne of hail or anything like that.
You Beauty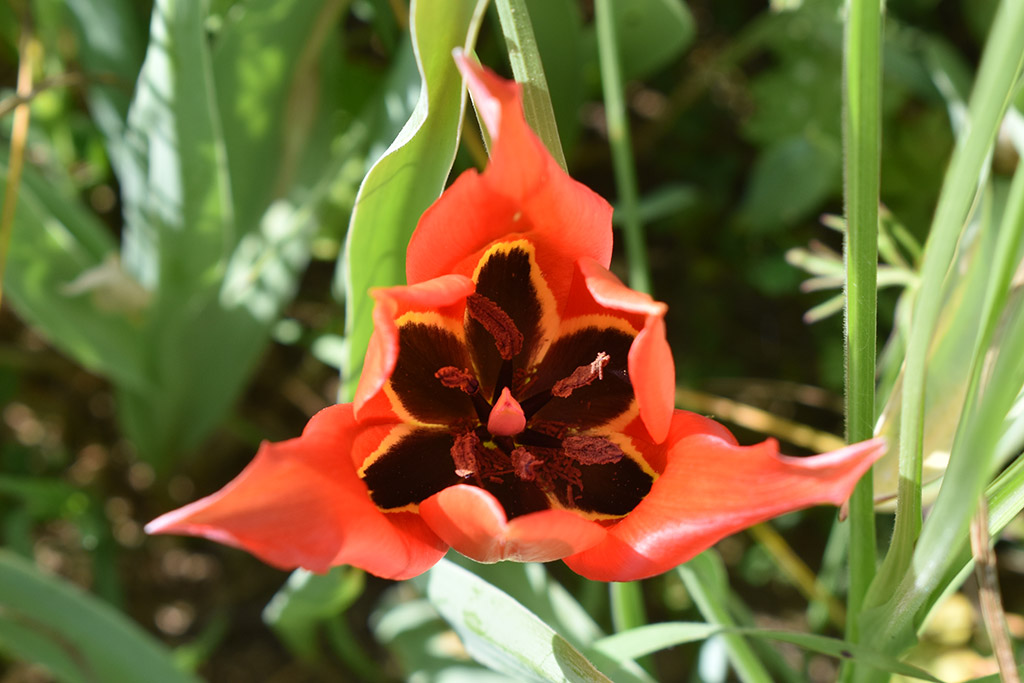 And here's the official blurb:
The Stroumpi-Polemi area is known for the flourish of the endemic Tulip. The tye of tulip that grows here, known as the Polemi Tulip (Tulipa Agenensis DC.) is a bulbous geophyte, about 40cm in height, generally with four glaucous, lanceolate leaves and a solitary bright red flower, with a black blotch in the middle in the inside of the torus. Tulips have been abundant in the area throughout the years but the use of herbicides in neighbouring vineyards has decimated its growth. Tulips in the area flower every year in the spring.
Page 1 of 3
If you like our blogs and the rest of our content, please consider slinging us a few euros to help us produce more content. Use the Coffee link below if you feel so inclined. Payments are taken on a secure gateway, with no contact!
❤

Related Blogs: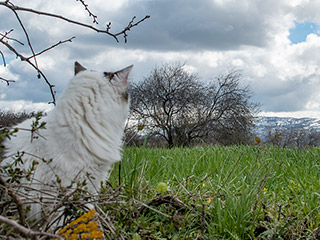 Polemi Tulip Report
Polemi is famous for many things, but high up on its list of attractions are the tulips with which it is closely associated. I don't know if the Tulip Festival is giong ahead this year, but I thought I should check out the Tulip field to see how that was progressing. I was in for a surprise...
Polemi Tulip Season
Polemi is now in bloom, so come with us as we take a tour of the Tulip Fields and see what Mother Nature has produced for us this year.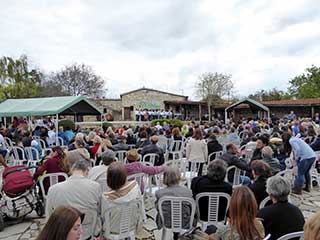 The Polemi Tulip Festival
Last weekend, the tulip festival came to Polemi, and we were there with our camera to capture a snatch of Cypriot Life.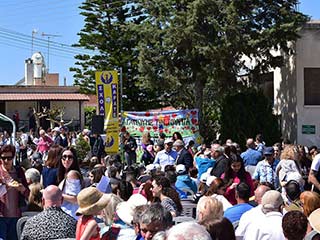 Polemi Tulip Festival 2018
This morning, Polemi was bathed in Spring sunshine, as it invited people to come and see the tulips that flourish there every year. It is an annual event, which gives a true taste of traditional Cypriot life. And as we live in Polemi ourselves, it would be rude not to cover it, wouldn't it?
Good Pages To Visit

FB Page

Paphos Life on Facebook

Like us on Facebook and stay notified of new blog posts.

FB Page

Our Facebook Chat Group

Paphos Chat has been created for people who like our site and want to chat using Facebook. You can also easily upload photos of any size here. A lot of people are members of the Facebook chat group and the main forum. It's entirely up to you.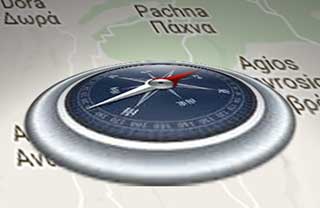 List

Blog Locations

Planning a day out? Then use our map of blog locations as a handy guide. Some of the places we visit our closer to each other than you might think, so take a look and start planning your next adventure...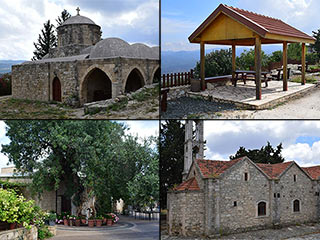 eBook

Cyprus Road Trip 01: the Kathikas - Panagia Loop

Let me take you on a journey around the region of Paphos, Cyprus. Starting at Paphos itself, we travel to Akoursos, then Kathikas, Kritou Terra and Simou. We continue past Lasa and Kannaviou, before taking in the delights of Panagia. Getting a bit more adventurous, we visit the abandoned villages of Statos and Agios Fotios, before passing through Choulou, Letymbou and Polemi, and rejoining the main Paphos - Polis road. The route is suitable for all types of vehicle, and requires no off-roading. The guide contains about 130 photographs including shots of all the road signs you need to pay attention to, as well as some of the highlights you may experience along the way. There are also several maps which will help you keep your bearings. You can do this journey in a day, or you can break it up into chunks. You can also do it in reverse, to get some completely different views. It is entirely up to you.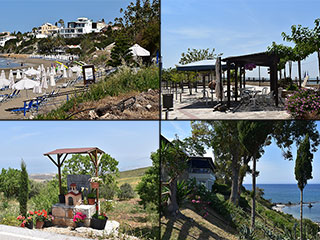 eBook

Cyprus Road Trip 02: Paphos - Coast to Coast

Newly published, our second Paphos Road trip takes you from coast to coast. Visit Coral Bay, Sea Caves, Agios Georgios, various traditional villages and more besides, as you travel to the Baths of Aphrodite on the Polis coast. And on the way back, we throw in an abandoned village for good measure.