A Forest Drive From Panagia to Vretsia
Published 11th of September, 2020
A couple of weeks ago we fancied cooling off, so we drove to one of our favourite parts of Paphos Forest, for a dip in a familiar pool. Naturally we took some pictures along the way. Every time we post a picture of this pool people ask where it is. So this time we have included a handy map showing our route. Enjoy the journey!
Picnic Paradise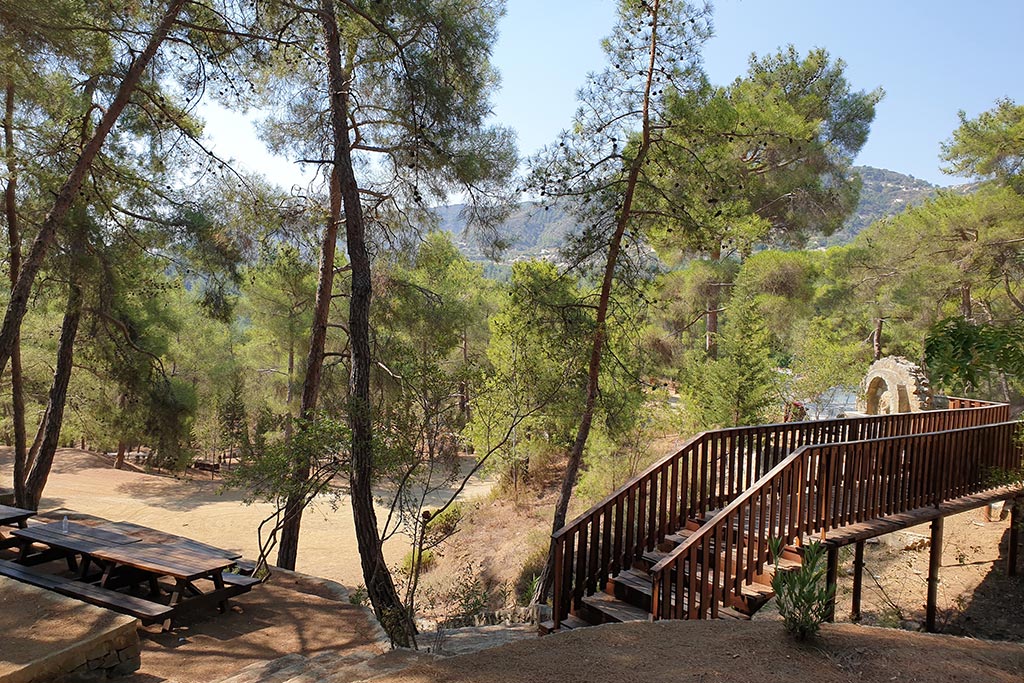 Our journey proper began in our beloved Polemi. However, we didn't start taking pictures until we reached the picnic ground on the forest side of Pano Panagia. The route from Polemi to Panagia forms a small part of our first road trip, so if you want a more in-depth look at it, use the link at the foot of the page.

Empty Spaces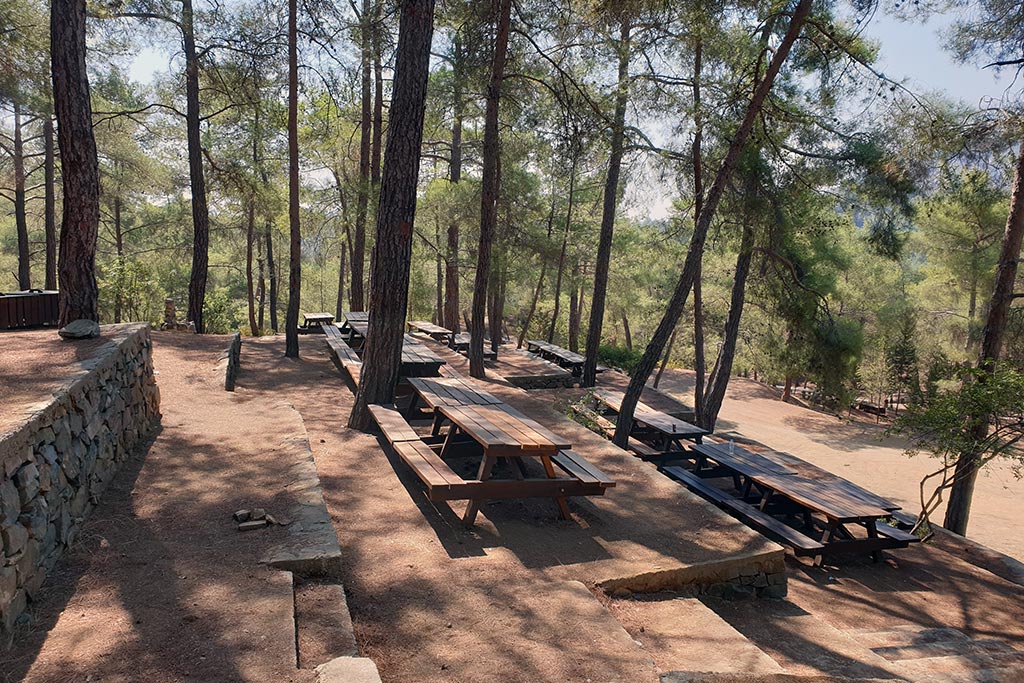 "That darn pandemic", as I will call it today for a bit of variety, has put paid to a lot of picnics. The good news is this means that you won't have to fight for a table if you decide to bring a Ham and Cheese Docker with you.
View Towards Pomos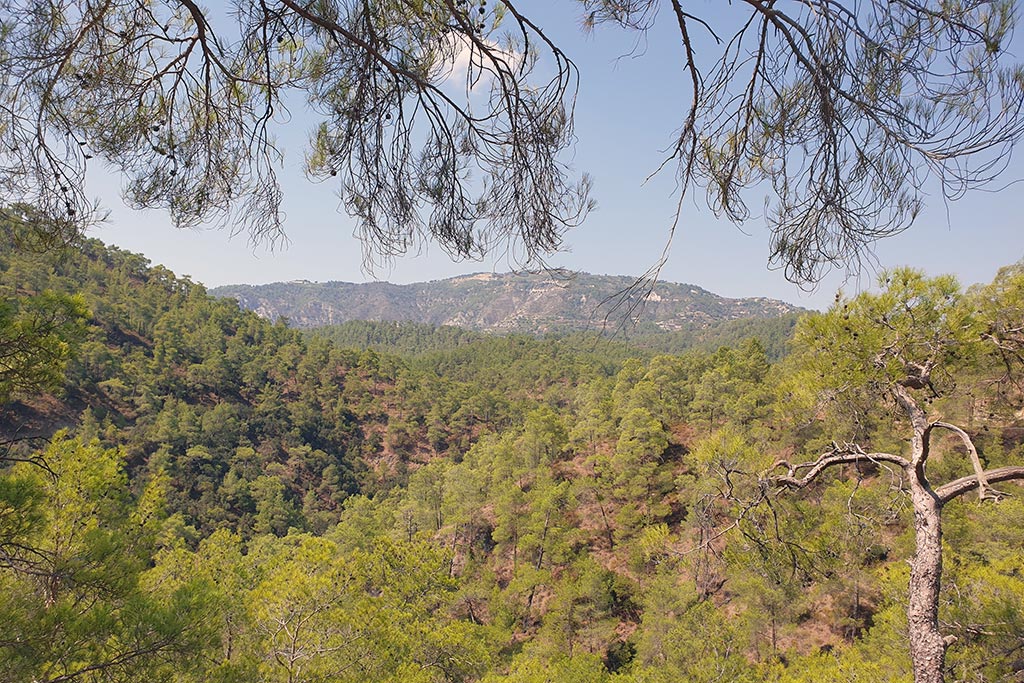 Now, I should warn you - if you only look at these blogs for the purple prose and the ace commentary - there are going to be a few pictures where the view is everything. You shall have to look at the image without seeing me struggle with superlatives to set the scene. All the information will be in the picture title.
The Map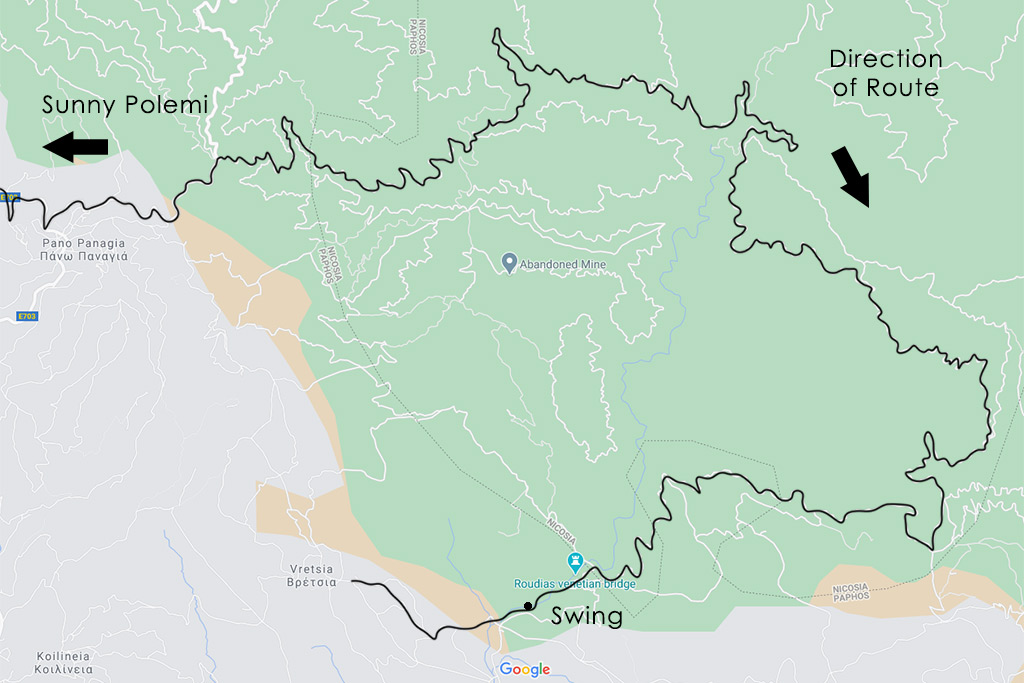 Here is the map, so you can see how we get to the famous swing. Note that the route is very wriggly. Do not underestimate how long it takes to drive these woodland roads. Make sure you pack plenty of fluids too. We got a puncture out here once and it took a while to fix it. Actually, here's a tip. If you do get a puncture here, make sure you bring the car to rest on some good solid ground. I made the mistake of parking randomly, and the ground was a bit soft. When I came to use the jack, it just went into the ground rather then lift the car up. I had to find a couple of decent-sized flattish rocks to support it.
Conditions Good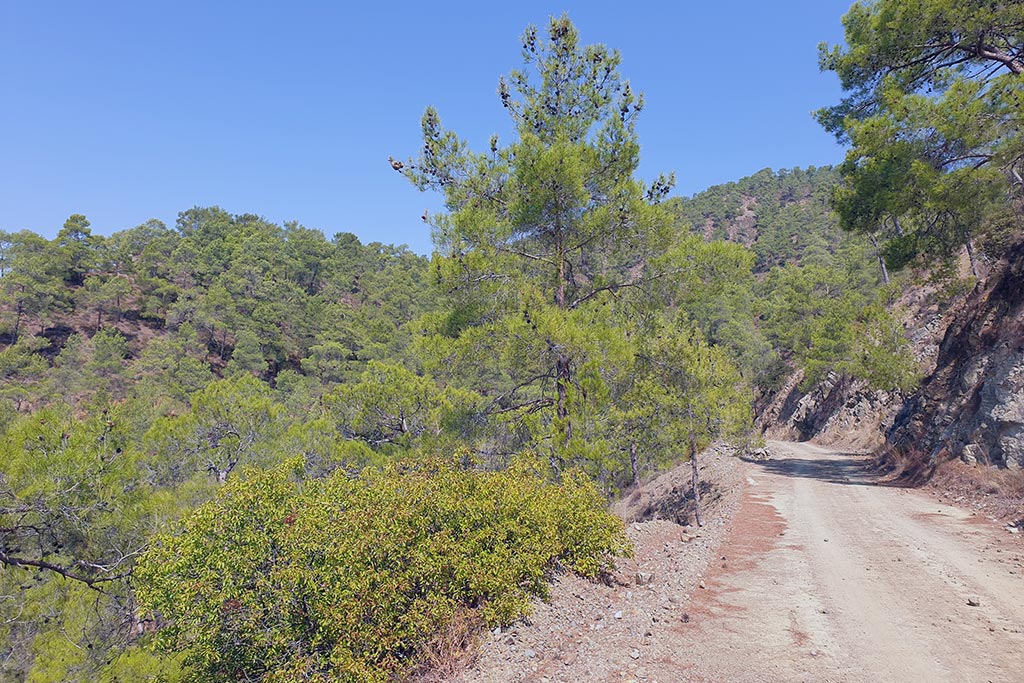 As you can see, the road through the forest is in pretty good nick. They have to make sure this is the case so that fire engines can easily get about. Occasionally you will come across a locked gate. We found one near an abandoned mine which is really annoying, as it means there is a long walk if we want to visit it again. The gates are there for a reason though, it is to help promote the growth of Cedars in the forest. You can walk past the gate, but not drive.
Page 1 of 6
If you like our blogs and the rest of our content, please consider slinging us a few euros to help us produce more content. Use the Coffee link below if you feel so inclined. Payments are taken on a secure gateway, with no contact!
❤

Related Blogs: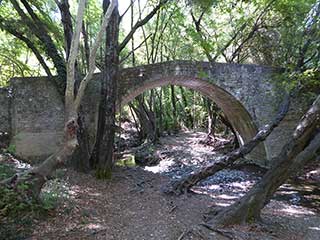 Roudia Bridge
Now that we have covered the route from Vretsia to Kelefos, let's return to the subject of Venetian Bridges. This time, we will feature Roudia Bridge. For years this eluded us, as we drove past it without realising it was there. With the help of the previous blog, you should now be able to locate it and know where to park the car. So let's take a look at the bridge itself...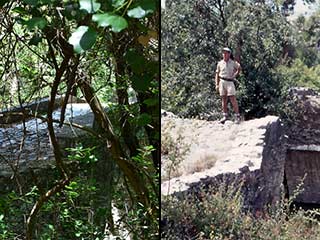 Roudia Bridge Time Warp
An old photograph, showing a young man standing on top of a broken Venetian Bridge got us excited recently. It looked a bit like Roudia, but the rock outcrop in the background seemed in the wrong place. There was only one way to find out for sure...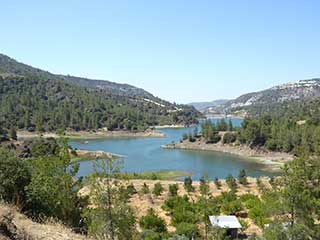 From Vretsia to Kelefos
This is another Road-Trip blog. Paphos Forest contains many treasures, and two of it's finest are the Venetian Bridges Roudia and Kelefos. Of the two, the latter is easy to locate. However, Roudia eluded us for some time, as it is easy to miss, being buried in woodland. So we have put together this guide, showing the route we took from our starting point of the abandoned village of Vretsia, through the forest to Kelefos and beyond. The aim of this blog is not to provide a de-facto route through the forest. After all, tracks get closed, and new tracks get opened every year. No, we mainly want to show you what you can expect to find should you decide to venture into the forest. We will do other blogs on the bridges themselves; today is all about the journey...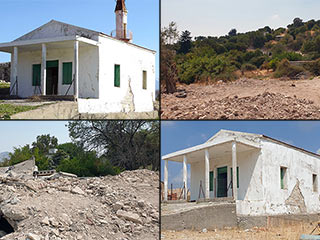 What is happening to Vretsia?
Yesterday we went for a drive through Paphos Forest, culminating in a dip in our favourite pool near Roudia Bridge. On the way back to Polemi we happened to drive through Vretsia, and were somewhat surprised as to what we saw...
Good Pages To Visit

FB Page

Paphos Life on Facebook

Like us on Facebook and stay notified of new blog posts.

FB Page

Our Facebook Chat Group

Paphos Chat has been created for people who like our site and want to chat using Facebook. You can also easily upload photos of any size here. A lot of people are members of the Facebook chat group and the main forum. It's entirely up to you.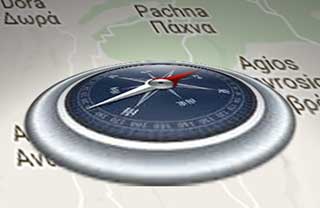 List

Blog Locations

Planning a day out? Then use our map of blog locations as a handy guide. Some of the places we visit our closer to each other than you might think, so take a look and start planning your next adventure...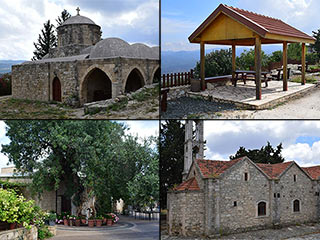 eBook

Cyprus Road Trip 01: the Kathikas - Panagia Loop

Let me take you on a journey around the region of Paphos, Cyprus. Starting at Paphos itself, we travel to Akoursos, then Kathikas, Kritou Terra and Simou. We continue past Lasa and Kannaviou, before taking in the delights of Panagia. Getting a bit more adventurous, we visit the abandoned villages of Statos and Agios Fotios, before passing through Choulou, Letymbou and Polemi, and rejoining the main Paphos - Polis road. The route is suitable for all types of vehicle, and requires no off-roading. The guide contains about 130 photographs including shots of all the road signs you need to pay attention to, as well as some of the highlights you may experience along the way. There are also several maps which will help you keep your bearings. You can do this journey in a day, or you can break it up into chunks. You can also do it in reverse, to get some completely different views. It is entirely up to you.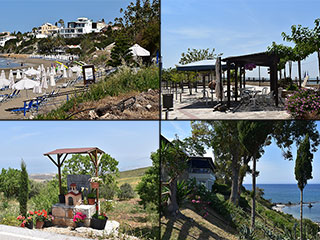 eBook

Cyprus Road Trip 02: Paphos - Coast to Coast

Newly published, our second Paphos Road trip takes you from coast to coast. Visit Coral Bay, Sea Caves, Agios Georgios, various traditional villages and more besides, as you travel to the Baths of Aphrodite on the Polis coast. And on the way back, we throw in an abandoned village for good measure.