Oreites Wind Farm
Published 14th of December, 2018
When you are out exploring the countryside of Paphos, it is always handy to have a few prominent landmarks to help guide you home. One of the most prominent is the Oreites Wind Farm. We visited it a few days ago, as we want to show you what it looks like close up. We will also show you some shots we took several years ago, when they were still constructing it...
View From Kouklia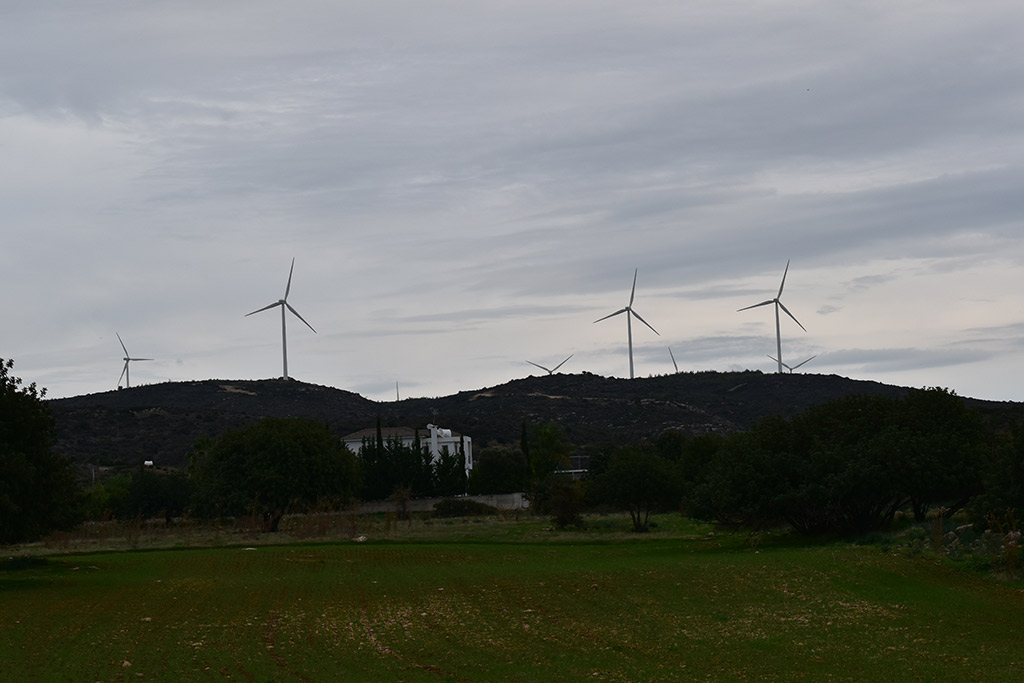 The wind farm, consisting of (according to the web) 41 turbines, was erected between 2009 and 2010. It has a production capacity of 82MW (it says here).
The EUR 200 mln wind power project is the biggest of its kind in the eastern Mediterranean and comprise Danish-made Vestas wind turbines installed and operated by DK Windsupply Ltd., one of the first alternative electricity suppliers on the island.
For more data like that, please read this article.

Peep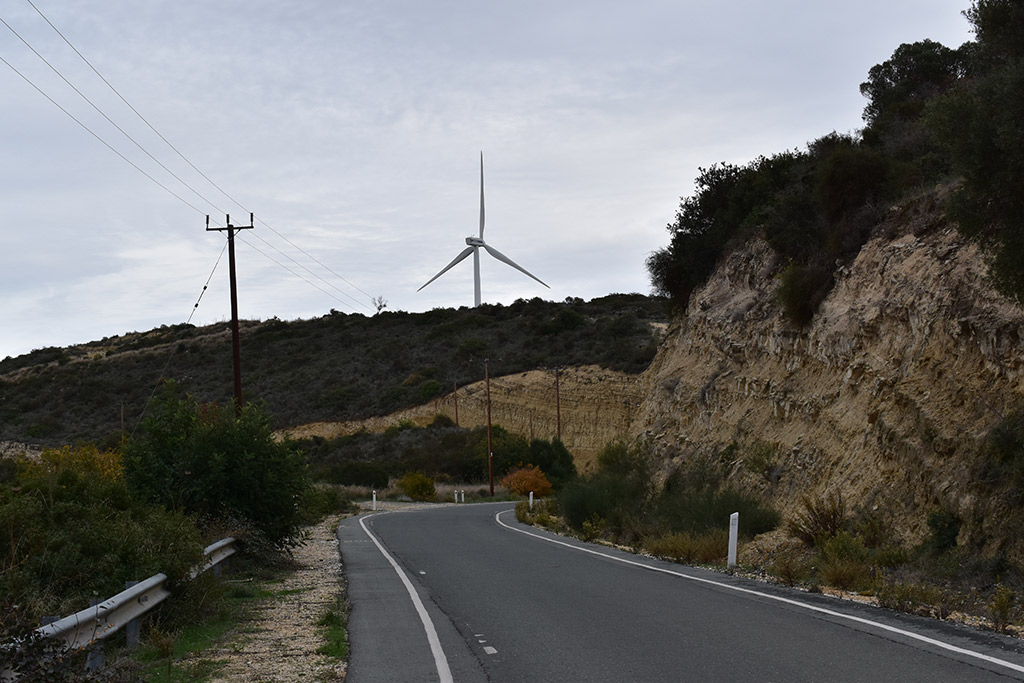 To get to the wind farm, you have to head to Archimandrita from Kouklia. On the way you will soon see the occasional turbine poking out above the hill tops.
Believe it or not, I actually spent a fair amount of time trying to decide which way to photograph these propellors. I eventually opted for the Mercedes Benz logo approach, in the vague hope that a passing company executive might see fit to sponsor us. I could have opted for a Y shape instead, but I already have enough pants.
A Single Turbine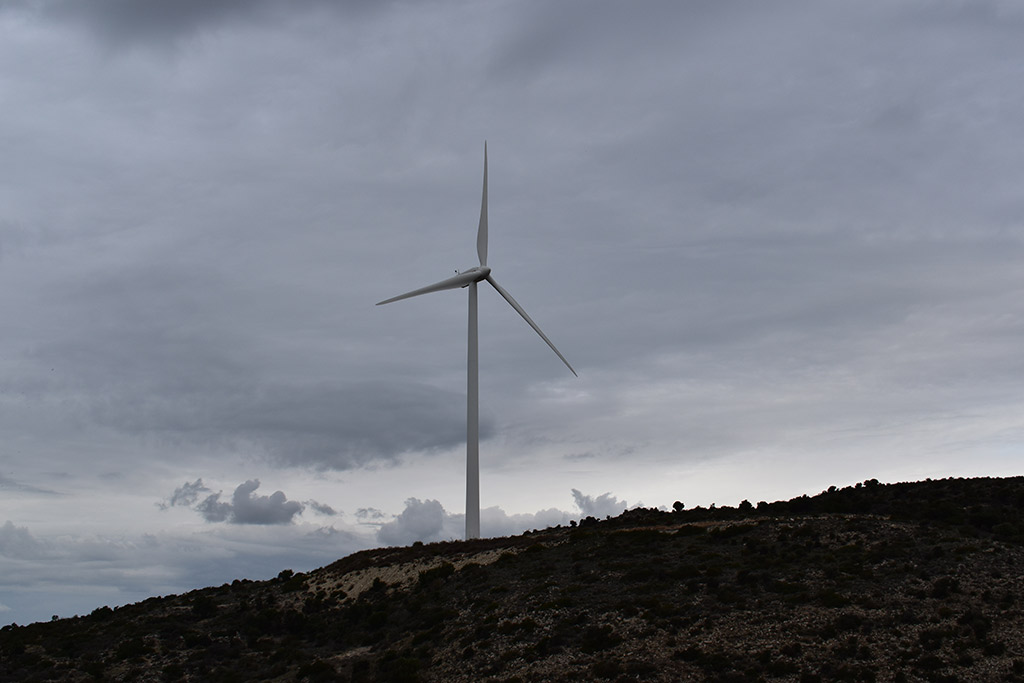 A lot of people don't like wind farms but I don't have a problem with them. They are quiet, and I don't think they look ugly. I first encountered them in the 80s, driving from Los Angeles to San Francisco. There were loads there, in a variety of shapes and sizes. Some even consisted of big circles. They looked great, to me at least. All the ones at Oreites are of the traditional three blade variety though.
Off Road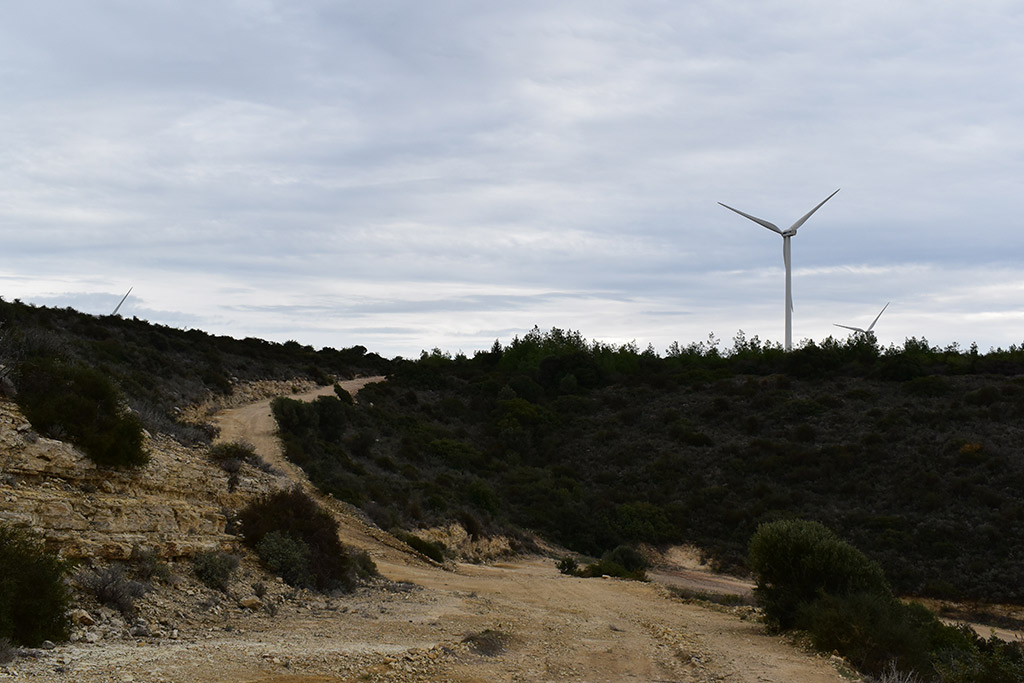 To get up close to any of the turbines, you will need to take one of the many tracks that weave through the forest. After all the rain we have had, I would imagine some of these are a bit tricky to negotiate at the moment, so you may want to wait until next summer unless you don't mind getting your car covered in mud.
Distant Mediterranean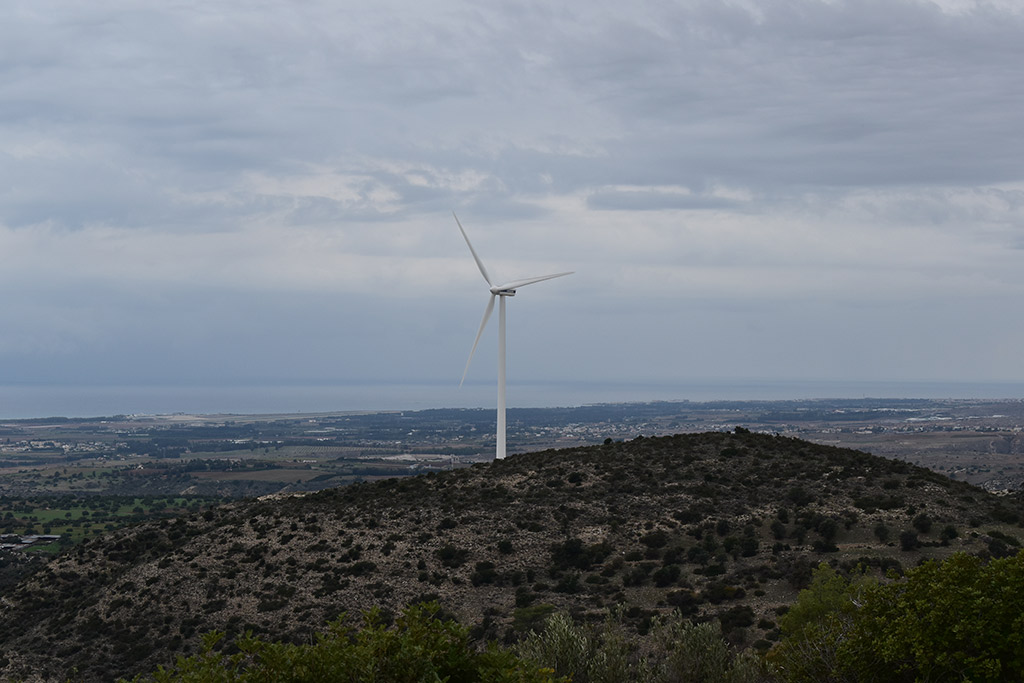 On the off chance that you don't know where the wind farm is, this is the view back towards Paphos Airport, with Paphos to the distant right of the picture.
Page 1 of 6
If you like our blogs and the rest of our content, please consider slinging us a few euros to help us produce more content. Use the Coffee link below if you feel so inclined. Payments are taken on a secure gateway, with no contact!
❤

Good Pages To Visit

FB Page

Paphos Life on Facebook

Like us on Facebook and stay notified of new blog posts.

FB Page

Our Facebook Chat Group

Paphos Chat has been created for people who like our site and want to chat using Facebook. You can also easily upload photos of any size here. A lot of people are members of the Facebook chat group and the main forum. It's entirely up to you.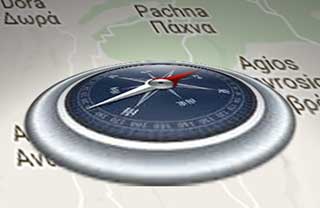 List

Blog Locations

Planning a day out? Then use our map of blog locations as a handy guide. Some of the places we visit our closer to each other than you might think, so take a look and start planning your next adventure...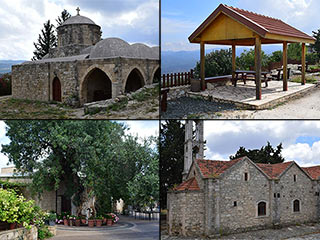 eBook

Cyprus Road Trip 01: the Kathikas - Panagia Loop

Let me take you on a journey around the region of Paphos, Cyprus. Starting at Paphos itself, we travel to Akoursos, then Kathikas, Kritou Terra and Simou. We continue past Lasa and Kannaviou, before taking in the delights of Panagia. Getting a bit more adventurous, we visit the abandoned villages of Statos and Agios Fotios, before passing through Choulou, Letymbou and Polemi, and rejoining the main Paphos - Polis road. The route is suitable for all types of vehicle, and requires no off-roading. The guide contains about 130 photographs including shots of all the road signs you need to pay attention to, as well as some of the highlights you may experience along the way. There are also several maps which will help you keep your bearings. You can do this journey in a day, or you can break it up into chunks. You can also do it in reverse, to get some completely different views. It is entirely up to you.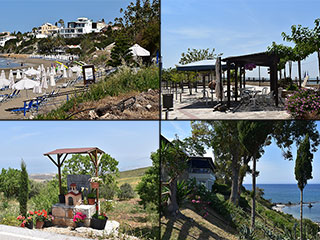 eBook

Cyprus Road Trip 02: Paphos - Coast to Coast

Newly published, our second Paphos Road trip takes you from coast to coast. Visit Coral Bay, Sea Caves, Agios Georgios, various traditional villages and more besides, as you travel to the Baths of Aphrodite on the Polis coast. And on the way back, we throw in an abandoned village for good measure.