Adonis Viewpoint
Published 8th of May, 2018
Last week, before the dust arrived and the storms chased the dust away (hopefully), we went exploring through the countryside between Adonis Baths and Akoursos. We were trying to get as close as we could to the Akoursos Cave, but a wrong turn plonked us in the middle of nowhere. I went off to hide a geocache, leaving my wife, Alex, alone with the camera. This is a guest blog by my lovely wife. Well, she took the photos, anyway. I'm afraid you will have to rely on me for the actual commentary...
A Handy Map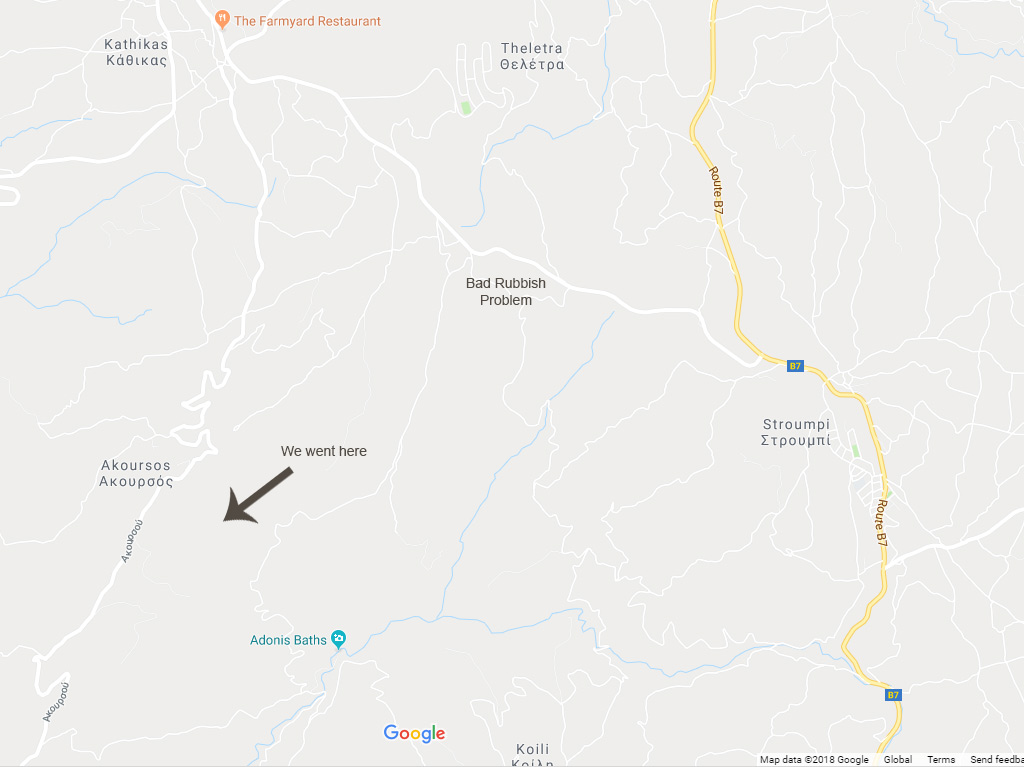 As we were in the middle of nowhere I thought I would start with a handy map. We were coming from the direction of Stroumpi, and aiming for the little track that is directly above the arrow on the map. However, we turned too quickly and travelled along a different ridge. You can try reaching our location from Adonis Baths too, but I don't know how good that track is. We tried going that way on the way back, but we abandoned our attempts, because the track was very overgrown and traversed the side of a gorge. Plus, there was a chance that there might be a locked gate further down the track, and we didn't fancy having to reverse back up the hill past the gorge.
I should say that the track at the Stroumpi / Kallepia end has a very, very bad rubbish problem. This is a real shame, and needs to be dealt with. It isn't historical rubbish either. We photographed it last year, and since then it has got worse.

Reservoir View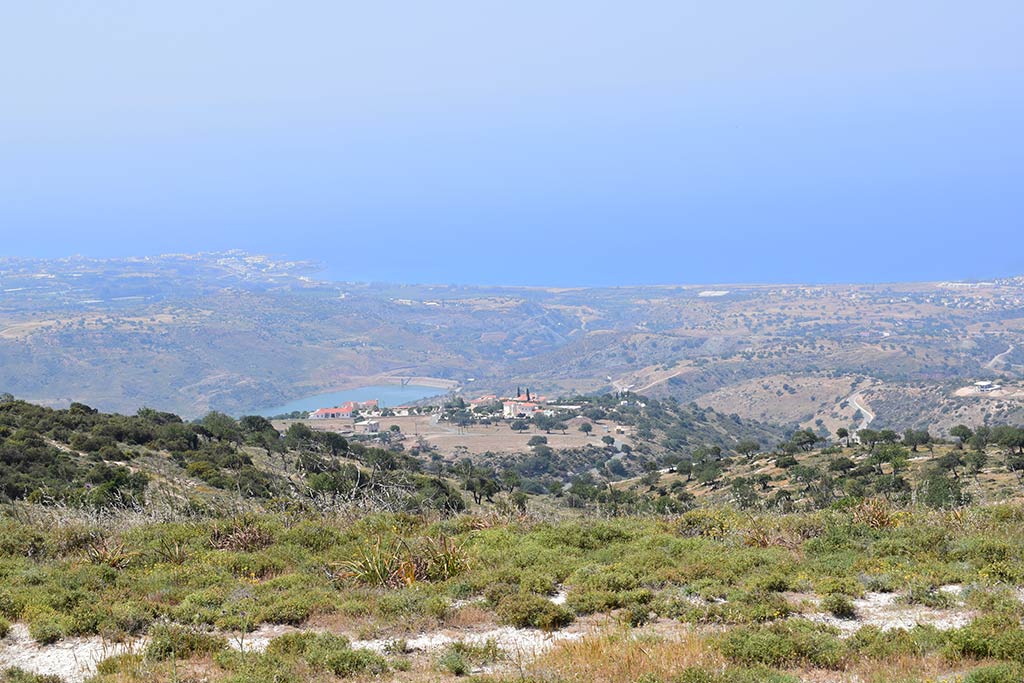 So, we weren't where we wanted to be, however, we were in an interesting place which, judging by the lack of tyre-tracks and shotgun cartridges, was rarely visited. A perfect place for me to hide a geocache then. While I was doing this, I left my camera with my wife. This was a breach of family diplomacy, as our daughter was also with us, but I don't let her use my posh camera. The last time she did the settings all mysteriously changed and my pictures looked like they came from an old David Bowie video (Ashes to Ashes, to be specific).
Distant Peyia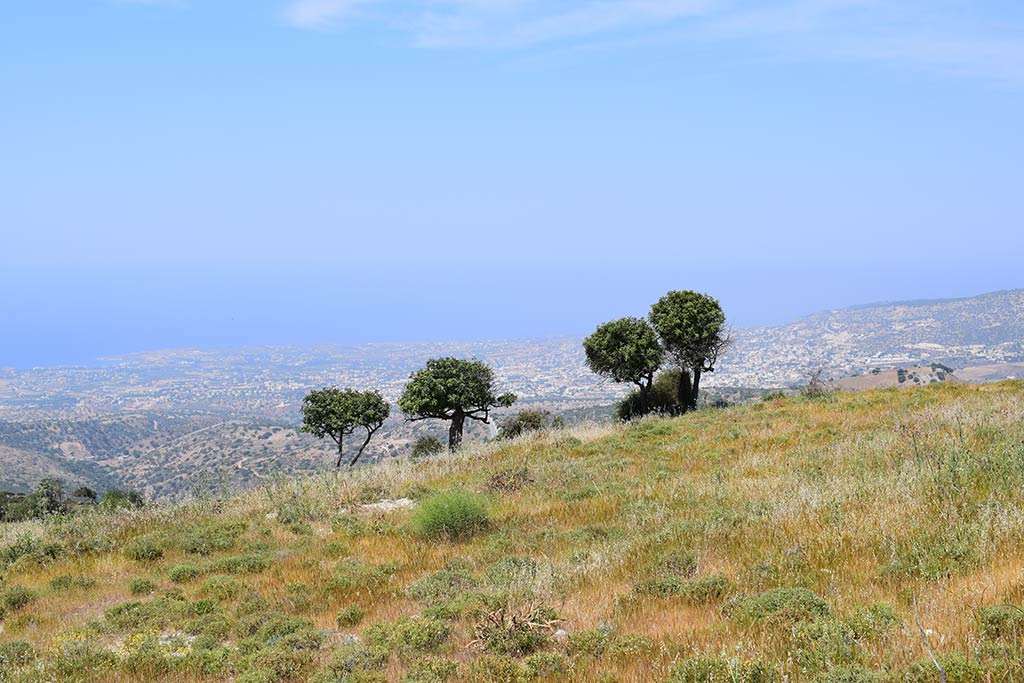 The day was bright and sunny, though there was a bit of dust in the air.
Fire-Damaged Shrubbery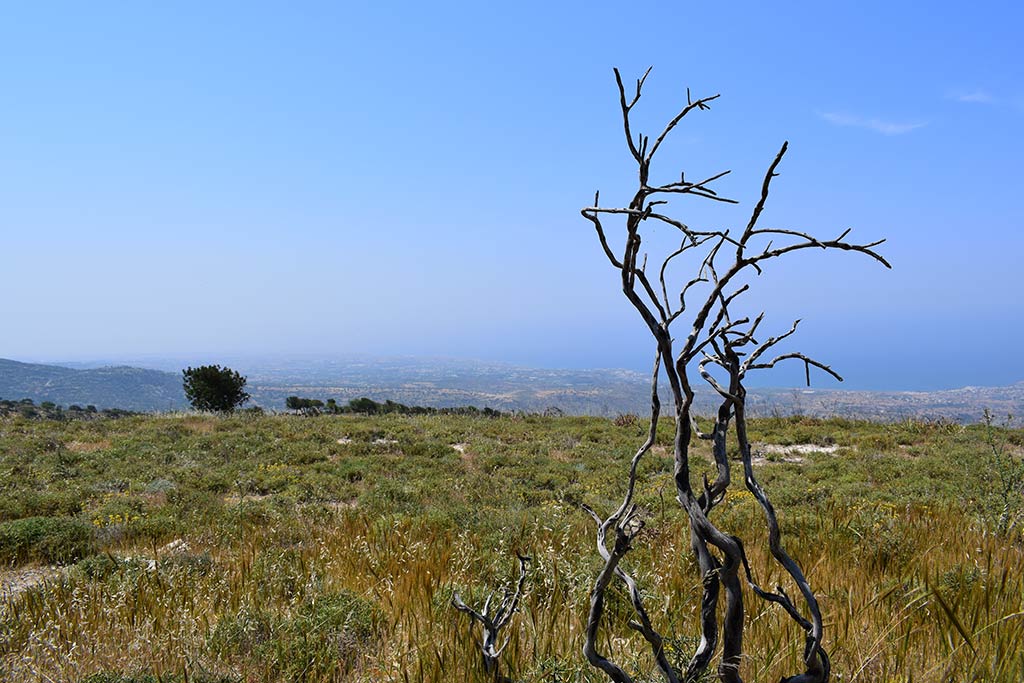 Obviously at some point, a fire had ravaged the area. It must have taken the fire engines a while to get here, or did they just rely on helicopters?
Close Ups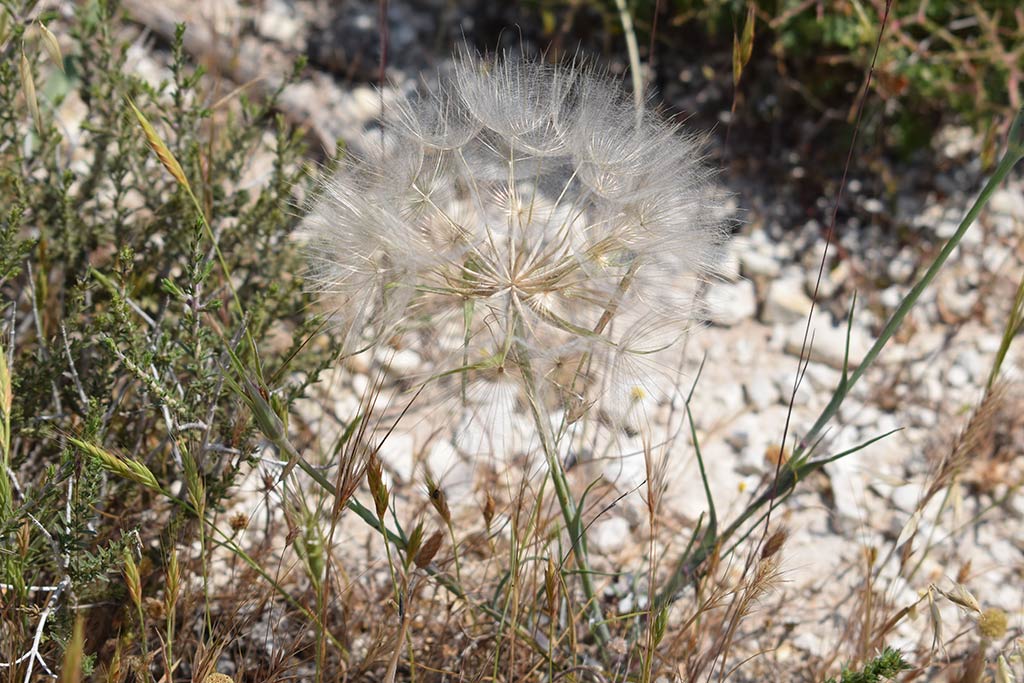 So far, the photographs have been pretty much what I would have taken. I have omitted the shots she took of me prancing through the undergrowth looking for a hiding place for my cache, but other than that, we have a pretty similar eye. However, it soon became apparent when I was looking through her images, that Alex has an eye for detail too.
Page 1 of 4

Related Blogs: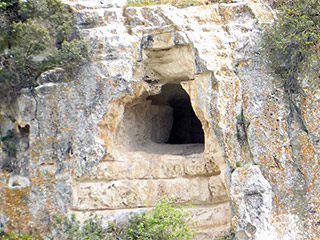 The Legend of Akoursos
Akoursos is a little village situated above Coral Bay, nestled in the hillside. It is off most people's radars and most visitors are probably tourists still searching in vain for the "suitable for all vehicles" road that will take them to Aphrodite's Water Baths. The other week we drove through there just so we could explore the hills behind it. While passing through, we couldn't help but notice a striking cave, embedded high up a cliff face. We decided to investigate...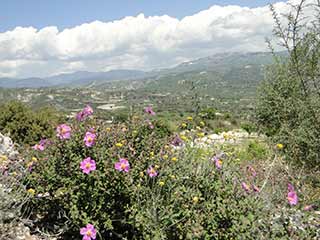 A Crystal Road Trip
Today Max takes us on a road trip around the Paphos district, to look at some of the fine crystal formations you can find by the roadside. He also shows you a nice vineyard where you can stop for a break and sample their wares...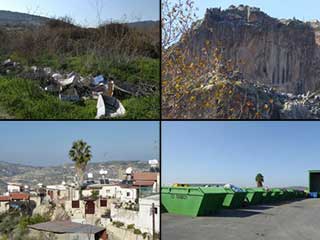 Clean Up Paphos!
Rubbish has long been an issue in the region of Paphos. While fly-tipping no longer occurs on every hillside corner, it is still a big problem. In the last few years however, a number of Green Points have been set up throughout Paphos. The only trouble is, very few people seem to know about them. So we decided to track them all down, and show you what to expect when you visit. If you want the rubbish situation in Paphos to improve, it is in your own interests to use these places. We appreciate that a tour of recycling points won't make scintilating viewing, so we took the scenic route to bring you some pictures of the countryside too...
Good Pages To Visit

FB Page

Paphos Life on Facebook

Like us on Facebook and stay notified of new blog posts.

FB Page

Our Facebook Chat Group

Paphos Chat has been created for people who like our site and want to chat using Facebook. You can also easily upload photos of any size here. A lot of people are members of the Facebook chat group and the main forum. It's entirely up to you.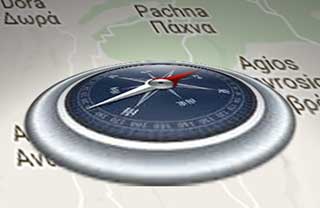 List

Blog Locations

Planning a day out? Then use our map of blog locations as a handy guide. Some of the places we visit our closer to each other than you might think, so take a look and start planning your next adventure...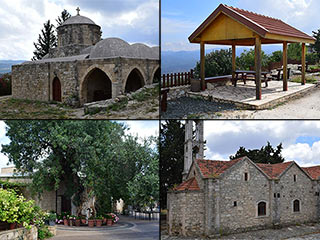 eBook

Cyprus Road Trip 01: the Kathikas - Panagia Loop

Let me take you on a journey around the region of Paphos, Cyprus. Starting at Paphos itself, we travel to Akoursos, then Kathikas, Kritou Terra and Simou. We continue past Lasa and Kannaviou, before taking in the delights of Panagia. Getting a bit more adventurous, we visit the abandoned villages of Statos and Agios Fotios, before passing through Choulou, Letymbou and Polemi, and rejoining the main Paphos - Polis road. The route is suitable for all types of vehicle, and requires no off-roading. The guide contains about 130 photographs including shots of all the road signs you need to pay attention to, as well as some of the highlights you may experience along the way. There are also several maps which will help you keep your bearings. You can do this journey in a day, or you can break it up into chunks. You can also do it in reverse, to get some completely different views. It is entirely up to you.