Sinti Monastery
Published 17th of September, 2017
It's time for another guest blog, and this time Max has taken a break from his minerals to show us somewhere a bit more spiritual. Over to you Max...
Sinti Monastery is a very important ancient monument and not far away from Paphos, in the beautiful Xeros River Valley. I thought I would take a round trip. In order that people can visit the place all year round (even after a good Winter's rain) in a normal car I took the longer route over the hills where the roads nowadays are all properly surfaced.
On the way back you can either take the same road (Winter) or use the short cut along the Xeros river bed which is only 8 km until the next village Nata.
The start point of the journey would be the large roundabout where the Limassol highway ends at Paphos, taking the exit Konia towards Episkopi. There you must slow down through the small village and cross the river: road sign: Nata.
On The Way To Nata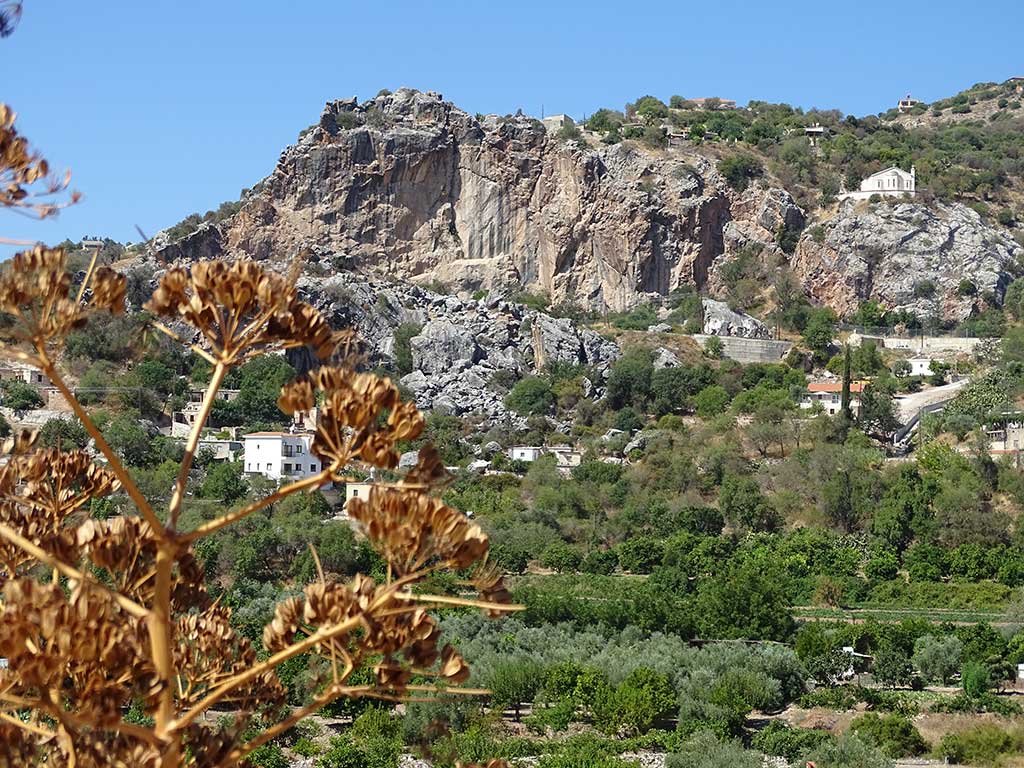 You climb up the hilly road and after some hundred meters you will have that impressive view back to the village with its rock formation (little Meteora).

From Nata to Start The Round Trip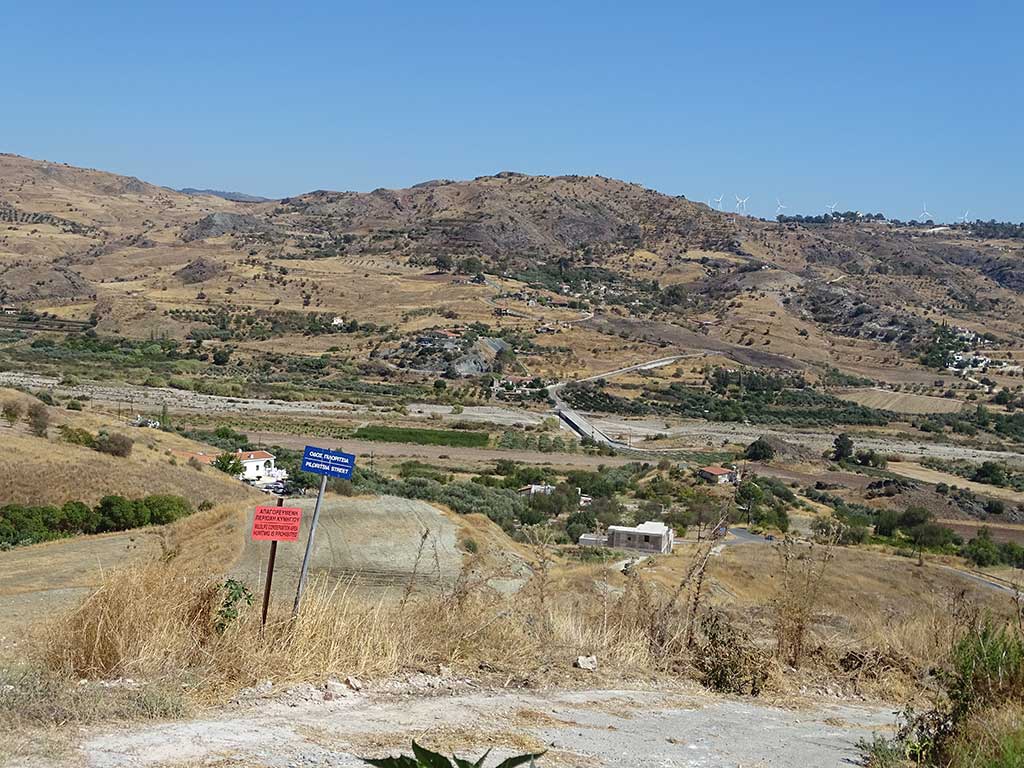 Driving through the village of Nata take care to follow the narrow road leading towards old Choletra and very soon you can see the brand new bridge crossing the Xeros River, and the large valley were the Monastery lies upstream.
Posh Bridge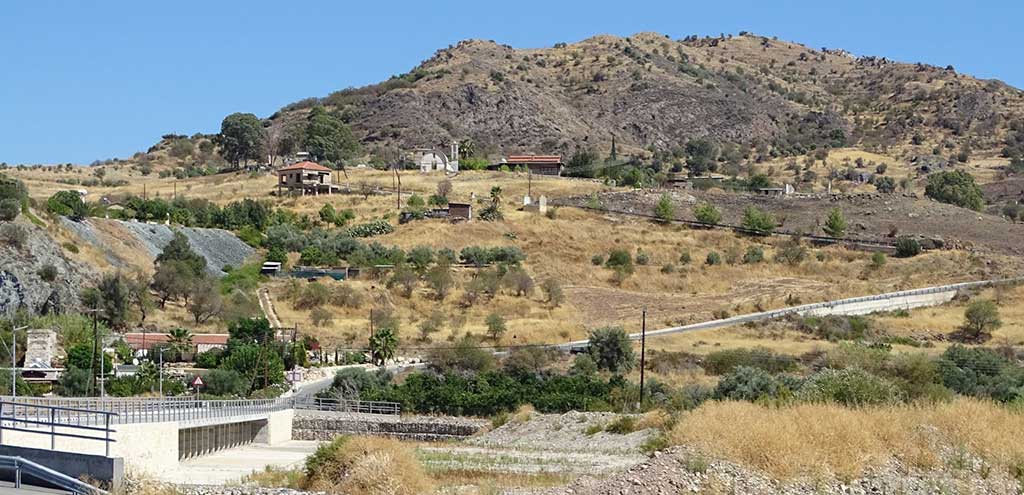 In the past it was very difficult to cross the river even with a 4x4, especially after heavy Winter rain. I wonder if the posh bridge was built with EU money as there is even stone cladding. On the left hand side one can see an old watermill, which is in a private property - so no photo.
On the way to Stavrokonnou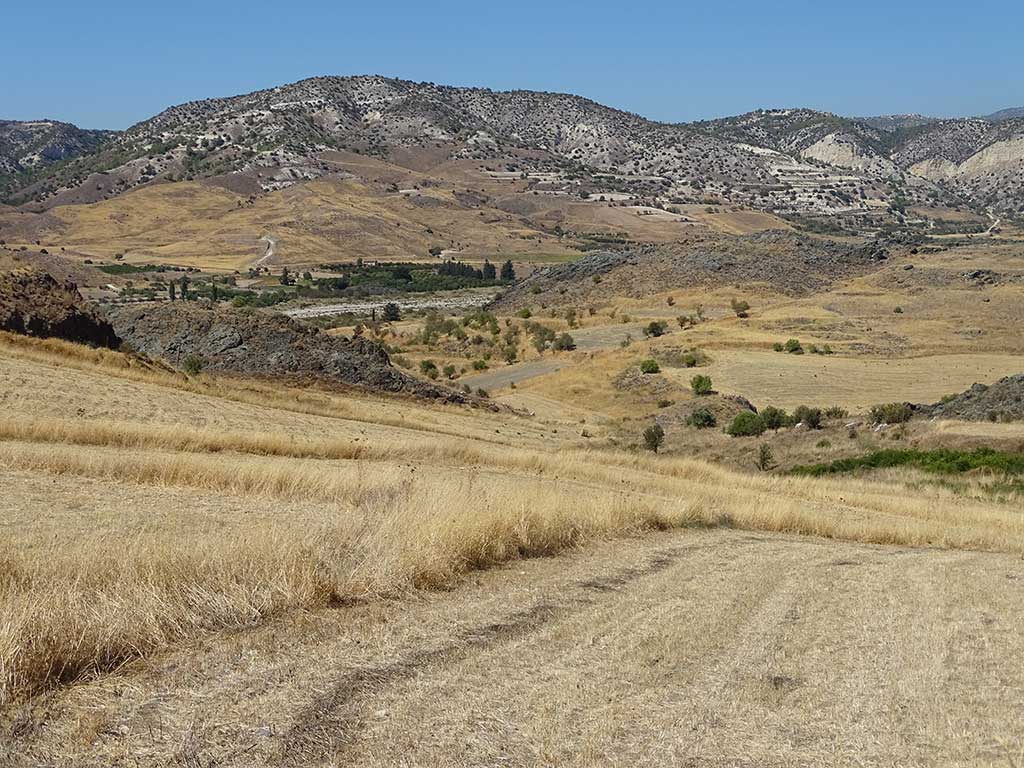 After crossing the bridge we continue the journey steadily uphill, with nice views down to the valley, and the monastery far away.
One can see some farming activities...
Must Have Some Rocks...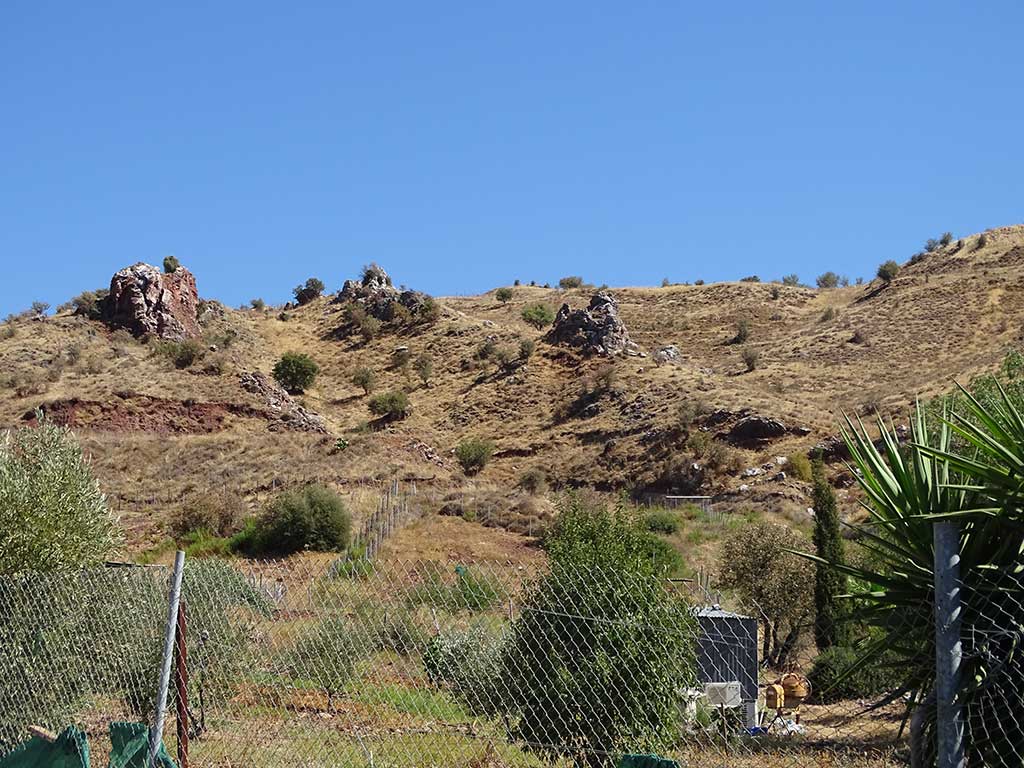 On the other side of this road there are interesting rock formations. In Spring when everything is green around, it would look even nicer...
Page 1 of 5
If you like our blogs and the rest of our content, please consider slinging us a few euros to help us produce more content. Use the Coffee link below if you feel so inclined. Payments are taken on a secure gateway, with no contact!
❤

Related Blogs: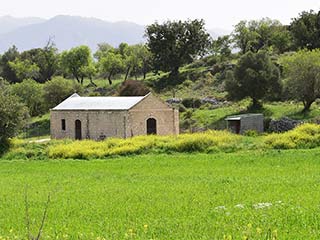 Agios Charalambos
Let's take a little break from flowers. I know that Cyprus looks lovely in the Spring, and that it abounds with colour and life. But it' time to take a break. With the Polemi Tulip Festival fast approaching, and the knowledge that another road trip from Max is just around the corner too, I think we need to look at something without petals.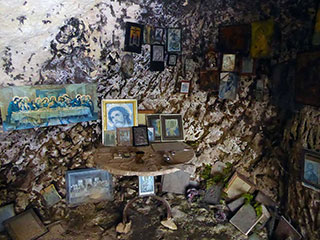 St George's Church and Shrine Caves
Near the shops on the Paphos / Geroskipou border, is a little track that runs below a cliff through some farmland. A sign indicates that there is a church down there, so one day I thought I would investigate. Sure enough, there was a little church, but there was so much more besides...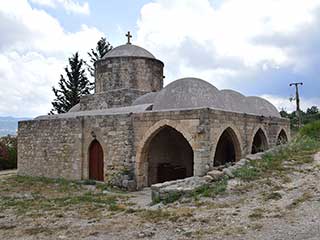 Agia Ekaterini
If you take the road from Kritou Terra down to the B7, you will drive past this church, and cannot fail to be impressed by it. Well, don't just drive by it. Park, and take a look. You won't be disappointed...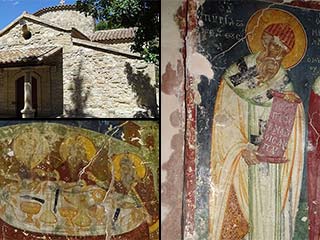 The Church of Saints Kerykos and Ioulitta
It's time for another guest blog from Max. He's taken a break from enlightening us about crystals and rock formations in the Paphos area, and has gone in search of some interesting church murals in Letymbou.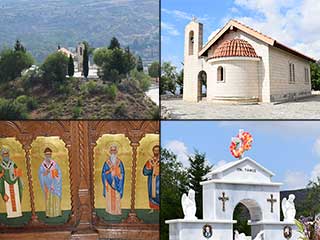 The Church of Chryseleousa
Wherever you travel in Cyprus, you are never far from a church. Every village has one, and some have several. In our blogs, we've looked at ancient churches, and the highly adorned churches you find in the more populated areas, but we haven't really examined the traditional village church. With that in mind, I am planning a few blogs which will feature such places of worship. So let's start the ball rolling, and travel to Kannivou to visit this lovely church on the hill.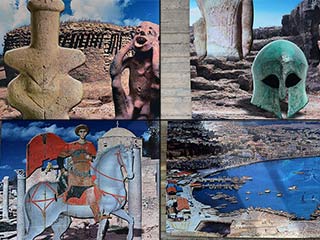 The History of Paphos in 16 Pictures
When I was out photographing a new statue in Old Paphos the other week, I stumbled upon a walkway I hadn't seen before. It descended to the lower carpark, by the Turkish Baths. The walkway was adorned with pictures telling the story of Paphos through the ages. Judging by the state of some of the pictures. they had obviously been there for some time, but this was the first I had seen of them. Here they are for your perusal...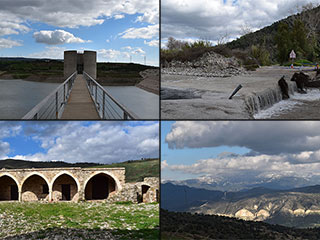 The Xeros River in Winter
The Asprokremmos Reservoir is beginning to fill up! At the last count, it was close to 40% full. But where is all the water coming from? The Xeros River is normally close to dry, but now it has become a raging torrent. So let's take a look...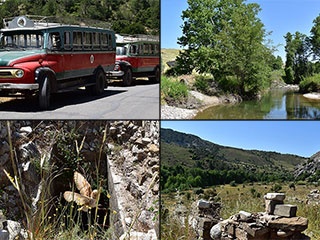 Xeros River Ruins
It looks like the sun is here to stay now, and Cyprus is quickly turning brown. The Asprokremmos is no longer overflowing, and soon, the rivers will no doubt start to run dry again. Before that happens we decided to go for a drive up Xeros Valley, and explore some ruins by the river. If you fancy a paddle, don't wait too long...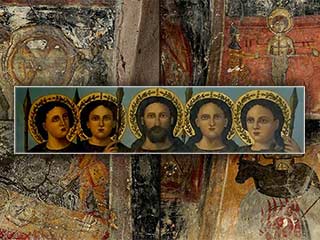 The barbaric frescoes of Agios Georgios Tou Sporou
It's time for another guest blog from Max. He's been out visiting some old churches and has uncovered some gruesome scenes...
Good Pages To Visit

FB Page

Paphos Life on Facebook

Like us on Facebook and stay notified of new blog posts.

FB Page

Our Facebook Chat Group

Paphos Chat has been created for people who like our site and want to chat using Facebook. You can also easily upload photos of any size here. A lot of people are members of the Facebook chat group and the main forum. It's entirely up to you.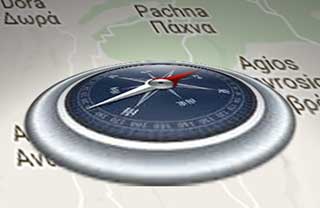 List

Blog Locations

Planning a day out? Then use our map of blog locations as a handy guide. Some of the places we visit our closer to each other than you might think, so take a look and start planning your next adventure...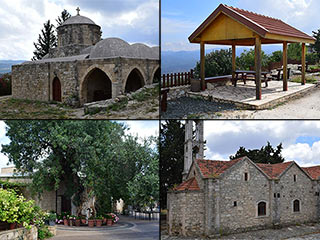 eBook

Cyprus Road Trip 01: the Kathikas - Panagia Loop

Let me take you on a journey around the region of Paphos, Cyprus. Starting at Paphos itself, we travel to Akoursos, then Kathikas, Kritou Terra and Simou. We continue past Lasa and Kannaviou, before taking in the delights of Panagia. Getting a bit more adventurous, we visit the abandoned villages of Statos and Agios Fotios, before passing through Choulou, Letymbou and Polemi, and rejoining the main Paphos - Polis road. The route is suitable for all types of vehicle, and requires no off-roading. The guide contains about 130 photographs including shots of all the road signs you need to pay attention to, as well as some of the highlights you may experience along the way. There are also several maps which will help you keep your bearings. You can do this journey in a day, or you can break it up into chunks. You can also do it in reverse, to get some completely different views. It is entirely up to you.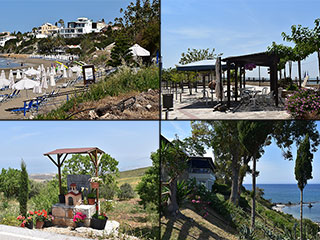 eBook

Cyprus Road Trip 02: Paphos - Coast to Coast

Newly published, our second Paphos Road trip takes you from coast to coast. Visit Coral Bay, Sea Caves, Agios Georgios, various traditional villages and more besides, as you travel to the Baths of Aphrodite on the Polis coast. And on the way back, we throw in an abandoned village for good measure.