From Ayios Ioannis To Vretsia
Published 20th of December, 2019
As the Xeros Valley gives way to Paphos Forest, two old Turkish Cypriot Villages stand on either sides of its slopes. We took the long-neglected road from Ayios Ioannis to Vretsia, and discovered not only beautiful countryside, but another abandoned village, and several ancient mills along the way.
Last Summer...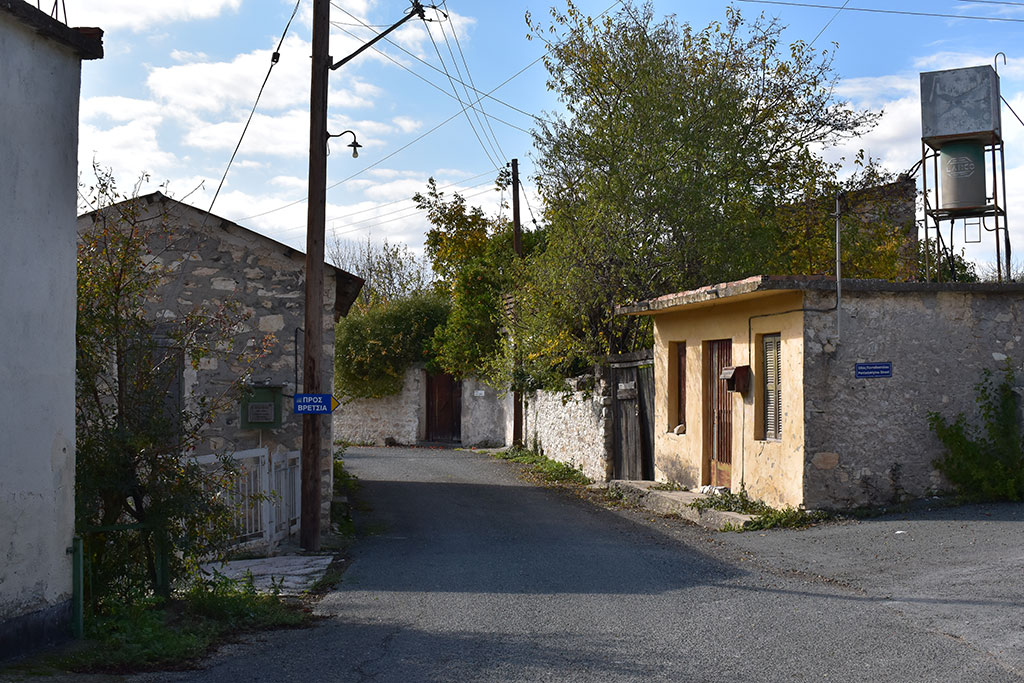 During the summer we visited Ayios Ioannis, and wrote a two-part blog on our experiences. It is a fascinating place, which used to be populated by Turkish Cypriots. They were displaced in 1974, after which Greek Cypriots displaced from the North settled. I noticed, while we explored the part-abandoned village, a sign pointing to Vretsia. We have visited Vretsia on numerous times in the past (see blog list below), and it is well worth a journey. However, it is on the opposite side of the valley, and the area between can be quite inhospitable at times. I was puzzled as to the route this road might take, and we were passing nearby recently, with time on our hands, so it seemed rude not to go exploring...
Breath-Taking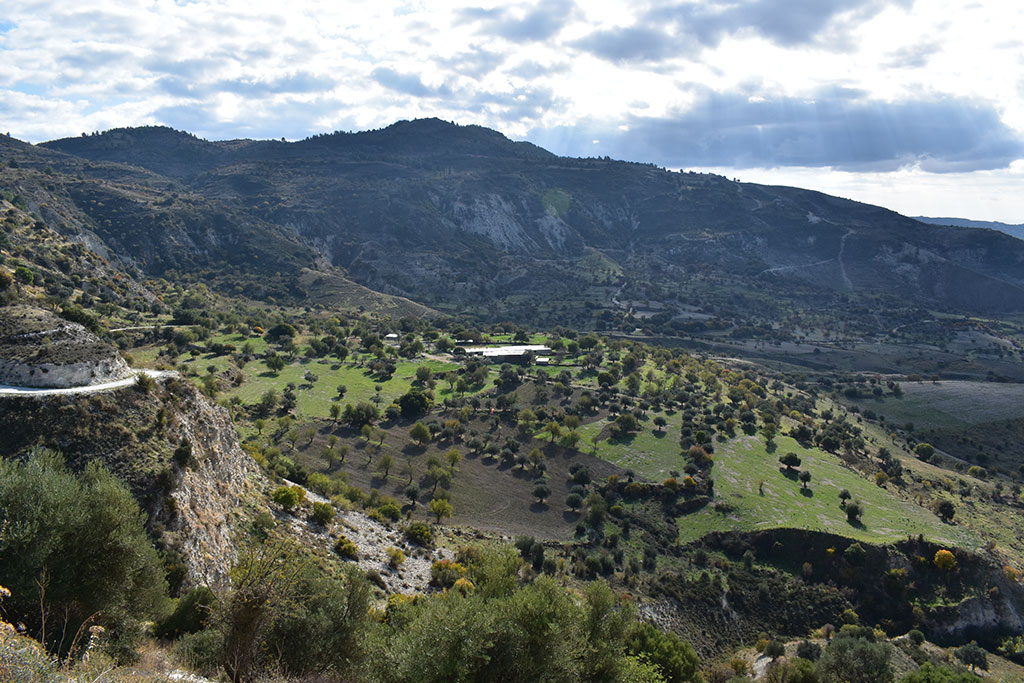 Initially the road is fairly well maintained. It took me a bit by surprise though, in that it doesn't take a direct route. Instead it hugs the valley and heads towards the distant sea. You can see the road on the left of this picture, carved into the side of the hill. Drive carefully, as it is a long way down. The views along the way are outstanding, especially now there is a hint of green returning to the countryside.
Direct Route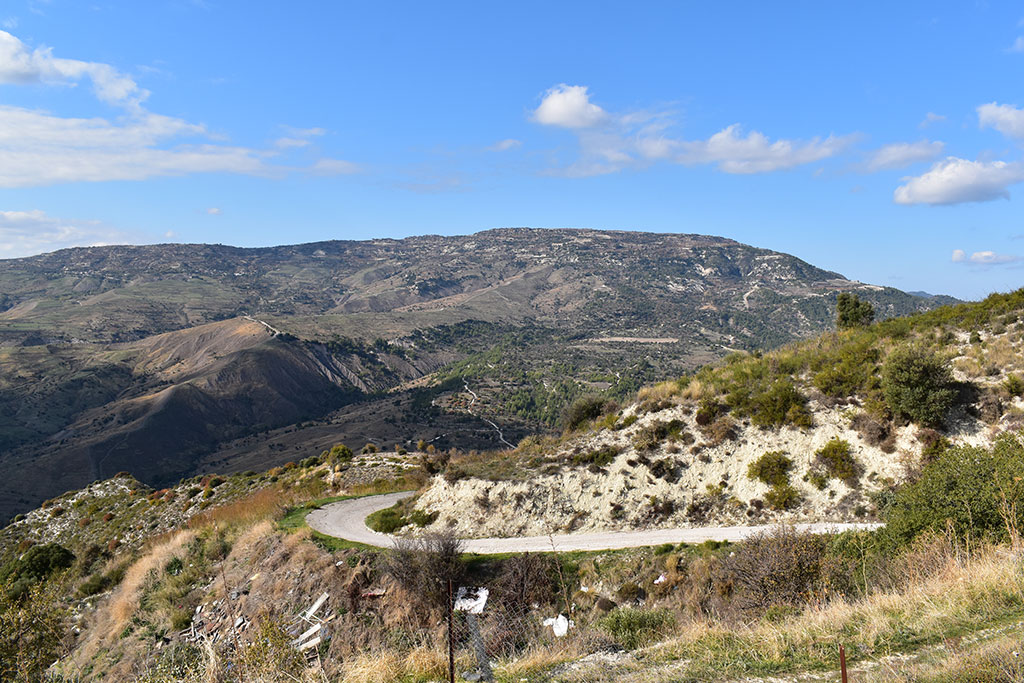 There is a more direct route, which follows the course of a nature trail. However, we covered that in the original Ayios Ioannis blog.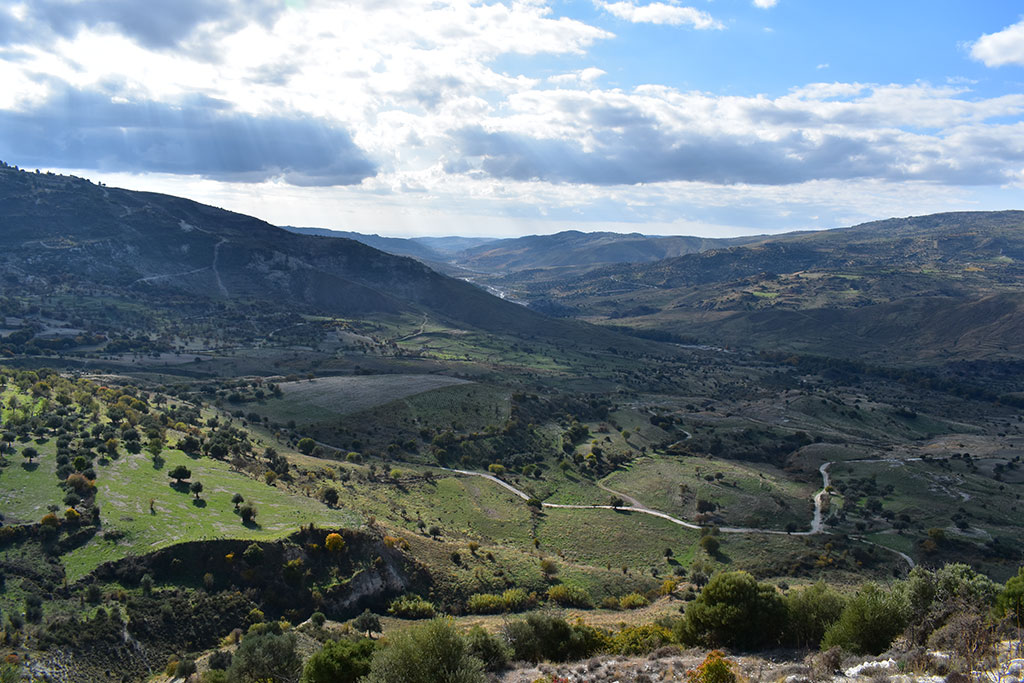 The journey is worth it for the views alone. There was a big fire on these hills over the summer, but you wouldn't be able to tell that from this scene.
Mystery Water Feature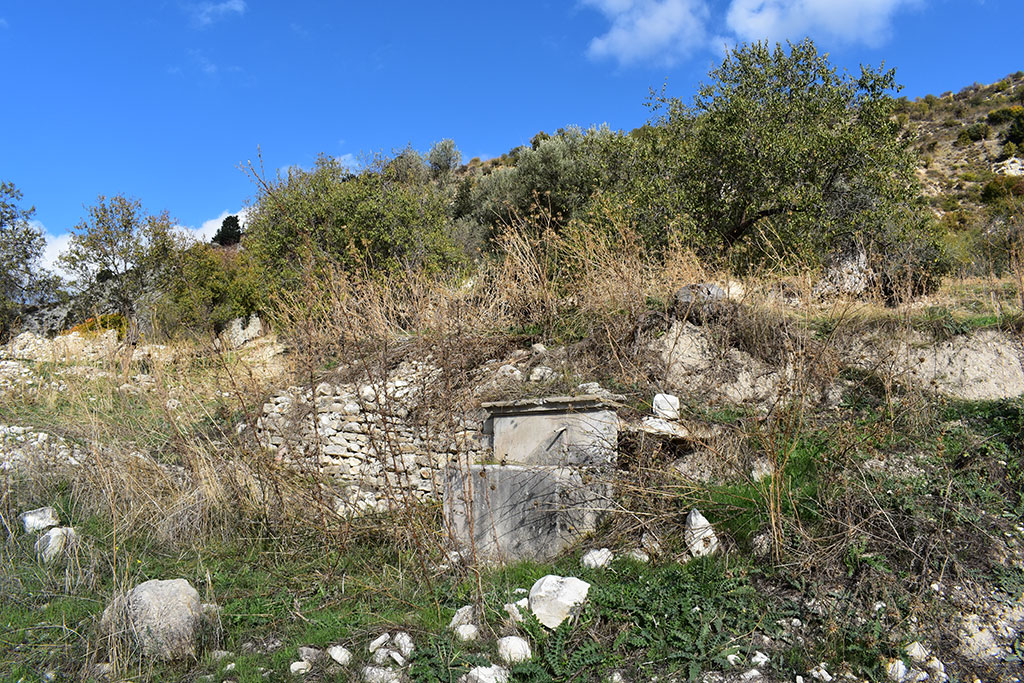 This took me by surprise. By the side of the road, there was one of the traditional water fountains you find in nearly all Cypriot Villages. Most of these were built by the British in the 50s. However, this one appeared to be in the middle of nowhere. Even stranger, it had neither the ER crest nor the ROC crest you get on later models. So who put it there, and why?
Page 1 of 6
If you like our blogs and the rest of our content, please consider slinging us a few euros to help us produce more content. Use the Coffee link below if you feel so inclined. Payments are taken on a secure gateway, with no contact!
❤

Related Blogs: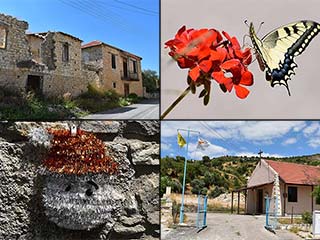 Ayios Ioannis - Part 1
We haven't explored the further reaches of the Diarizos Valley much, especially not the hilltops that head towards the Xeros Valley and Paphos Forest. We've been rectifying that recently, and in this blog we want to take you on a visit to Ayios Ioannis. We thought it would be a smallish village, but we were in for a surprise. This blog is large, so we have split it in two parts. The second part will be published in a day or two.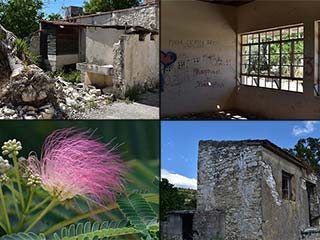 Ayios Ioannis - Part 2
In the concluding part of our visit to Ayios Ioannis we continue through the village before visiting an old abandoned school, and finish up gazing down upon the Xeros Valley and Paphos Forest.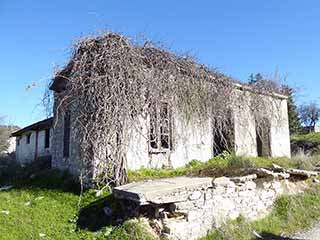 Abandoned Villages - Vretsia
Cyprus has more than it's fair share of abandoned villages. The troubles caused the displacement of both Greek Cypriots and Turkish Cypriots.The environment itself has caused other villages to be abandoned for reasons of safety. Whatever the reason, the abandonment caused emotional pain and suffering to the affected people. So is it right to right a series of blog articles on them? I thought about this for a while, but decided that yes it was. Cyprus is a land built on antiquities, and these villages are just the latest example. I had no problem blogging about a Necropolis after all. However, some of these villages, and especially Ventris, do still get visits from the displaced families. So if you do decide to visit these places on the strength of these articles, please bear that in mind, and treat them with respect. The urban exploring motto "take only pictures, leave only footprints..." nicely sums it up.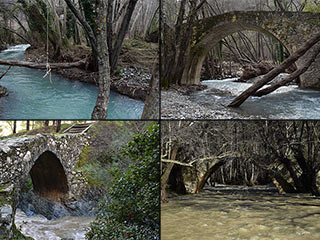 The Camel Trail Venetian Bridges
Over the last few days we've been trying to visit the three most popular Venetian Bridges on the Camel Trail, to see how they have coped with all the rain. It took a while to get to Roudia, but now finally, we can show you what we found.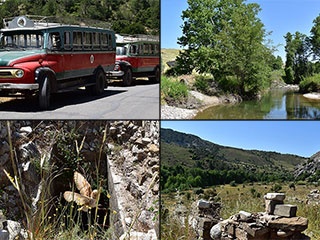 Xeros River Ruins
It looks like the sun is here to stay now, and Cyprus is quickly turning brown. The Asprokremmos is no longer overflowing, and soon, the rivers will no doubt start to run dry again. Before that happens we decided to go for a drive up Xeros Valley, and explore some ruins by the river. If you fancy a paddle, don't wait too long...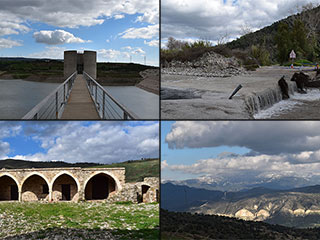 The Xeros River in Winter
The Asprokremmos Reservoir is beginning to fill up! At the last count, it was close to 40% full. But where is all the water coming from? The Xeros River is normally close to dry, but now it has become a raging torrent. So let's take a look...
Good Pages To Visit

FB Page

Paphos Life on Facebook

Like us on Facebook and stay notified of new blog posts.

FB Page

Our Facebook Chat Group

Paphos Chat has been created for people who like our site and want to chat using Facebook. You can also easily upload photos of any size here. A lot of people are members of the Facebook chat group and the main forum. It's entirely up to you.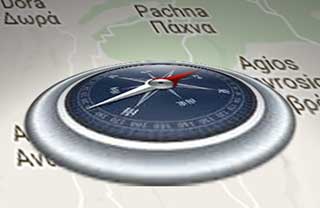 List

Blog Locations

Planning a day out? Then use our map of blog locations as a handy guide. Some of the places we visit our closer to each other than you might think, so take a look and start planning your next adventure...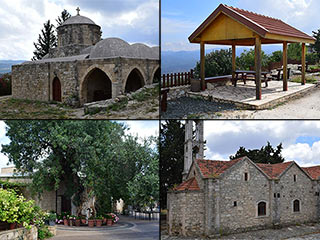 eBook

Cyprus Road Trip 01: the Kathikas - Panagia Loop

Let me take you on a journey around the region of Paphos, Cyprus. Starting at Paphos itself, we travel to Akoursos, then Kathikas, Kritou Terra and Simou. We continue past Lasa and Kannaviou, before taking in the delights of Panagia. Getting a bit more adventurous, we visit the abandoned villages of Statos and Agios Fotios, before passing through Choulou, Letymbou and Polemi, and rejoining the main Paphos - Polis road. The route is suitable for all types of vehicle, and requires no off-roading. The guide contains about 130 photographs including shots of all the road signs you need to pay attention to, as well as some of the highlights you may experience along the way. There are also several maps which will help you keep your bearings. You can do this journey in a day, or you can break it up into chunks. You can also do it in reverse, to get some completely different views. It is entirely up to you.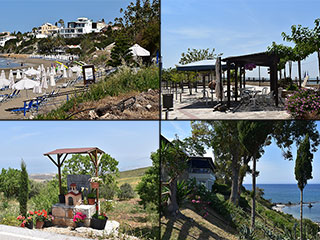 eBook

Cyprus Road Trip 02: Paphos - Coast to Coast

Newly published, our second Paphos Road trip takes you from coast to coast. Visit Coral Bay, Sea Caves, Agios Georgios, various traditional villages and more besides, as you travel to the Baths of Aphrodite on the Polis coast. And on the way back, we throw in an abandoned village for good measure.