Directory and Event Listings
The Paphos Life Directory and Events Page are a new resource for companies to connect with their customers. Paphos Life appeals to a mix of Cyprus residents and people from the UK with properties in Cyprus, as well as people who just love the place.
It has an active forum (over 12,000 page views per day), and one of the aims of the directory is to assist members who are giving help. So if somebody asks for an opticians, we can provide a link to either the Opticians directory, or a specific business in the directory.
The directory is map based. All entries have a location viewable on the map. Don't worry though, if your business is a service without a location. Just tell us roughly where you are based and we will do the rest.
A basic listing in the directory is free to all people with a business in the region of Paphos. There are also paid for options which make your listing stand out more. For instance, if you opt for the silver package, you can include a slideshow in your listing. We include an example below.
If you want maximum exposure to your customers, you should also take a look at banner advertising on Paphos Life. This combines the best available directory listing format with high visibility site-wide banners.
Sample Slidehow
We don't expect you to program your own slideshow. All you do is supply us with the images and text, and we will do the rest. The same is true for every other aspect of your advert.
Incidentally, if you are thinking of including a slideshow full of text, like our example, we don't recommend it. Text in graphics isn't readable by search engines and screen readers. We only did this because it is an example, and because the data is repeated here anyway.



Listing Types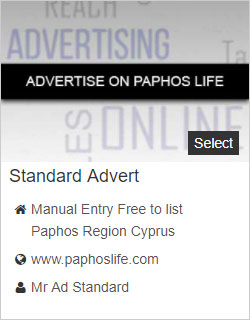 Basic Entry
Free for businesses and events
---
Basic directory and event entries are completely free.
Displays contact information
Company / Event shown on map.
Basic Description
Get listed in multiple categories.
Every entry has a map location. If you are offering a service, rather than a physical building, then we will show your home town, so you will still be visible. For events, you should specify the venue. We have a growing database of venues, and they have directions, contact information and map locations.
Listings can show in multiple categories. However, you should say what your PRIME category is.Your prime category decides your map icon. So a DIY shop that sells flowers, will be visible in the DIY and Gardening section, but will always show the DIY map icon.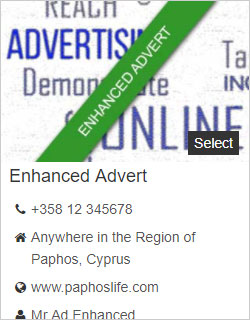 Bronze Entry
Custom thumbnail and masthead, plus desription
---
Bronze ads let your business or event stand out for the minimum cost.
Custom thumbnail image (320px wide by 208px high)
Custom masthead image (910px wide by 332px high)
The masthead image is the same size as a facebook masthead, so if you want to be consistent you can just use that.
Basic description, which can include another image.
Enanced Opening Times Display
Also, if you tell us the store opening times, if appropriate, we will provide you with a smart opening time display.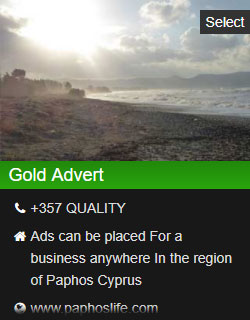 Silver + Entry
Silver, Gold and Platinum Packages
---
With silver packages and above, you also get the following:
Highlighted thumbnail
Premium thumbnail placement for directory listings.
Enhanced directory listings, allowing you to show much more information.
Gallery to showcase your business photos.
The Packages
If you viewed the above slideshow you will know that three packages are available. These are explained below. If you click the "Order Now" button, you will not be asked for any payment. You will simply be presented with a form which you can fill in, and we will get straight back to you.
Once you have decided on a package, and are happy with it, we will then take payment, if appropriate. We normally take payment via a secure online payment gateway, though other methods are available on request. Please note that we are VAT registered, and the quoted prices are ex VAT.