Birthday Cats
Published 29th of July, 2021
A year ago we found some abandoned kittens in the middle of nowhere. Once we were sure the mother was no longer around, we took them home, before handing them over to a cat sanctuary. They recently celebrated their first birthday. In this article, we see how they have grown.
Little Orphans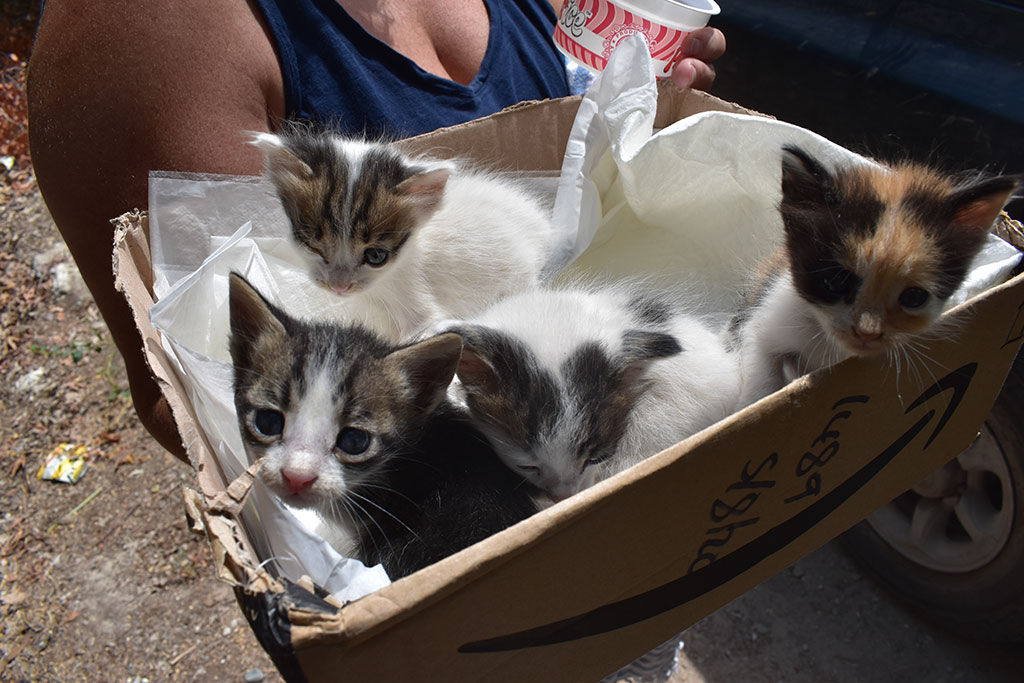 I vividly remember when we found the kittens. It was at the culmination of a sequence of events so unlikely as to suggest to an impartial observer that we were being led down a path. Driving home from Polis, we decided on a whim to check out the area below Kritou Terra. I had noticed what looked like the beginning of a gorge, and I have a thing about mysterious gorges. Once finished there, I had a number of route to choose to go home, but picked a dusty track that seemed to lead nowhere. It actually joined a side road that headed back to the B7. So we went down there, and drove past an old cherry picker. It had some interesting graffiti on it, so I stopped to photograph it. It was then that we heard a strange bird singing. We looked for the bird, and instead found a tiny kitten...
We soon found three other, less bold kittens, hiding in a tree stump. They were starving hungry, so we left them some leftover ham we had, and a bit of water.
One night of tossing and turning later, thinking about kittens, and we were back again. This time they were in a much worse state, and it was obvious they were getting no attention from a mother. We can only presume she had fallen victim to a car or suffered some other demise. So we popped the kittens in a box, and took them home. We couldn't keep the kittens, as Alex is allergic to cats, so a week later we took them to Pathiakos. This is all explained in the blog "Kitten Capers". There is a link to that at the foot of the page.
As we weren't going to keep the cats, we gave them dull names, to avoid getting attached to them. Clockwise from the top left are Patch (because his closed eye looked like a patch), Minxie (because she's a minx), Mark (because he has a mark on his face) and Tabby.

Curious Kitties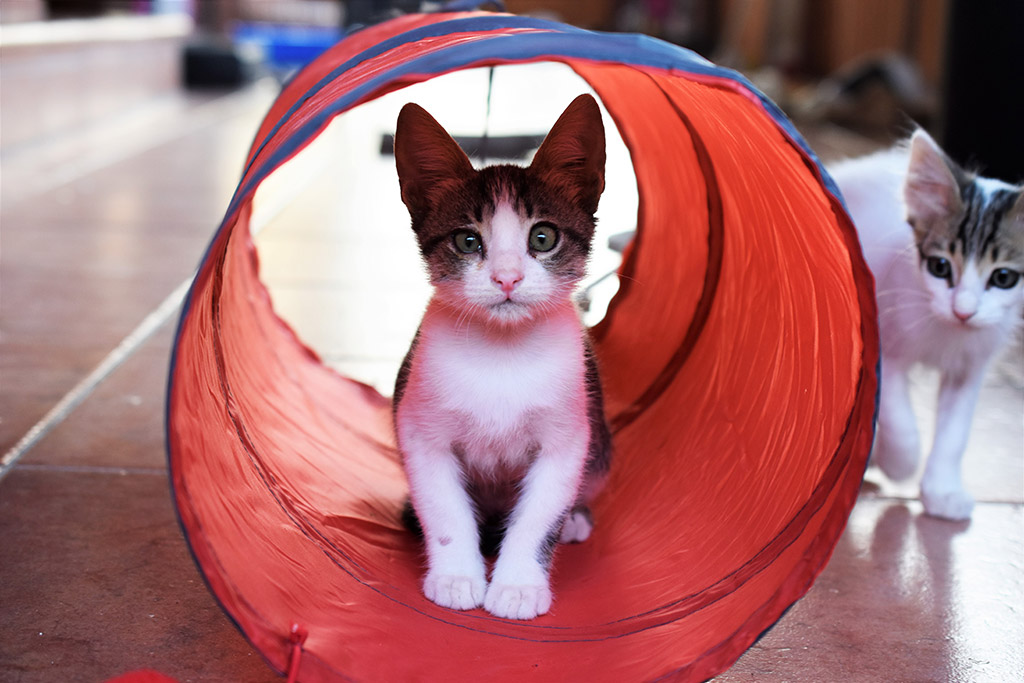 This shot shows Tabby and Patch. As you can see, Patch's eye is now a lot better. Indeed, eye trouble was an issue for all of them throughout the first few months. You can see that Tabby's left eye (in the picture) looks a bit closed too. This is common in kittens, we now know, and any decent vet will be able to assist. But I am getting ahead of myself.
Home Sweet Home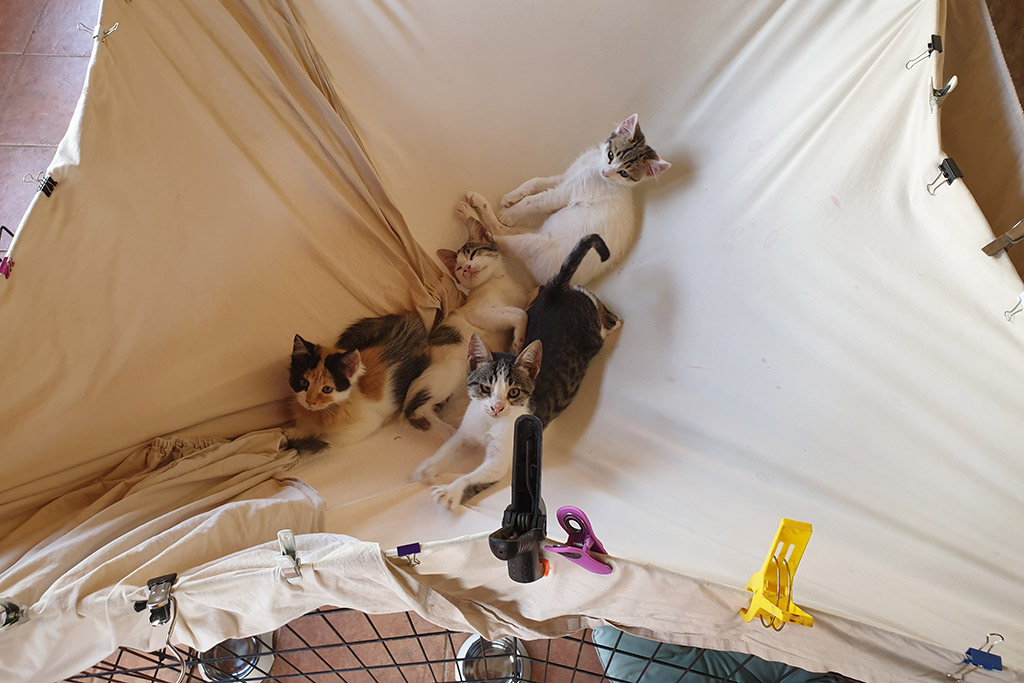 If you have seen the Kitten Capers blog, you will know it ends with us taking the kittens to the Cat Sanctuary. Well, a week later, we returned and took them back again. We made a more permanent residence for them in our verandah. As you can see, when given the option, they preferred having a bundle on the roof. But that is baby kittens for you...
Big Ball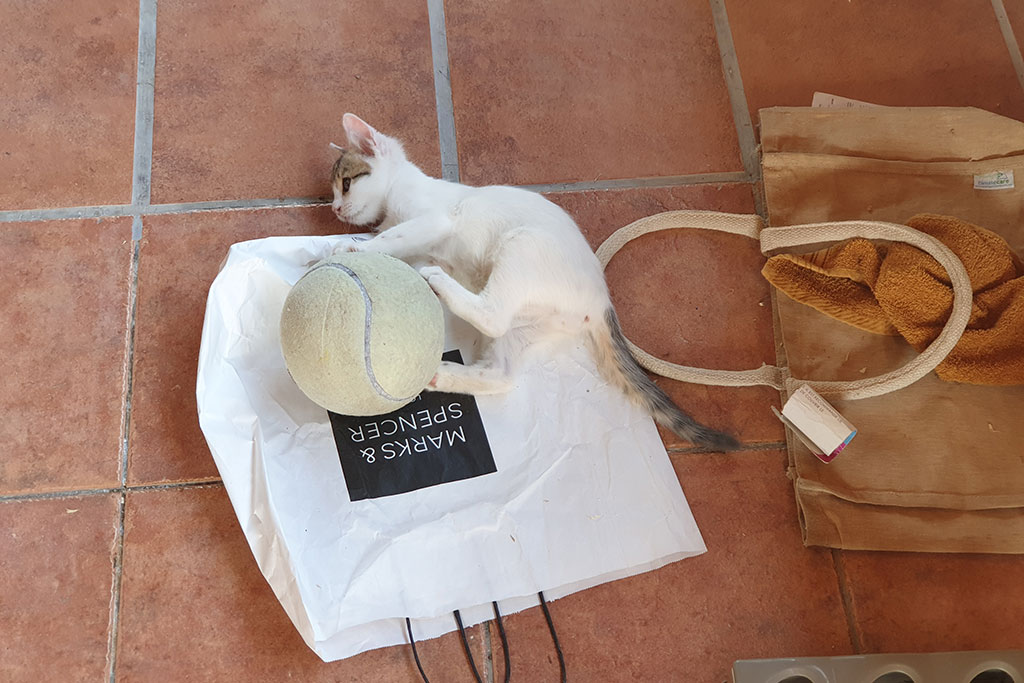 Both Alex and I had been pining for the kittens all week. And we talked a lot about them. In the end we decided they needed to be in our life, and we would worry about the allergy issue later.
I should point that the tennis ball in this shot is one of those big ones about the size of a small volley ball. Patch was not that small!
Beautiful Models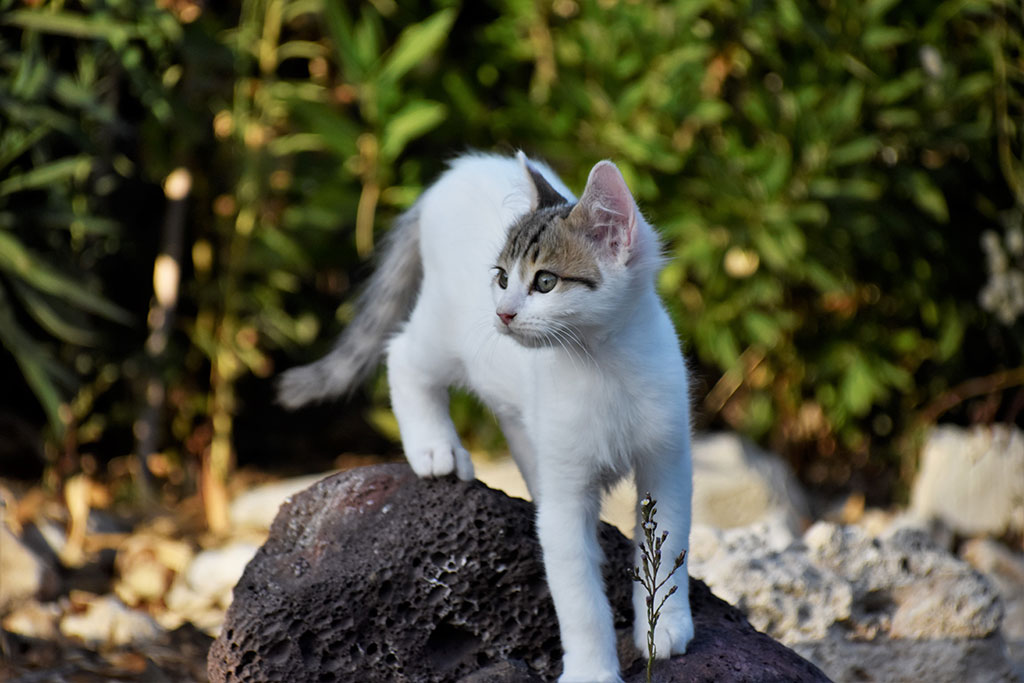 Luckily Alex hasn't had too much of a reaction to the kittens. Indeed, she spends a lot of time photographing them. Most of the pictures in this article were taken by Alex. I have added a few that I took myself on my phone, but the decent ones are all down to her.
Page 1 of 8
If you like our blogs and the rest of our content, please consider slinging us a few euros to help us produce more content. Use the Coffee link below if you feel so inclined. Payments are taken on a secure gateway, with no contact!
❤

Good Pages To Visit

FB Page

Paphos Life on Facebook

Like us on Facebook and stay notified of new blog posts.

FB Page

Our Facebook Chat Group

Paphos Chat has been created for people who like our site and want to chat using Facebook. You can also easily upload photos of any size here. A lot of people are members of the Facebook chat group and the main forum. It's entirely up to you.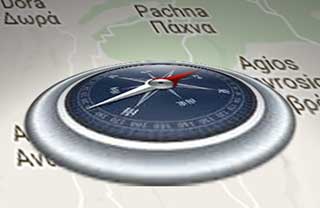 List

Blog Locations

Planning a day out? Then use our map of blog locations as a handy guide. Some of the places we visit our closer to each other than you might think, so take a look and start planning your next adventure...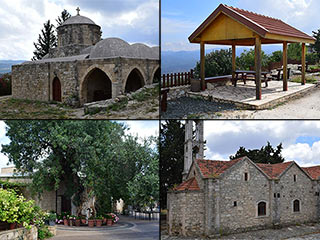 eBook

Cyprus Road Trip 01: the Kathikas - Panagia Loop

Let me take you on a journey around the region of Paphos, Cyprus. Starting at Paphos itself, we travel to Akoursos, then Kathikas, Kritou Terra and Simou. We continue past Lasa and Kannaviou, before taking in the delights of Panagia. Getting a bit more adventurous, we visit the abandoned villages of Statos and Agios Fotios, before passing through Choulou, Letymbou and Polemi, and rejoining the main Paphos - Polis road. The route is suitable for all types of vehicle, and requires no off-roading. The guide contains about 130 photographs including shots of all the road signs you need to pay attention to, as well as some of the highlights you may experience along the way. There are also several maps which will help you keep your bearings. You can do this journey in a day, or you can break it up into chunks. You can also do it in reverse, to get some completely different views. It is entirely up to you.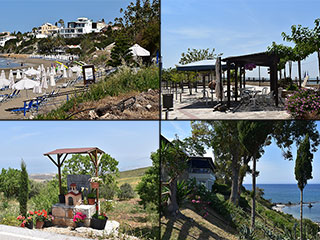 eBook

Cyprus Road Trip 02: Paphos - Coast to Coast

Newly published, our second Paphos Road trip takes you from coast to coast. Visit Coral Bay, Sea Caves, Agios Georgios, various traditional villages and more besides, as you travel to the Baths of Aphrodite on the Polis coast. And on the way back, we throw in an abandoned village for good measure.