Ayios Ioannis Part 2
Published 25th of August, 2019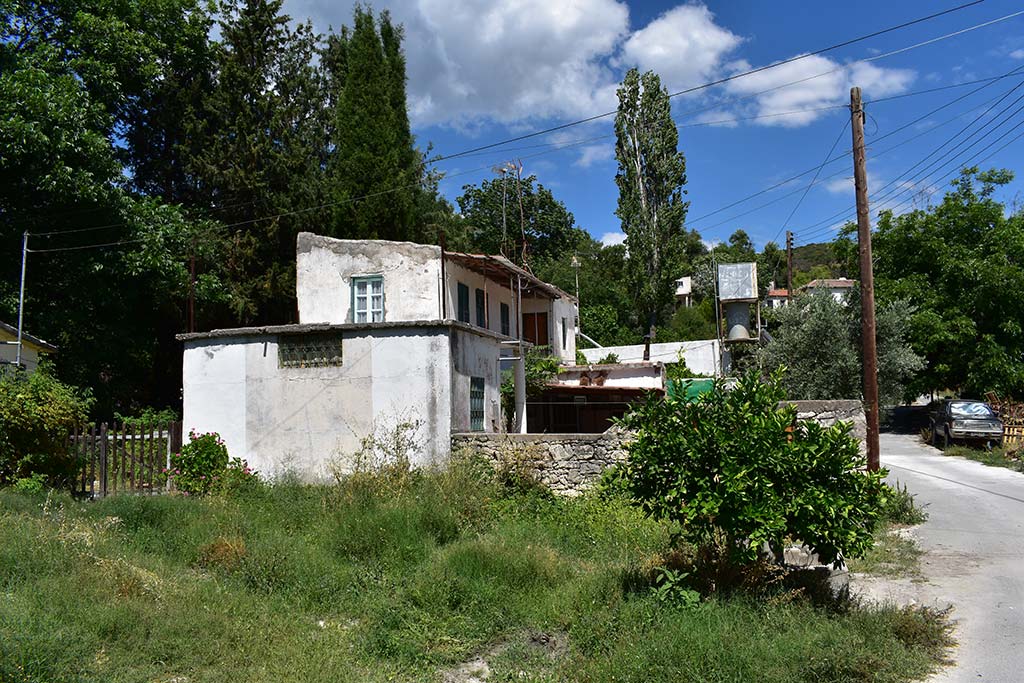 We follow the road around, and soon are headed back to where we parked the car. There are lots of signs of life about. It would be interesting to visit the place as it is now, to see how many of the houses are now host to summering Cypriots?
Welcome!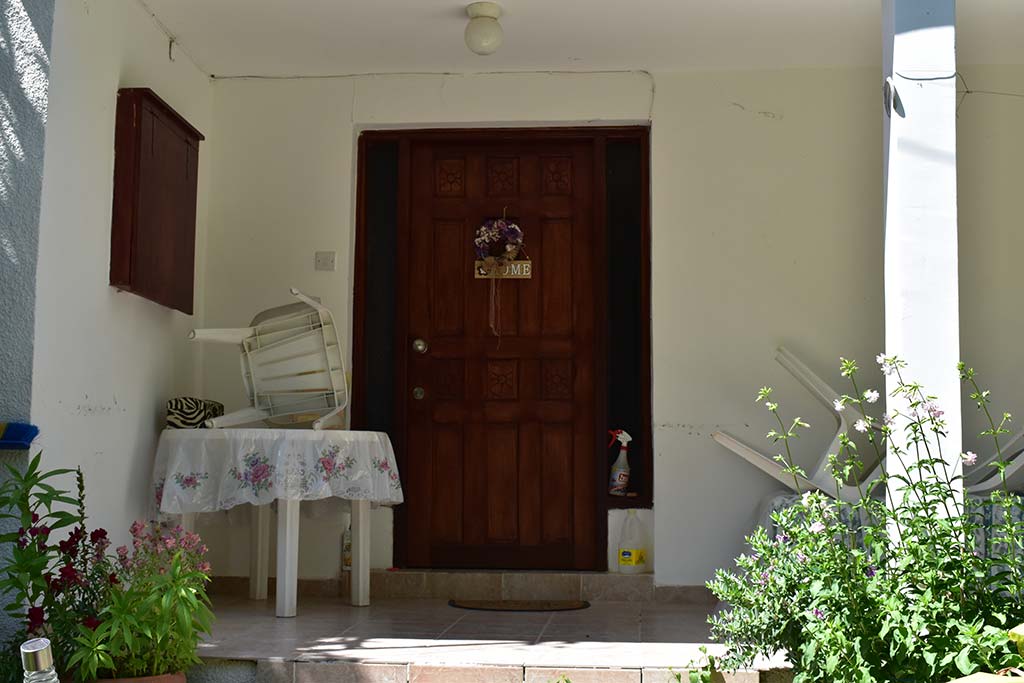 Another decorated front door. Cypriots are very welcoming.
Abandoned or Classic?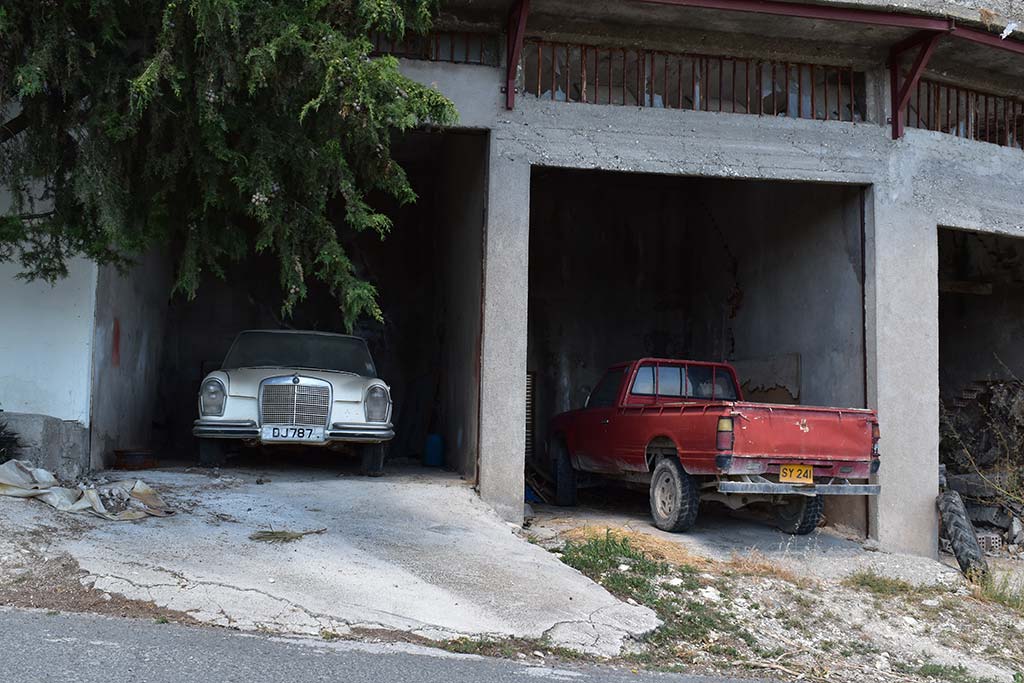 Now this was a puzzle. I couldn't say whether these cars had been here for 5 days or 50 years. This is partly because I have no idea how the number plate system works in Cyprus. But also because a lot of things don't seem to age much. This is something I have difficulty getting my head around when I visit old villages, and especially the abandoned ones. You can have two buildings next to each other, and one of them will look like a regular building, but the other one will have collapsed totally. You would expect everything to decay at a fairly uniform rate, but it isn't the case. Perhaps the reason is just something as simple as water erosion? If winter rain causes a rivulet of water to run over a certain wall, it will soon get eroded.
Back To Those Eggs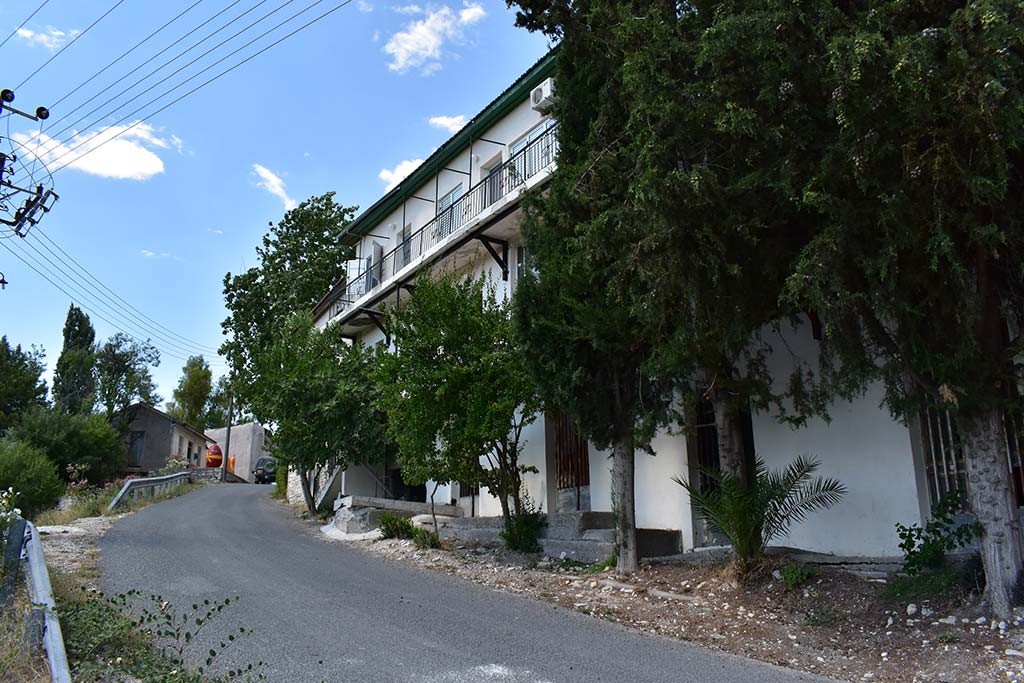 We've come a full circle now. We left our car up by the eggs. I noticed as we walked around, that one of the shutters to the right that had been closed was now open, so at least one of the houses here is currently occupied.
Page 2 of 8
Related Blogs: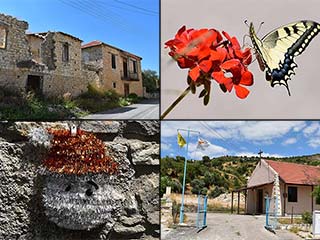 Ayios Ioannis - Part 1
We haven't explored the further reaches of the Diarizos Valley much, especially not the hilltops that head towards the Xeros Valley and Paphos Forest. We've been rectifying that recently, and in this blog we want to take you on a visit to Ayios Ioannis. We thought it would be a smallish village, but we were in for a surprise. This blog is large, so we have split it in two parts. The second part will be published in a day or two.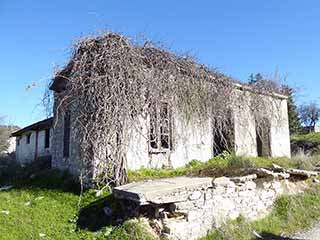 Abandoned Villages - Vretsia
Cyprus has more than it's fair share of abandoned villages. The troubles caused the displacement of both Greek Cypriots and Turkish Cypriots.The environment itself has caused other villages to be abandoned for reasons of safety. Whatever the reason, the abandonment caused emotional pain and suffering to the affected people. So is it right to right a series of blog articles on them? I thought about this for a while, but decided that yes it was. Cyprus is a land built on antiquities, and these villages are just the latest example. I had no problem blogging about a Necropolis after all. However, some of these villages, and especially Ventris, do still get visits from the displaced families. So if you do decide to visit these places on the strength of these articles, please bear that in mind, and treat them with respect. The urban exploring motto "take only pictures, leave only footprints..." nicely sums it up.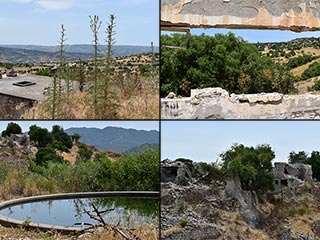 Abandoned Villages: Zacharia
Nestled on the side of the Stavros tis Psokas valley, it is easy to miss Zacharia. To get to it you have to drive through the nearby ghost village of Melandra, and you might be tempted to end your adventure there. But if you persevere, you will find another abandoned village waiting to tell its tale...
Good Pages To Visit

FB Page

Paphos Life on Facebook

Like us on Facebook and stay notified of new blog posts.

FB Page

Our Facebook Chat Group

Paphos Chat has been created for people who like our site and want to chat using Facebook. You can also easily upload photos of any size here. A lot of people are members of the Facebook chat group and the main forum. It's entirely up to you.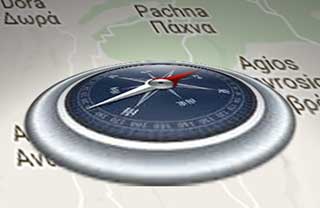 List

Blog Locations

Planning a day out? Then use our map of blog locations as a handy guide. Some of the places we visit our closer to each other than you might think, so take a look and start planning your next adventure...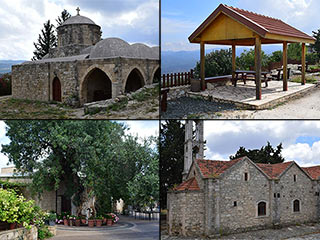 eBook

Cyprus Road Trip 01: the Kathikas - Panagia Loop

Let me take you on a journey around the region of Paphos, Cyprus. Starting at Paphos itself, we travel to Akoursos, then Kathikas, Kritou Terra and Simou. We continue past Lasa and Kannaviou, before taking in the delights of Panagia. Getting a bit more adventurous, we visit the abandoned villages of Statos and Agios Fotios, before passing through Choulou, Letymbou and Polemi, and rejoining the main Paphos - Polis road. The route is suitable for all types of vehicle, and requires no off-roading. The guide contains about 130 photographs including shots of all the road signs you need to pay attention to, as well as some of the highlights you may experience along the way. There are also several maps which will help you keep your bearings. You can do this journey in a day, or you can break it up into chunks. You can also do it in reverse, to get some completely different views. It is entirely up to you.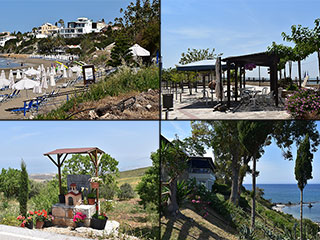 eBook

Cyprus Road Trip 02: Paphos - Coast to Coast

Newly published, our second Paphos Road trip takes you from coast to coast. Visit Coral Bay, Sea Caves, Agios Georgios, various traditional villages and more besides, as you travel to the Baths of Aphrodite on the Polis coast. And on the way back, we throw in an abandoned village for good measure.