Paphos Coast During Lockdown
Published 30th of January, 2021
We've been revisiting our old film of the Paphos Coast Path over the last few days. We thought that to accompany the films we should pop down to the coast and see how the route is coping during lockdown. So we donned our masks, sent off the SMS codes, and this is what we found...
End Of The Road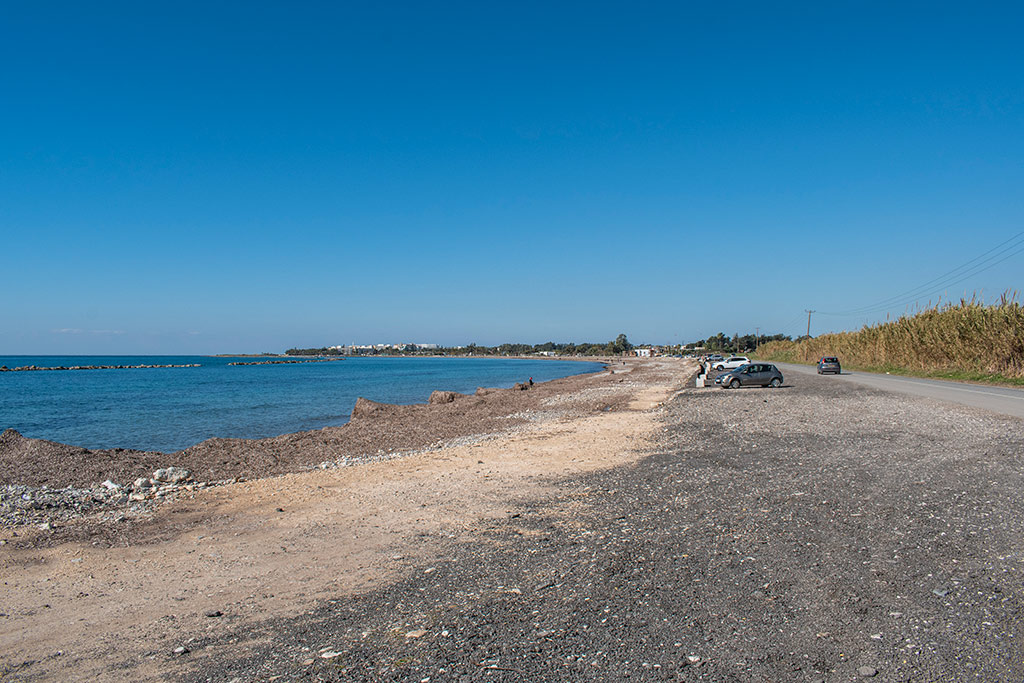 We shall start our adventure at the far end of Geroskipou Bay. Behind us you will find what is laughingly called a Dog Beach. And beyond that is a rather poingnant shrine which we covered a few years ago.

Wrap Up Warm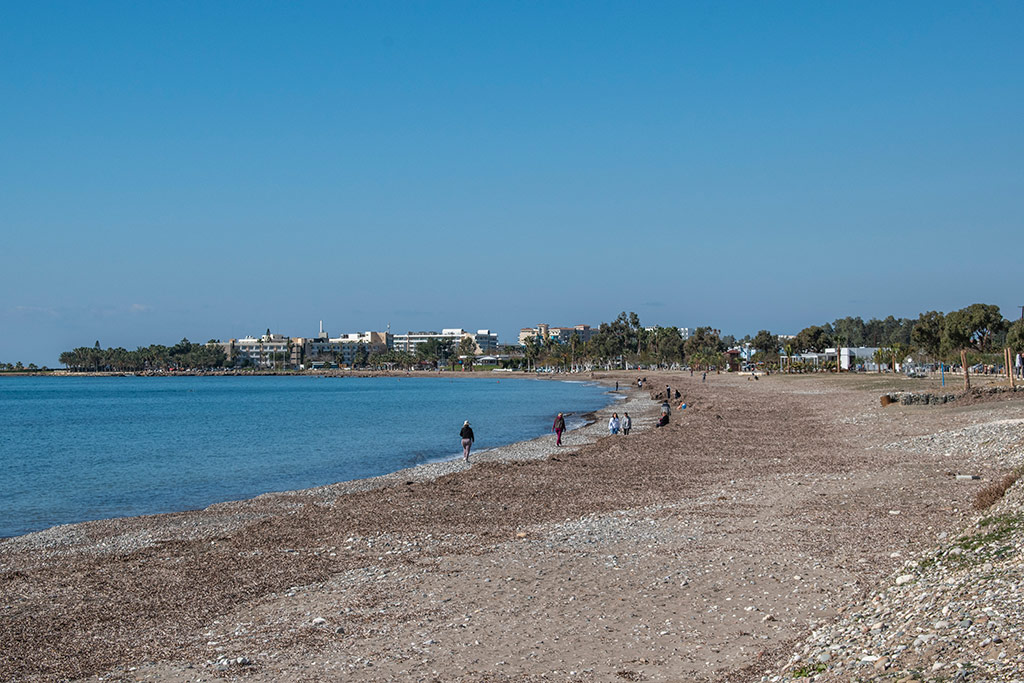 As you can see, there are a few hardy walkers out and about, but nobody is wearing a swimming costume today. The film we made was shot later in the year, so while not in peak season (early May) you will get to see a fair amount of sun worshippers about.
This Way...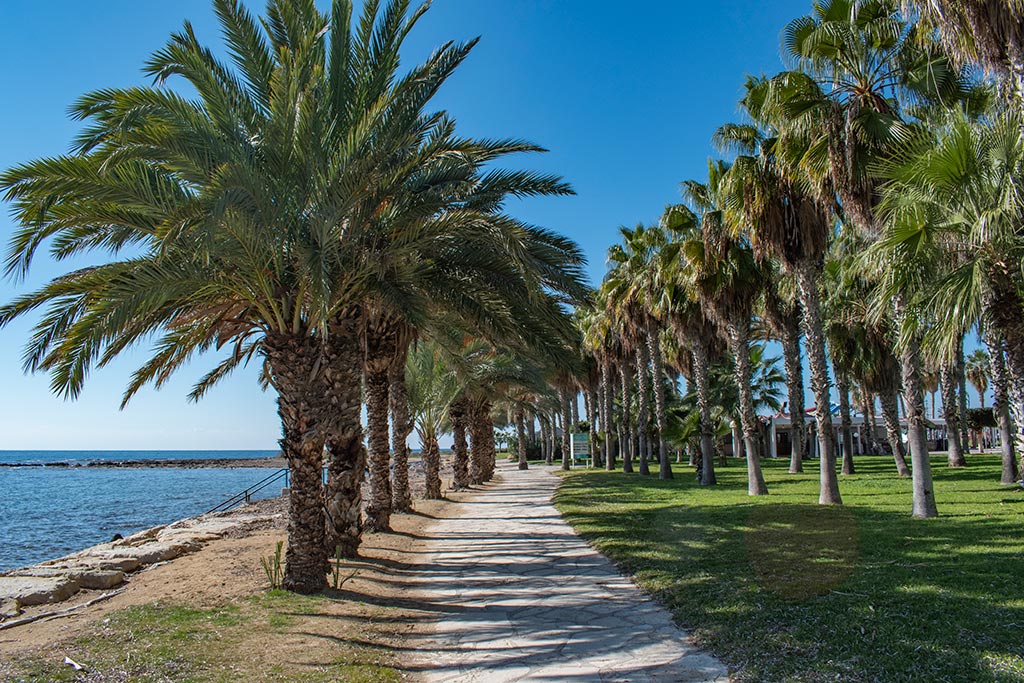 This is the path behind the Louis Phaethon.
Winter Seaweed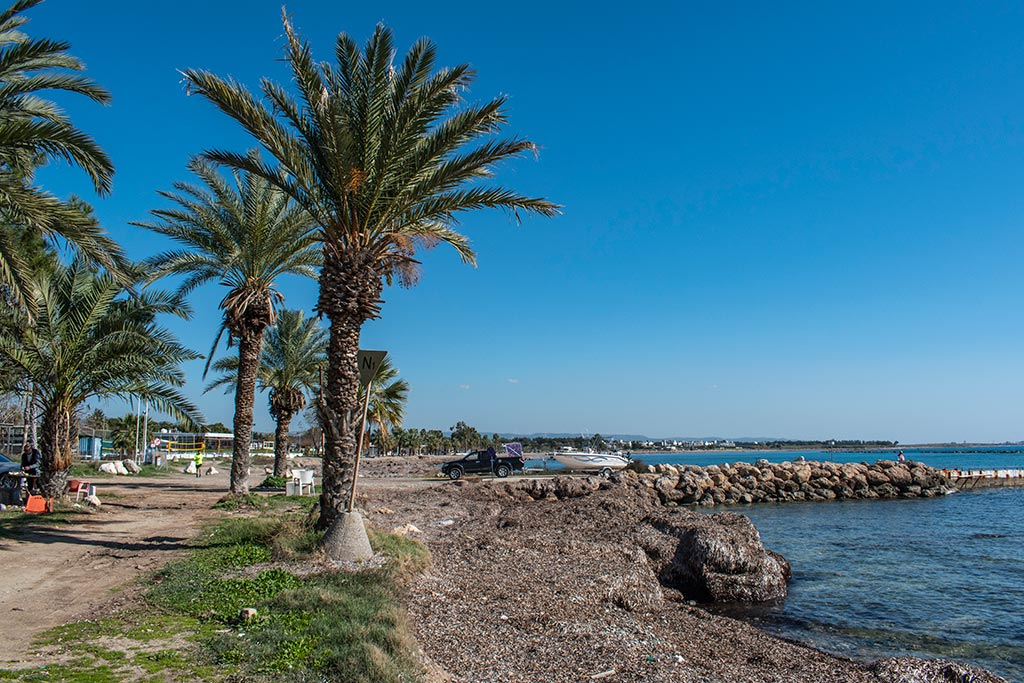 You will see a lot of seaweed around at the moment. It gets cleared up before the tourists arrive. There is no point in removing it yet though, as it will only be replaced by more.
The seaweed is a good sign, by the way. It indicates that the water is very clean.
Paphos 360 Seafront Walk - Part 1
We have produced two versions of the regular speed film. The first is full 360 degrees. This means you can look around as the film progresses. On a PC, use the W,S, A and D keys. On a tablet, just tilt or drag the screen.
Not every device supports 360, and some people don't like it, so we have also produced fixed view versions.
Page 1 of 7
If you like our blogs and the rest of our content, please consider slinging us a few euros to help us produce more content. Use the Coffee link below if you feel so inclined. Payments are taken on a secure gateway, with no contact!
❤

Related Blogs: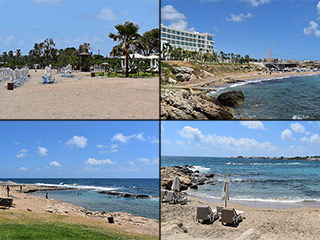 Paphos Beaches
Cyprus is beginning to open again, and so are its beaches. How are they going to cope with social distancing on the sunbeds and the surrounding restaurants? We went out to explore the blue flag beaches that Paphos has to offer, to see what the score was. In Part 1 we go from Geroskipou to the main municipal beach...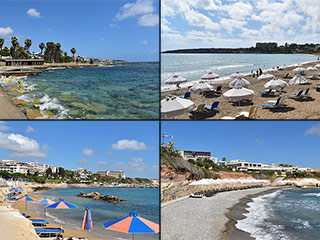 Paphos Beaches and Restaurants - After Lockdown
Continuing our look at how the beaches, restaurants and hotels of Paphos are reopening to the public after the lockdown, we start at Paphos Harbour, and go all the way down to Agios Georgios; the gateway to the Akamas.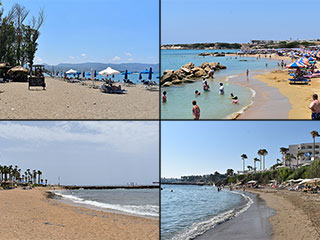 Paphos Blue Flag Beaches
Paphos doesn't have much of a reputation for the seaside, but there are in fact 17 Blue Flag Beaches in the region. We've put them all in an easy-to-use directory, and we present them here for your delectation, so you can see for yourselves that Paphos Beaches are in fact, not shabby at all.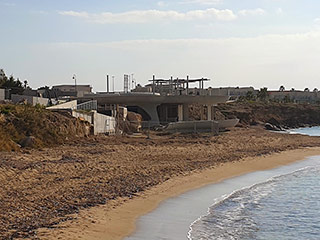 Sodap Beach Update
There was recently a bit of a kerfuffle in the press about the new cafe that is being built at the SODAP beach in Paphos. We couldn't help notice that the pictures used all showed the beach from one angle. So we took a New Year's Eve trip down to the coast, to get a clearer picture. Now you can judge for yourself just how much of an encroachment this cafe will be.
Good Pages To Visit

FB Page

Paphos Life on Facebook

Like us on Facebook and stay notified of new blog posts.

FB Page

Our Facebook Chat Group

Paphos Chat has been created for people who like our site and want to chat using Facebook. You can also easily upload photos of any size here. A lot of people are members of the Facebook chat group and the main forum. It's entirely up to you.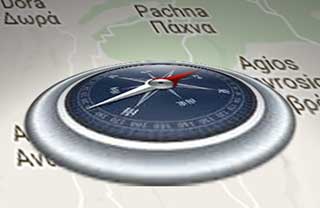 List

Blog Locations

Planning a day out? Then use our map of blog locations as a handy guide. Some of the places we visit our closer to each other than you might think, so take a look and start planning your next adventure...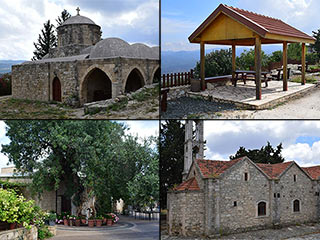 eBook

Cyprus Road Trip 01: the Kathikas - Panagia Loop

Let me take you on a journey around the region of Paphos, Cyprus. Starting at Paphos itself, we travel to Akoursos, then Kathikas, Kritou Terra and Simou. We continue past Lasa and Kannaviou, before taking in the delights of Panagia. Getting a bit more adventurous, we visit the abandoned villages of Statos and Agios Fotios, before passing through Choulou, Letymbou and Polemi, and rejoining the main Paphos - Polis road. The route is suitable for all types of vehicle, and requires no off-roading. The guide contains about 130 photographs including shots of all the road signs you need to pay attention to, as well as some of the highlights you may experience along the way. There are also several maps which will help you keep your bearings. You can do this journey in a day, or you can break it up into chunks. You can also do it in reverse, to get some completely different views. It is entirely up to you.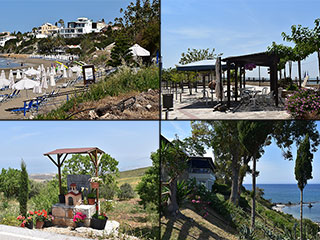 eBook

Cyprus Road Trip 02: Paphos - Coast to Coast

Newly published, our second Paphos Road trip takes you from coast to coast. Visit Coral Bay, Sea Caves, Agios Georgios, various traditional villages and more besides, as you travel to the Baths of Aphrodite on the Polis coast. And on the way back, we throw in an abandoned village for good measure.