Abandoned Villages - Faleia
Published 10th of July, 2018
Faleia lies close to the abandoned village of Agios Fotios. It is abandoned because of the troubles, not because of any threat of landslides. According to online records, it has a population of two, and is in a desolate state. Judge for yourself just how desolate...
Follow The Arrow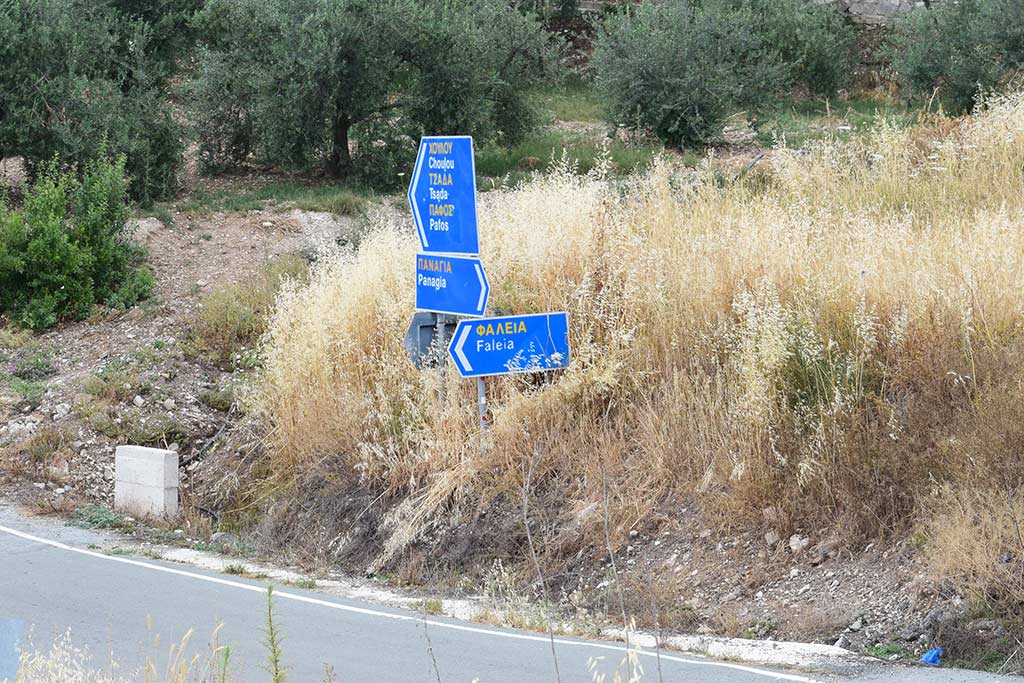 We had never heard of Faleia, until we noticed the name on a signpost in Agios Fotios. I assumed it was another village, similar to Lemona or Choulou. As we had been exploring the area while researching our first roadtrip, I made a mental note to check Faleia out too.

The Road To Faleia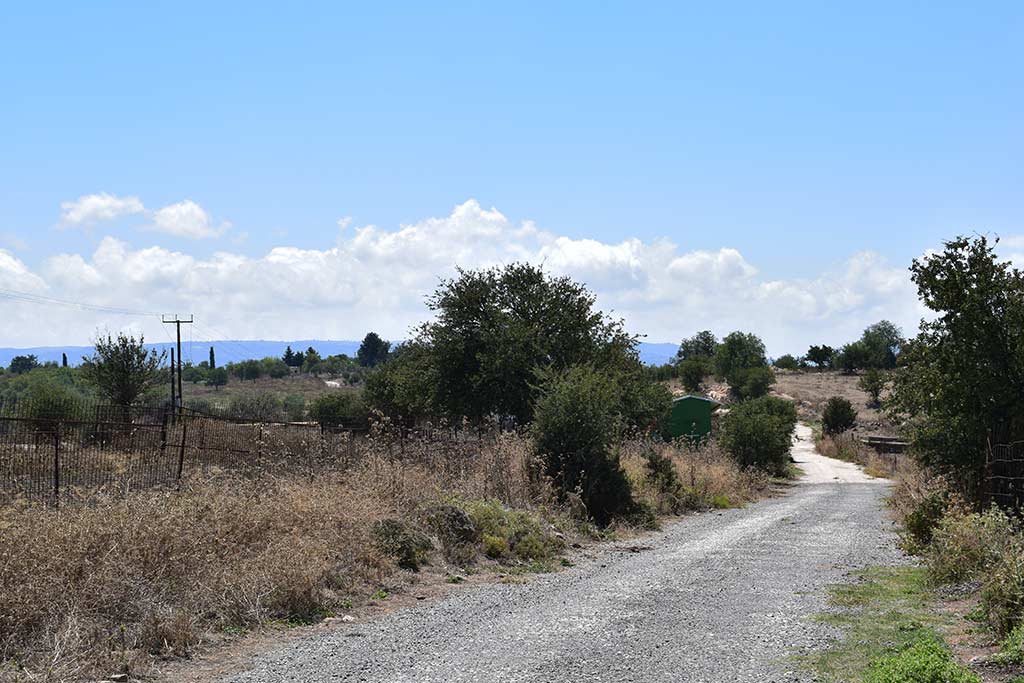 When you start down the road, you will pass through a working farm before your journey heads into open countryside. After a mile or so, you will begin to see buildings in the distance. There are also power lines. We don't expect to see them in abandoned villages, as they tend to be abandoned before the arrival of the grid.
The Wild West
Was this a warning, or just a bit of street art? It certainly sets the scene...
Baaaaaaa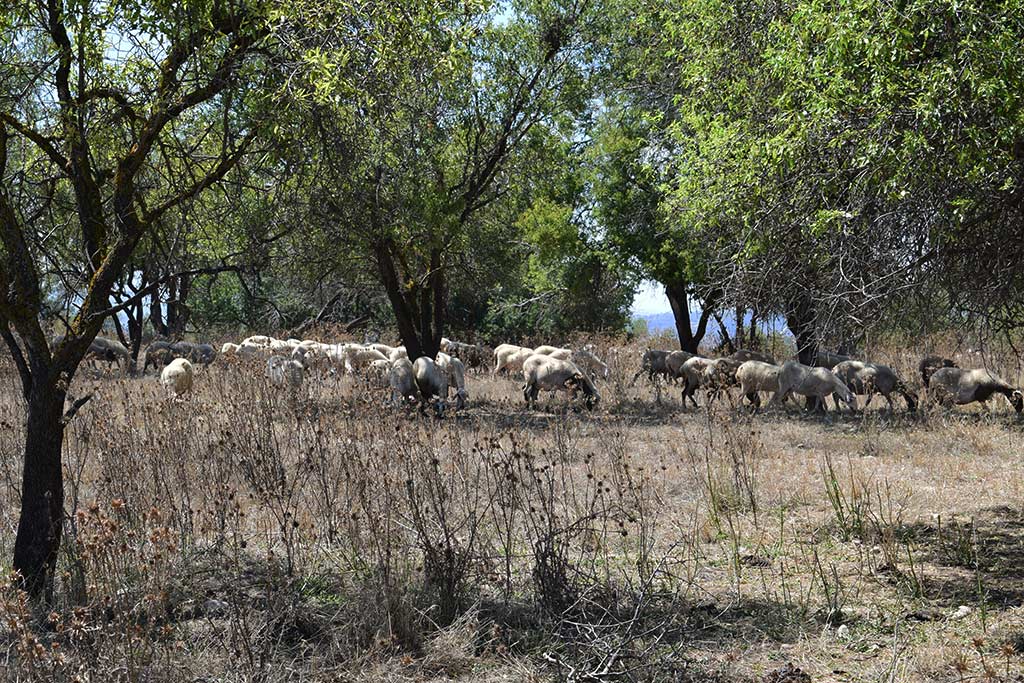 There are certainly some signs of life here still. But what is the history of Faleia? According to the PRIO database...
---
Historical Population:
According to the Ottoman census of 1831, the village was solely inhabited by Muslims. This trend did not change during the British period. Throughout the British period, the total population of the village constantly fluctuated.
Displacement:
No one was displaced during the tensions of the late 1950s. However, after intercommunal fighting began in late 1963, the Faleia Turkish Cypriots decided to evacuate the village and seek refuge in Axylou(297) on 7 February 1964. They returned to their village after three months, and the village served as a Turkish Cypriot enclave until 1975. During and immediately after the war in 1974, more than 100 of the Faleia Turkish Cypriots fled the village clandestinely, making their way through forests and mountains to the northern part of the divide. The remaining 88 persons were taken to the north under UNFICYP escort on 30 August 1975. Many of the Faleia villagers were resettled in Agios Ermolaos/Şirinevler(209). Others were settled in places such as Kyra/Mevlevi(055), Lysi/Akdoğan(167), Karavas/Alsancak(226) and Famagusta(140). The total number of the Faleia Turkish Cypriots who were displaced after 1974 was approximately 250 (247 in 1973 census).
Current Inhabitants:
After the departure of the Turkish Cypriots, for a long time no one settled in the village. The 2001 census put the village's population at four. Apart from a few shepherds who use some of the buildings, the rest of the village is in ruins.
Ruins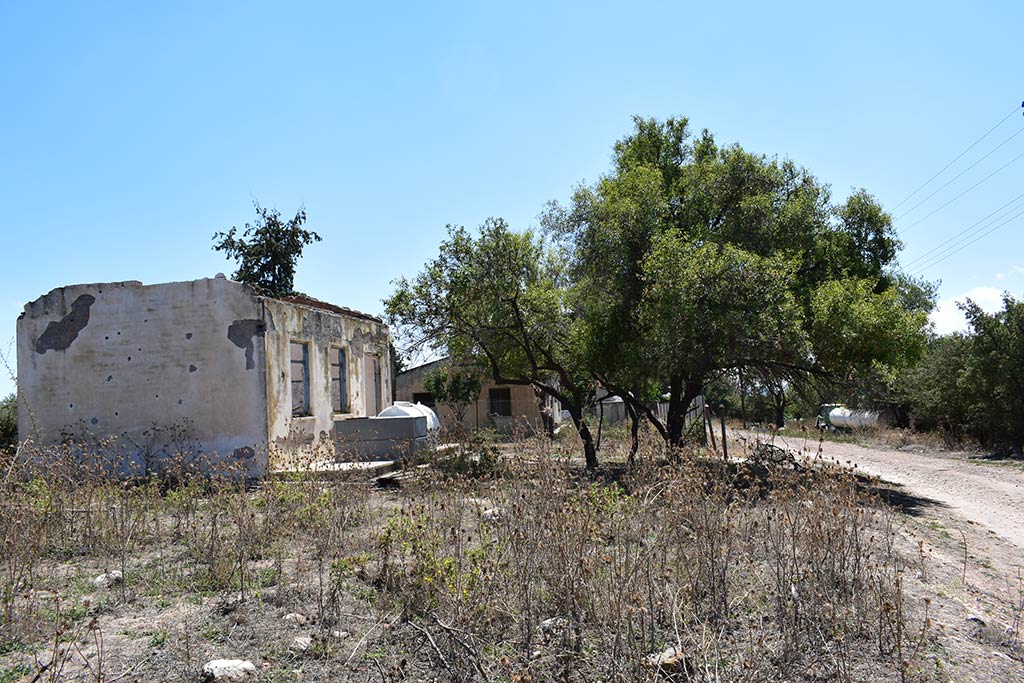 The first buildings you will see as you approach Faleia are definitely in ruin. However, there is a picnic bench in one of the gardens, and on one of our visits there were a group of shepherds (we presume) having a morning break.
Page 1 of 9
If you like our blogs and the rest of our content, please consider slinging us a few euros to help us produce more content. Use the Coffee link below if you feel so inclined. Payments are taken on a secure gateway, with no contact!
❤

Related Blogs: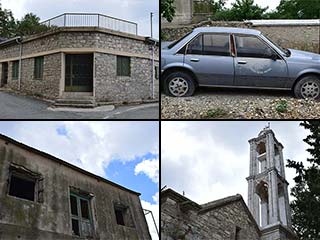 Abandoned Villages - Statos
Statos is unusual, as abandoned villages go. People deserted it not because of inter-communal fighting, but because of the threat of landslides. And then, no sooner had they emptied, some of the abandoned buildings were repopulated. Were villagers returning, or had outsiders moved in, prepared to take the risk of landslide?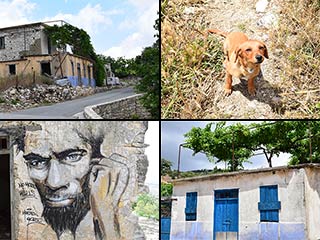 Abandoned Villages - Agios Fotios
Given that I wrote a blog about Statos last week, it would be unfair of me not to cover its close neighbour, Agios Fotios. Their histories are intertwined, as they were both abandoned for the same reason. Indeed, they merged to form a new, single town, called Statos Agios - Fotios. So what was left behind...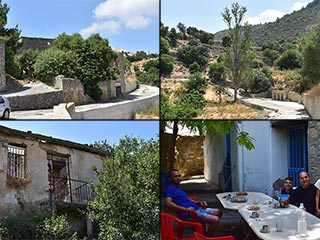 Mousere
If you are driving to Troodos on the Kouklia - Dora road, you will pass through Mousere just after Archimandrita. It isn't a very big place, but it is worth a look around, as there are some nice views coupled with some interesting ruins. Plus, the locals are very welcoming...
Good Pages To Visit

FB Page

Paphos Life on Facebook

Like us on Facebook and stay notified of new blog posts.

FB Page

Our Facebook Chat Group

Paphos Chat has been created for people who like our site and want to chat using Facebook. You can also easily upload photos of any size here. A lot of people are members of the Facebook chat group and the main forum. It's entirely up to you.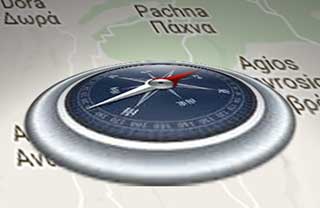 List

Blog Locations

Planning a day out? Then use our map of blog locations as a handy guide. Some of the places we visit our closer to each other than you might think, so take a look and start planning your next adventure...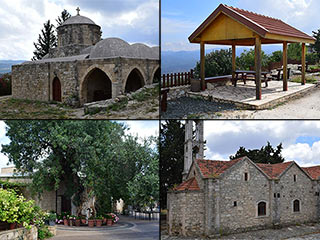 eBook

Cyprus Road Trip 01: the Kathikas - Panagia Loop

Let me take you on a journey around the region of Paphos, Cyprus. Starting at Paphos itself, we travel to Akoursos, then Kathikas, Kritou Terra and Simou. We continue past Lasa and Kannaviou, before taking in the delights of Panagia. Getting a bit more adventurous, we visit the abandoned villages of Statos and Agios Fotios, before passing through Choulou, Letymbou and Polemi, and rejoining the main Paphos - Polis road. The route is suitable for all types of vehicle, and requires no off-roading. The guide contains about 130 photographs including shots of all the road signs you need to pay attention to, as well as some of the highlights you may experience along the way. There are also several maps which will help you keep your bearings. You can do this journey in a day, or you can break it up into chunks. You can also do it in reverse, to get some completely different views. It is entirely up to you.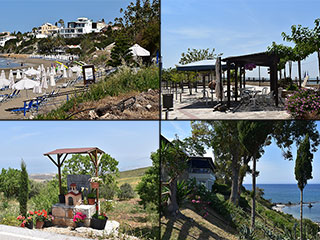 eBook

Cyprus Road Trip 02: Paphos - Coast to Coast

Newly published, our second Paphos Road trip takes you from coast to coast. Visit Coral Bay, Sea Caves, Agios Georgios, various traditional villages and more besides, as you travel to the Baths of Aphrodite on the Polis coast. And on the way back, we throw in an abandoned village for good measure.