I love this village as it is a typical Troodos mountain place, relatively unspoiled, with all its tin roof houses. After a 10 km ride along the river in a extremely dense overgrown valley, which looks like a jungle, not Cyprus, one arrives here
In the background the river valley...
and from the other side where you can see only a few of the 200 or so houses..
a part of the village one can see here
very old nice church with barn roof, but locked unfortunately..
Amazing how they built their houses on that ridge in the middle of the village
close up
now let's go a bit to the near past of Milikouri which was a stronghold of the EOKA. When I came to Cyprus 1969 first time, for holidays, I had no idea about the politics that happened here just before. I was in a hotel near Kyrenia at the beach and nobody ever mentioned the liberation struggle. Here some information from the village website:
"Also, great was the contribution of residents in the national liberation struggle of EOKA, 1955-59, against the British colonialists. The closest collaborators of the leader of EOKA, Giorgos Grivas Dighenis, were from Milikouri. The English troops in their attempt to capture Dighenis and his team, forced the residents to a 54 days curfew. In the precinct of the temple of St. Georgios there is a monument dedicated to the liberation struggle of EOKA in honor of those who fought against the British."
I found some photos in the net from 1956 when the curfew happened. This officer obviously compares the photo in the paper with the guys in front of him..
this looks a bit more serious though..
also that photo where people have to queue in front of the church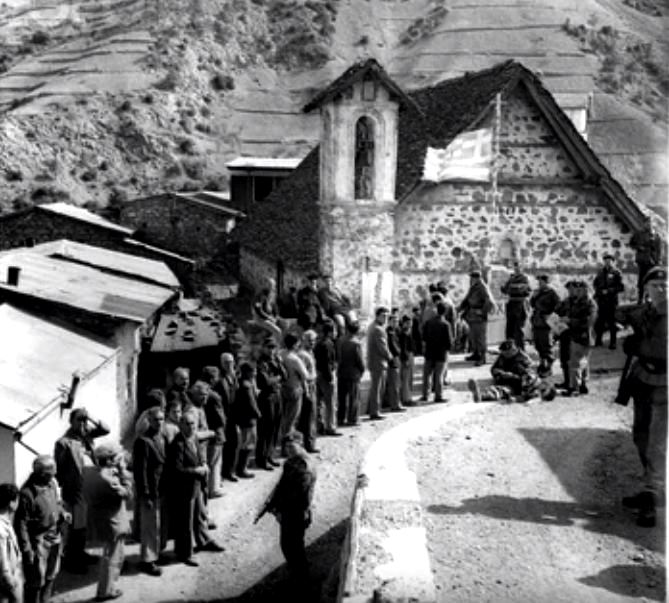 and here a very interesting article one year later, confirming that this curfew was not that successful and further that the locals were helpful for the search of the so called "terrorists". (I think they were just scared...)
Milikouri by Major W.LD. Morris
(Back Badge, December 1957)
On Saturday 27th April 1957, while out training, "A" Company was recalled and received urgent orders that they were to proceed to Milikouri, in the depths of the Troodos, and search a village from top to bottom for terrorists and their hides, arms, ammunition and anything that could be connected with EOKA activity. Milikouri at this time had been cordoned off for seven weeks by the Duke of Wellington's, and had been searched once, but not very thoroughly. We were all extremely keen and every officer and man of the Company was certain that we should find Grivas or one of his henchmen. It was estimated by the powers that be that there were 150 houses in Milikouri and that the search would take three to five days. Little did they know?
We arrived at Milikouri on 28th April and having received instructions from the CO of the Dukes, a plan was formed. Half the Company were to search the village during the hours of daylight. The other half were to be divided into six night ambushes to prevent anybody leaving or entering the village in the dark. In all there were ten search parties and each consisted of one United Kingdom Police Sergeant, an NCO and two men. The Police Sergeant was the expert, and the others were really labourers.
In our ignorance we thought that it would not take long at all to search a village of 150 houses. We soon discovered we were very wrong. It was decided by the experts that 20 houses a day would be cordoned off and searched. We thought that this was too little, but soon found that 15 a day was as much as we could cope with. Every bit of furniture was taken out of each house. Walls were measured. Any hollow sound in walls or floors was thoroughly investigated and nothing was left untouched that could possibly hide a man or weapons. Nearly every house had a large cellar which contained not only vats of wine but all the rubbish accumulated for years. One team took two days to search one house. We searched and searched and finally completed the village on 9th May, having taken 11 full days. There were 182 houses. Our discoveries included one old sporting gun, some very old gun-powder and a possible one-man hide. We had tried hard, but the main thing we found was an excellent friendship with "D" Coy., the Duke of Wellington's.
Throughout the search the inhabitants of the village were extremely friendly and had to be prevented from helping the search parties. The Press were allowed in on the last day and we discovered that some of our Cypriot "friends" came forward with complaints varying from ill-treatment to pilfering. However, the authorities and press were able to investigate every claim and "A" Coy came away completely exonerated, but we learned a valuable lesson about certain Cypriots."
So enough from the past and one photo from above the village on the way to Kykko Monastery
Max